Armenia's 2016 Eurovision representative Iveta Mukuchyan looks stunning while interpreting a NEW REALITY in latest music video for "Depi Nor Irakanutyun".
The beautiful model, singer and lyricist spreads different kind of waves in her latest video release. Sporing multiple different looks and experimenting with lights, choreography and fashion, Iveta takes daring to a whole new level.
Towards a new reality – a lyrical story
Despite creating a very cool and futuristic atmosphere with the visuals in the video, the song itself has a pretty simple message.
Basically, the new reality that Iveta speaks about in the song can be taken as a new reality in a relationship.  The most memorable line in "Depi Nor Irakanutyun" is:
"Together we change our lives
Towards a new reality"
Depi Nor

Irakanutyun a visual story
Current, futuristic, mainstream, sexy, classy, daring. Iveta ticks all the boxes and proves that taking risks can truly pay off.
Rather than taking the story to an obvious place where we'd see her interacting with her love interest, Iveta stands strong and shines ALONE.
Gif-able moments from "Depi Nor Irakanutyun"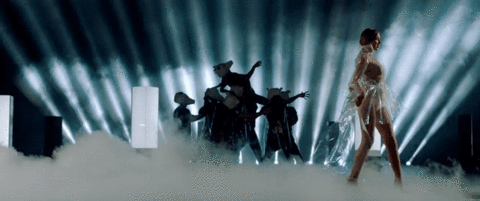 Iveta Mukuchyan at Eurovision
Iveta represented Armenia at the 61st edition of the Eurovision Song Contest in 2016. Mixing her undeniable beauty and powerful vocals with an impressive stage show was a recipe for Armenian success.
Despite finishing a respectable 7th with 249 points, we feel Iveta was criminally underrated and deserved far more.
However, Iveta's resilient spirit and raw talent make her shine bright and we're glad to see her deliver musical diversity.
⇒What our team had to say about Iveta's "LoveWave" here⇐
In any event,
What do you think of Iveta's "Depi Nor Irakanutyun"? Do you like the music video? Would you like to see an Iveta comeback at Eurovision in the near future?
Share your thoughts with us in the comments section below and on all social media at @ESCXTRA.