Moldova's two time Eurovison representatives – Sunstroke Project release a video for another party banger titled – SUN GETS DOWN. And they certainly do have the possess and energy to keep the carnival going until the sun sets.
Miss Moldova 2016 – Daniela Marin joins the trio on a whimsical street carnival in Bucharest as the main heroine.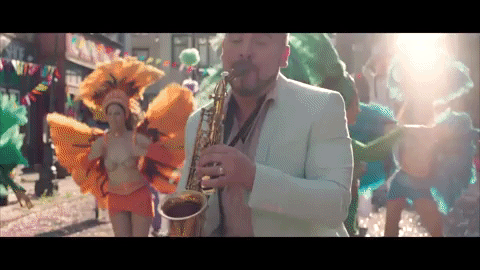 About Sun Gets Down
The men of Sunstroke Project do what they do best on this track. "Sun Gets Down" is as lighthearted, fun, whimsy and vibrant as their personalities.
However, they do add a bit of an ethnic touch with the use of the violin. This makes the song authentic and true to their style. Sergey, Anton and Sergei always add a splash of enthusiasm in everything they do and the fans can certainly feel it.
»You can purchase "Sun Gets Down"on iTunes here and get grooving«
Sunstroke Project & Eurovision
These Eurovision veterans were meant to do a comeback in the contest ever since the Epic Sax Guy almost broke the Internet with his dance moves. Sunstroke Project start off their Eurovision journey in 2010 with their entry "Run Away" featuring Olia Tira. They only managed to score 27 points and finished 22nd out of 25 competing songs.
Despite a rather underwhelming result, Sunstroke Project returned to the contest in 2017 with their vibrant "Hey Mama". Not only did they manage to qualify for the final, but they also brought Moldova its highest placing yet. Finishing 3rd with 374 points out of 26 competing songs in the final.
»Read what our team had to say about Moldova's "Hey Mama" in The Xtra Files – here«
What do you think of "Sun Gets Down"? Do you like the music video? Would you like to see Sunstroke Project back at Eurovision in the near future?
Share your thoughts with us in the comments section below and on all social media at @ESCXTRA.