So, it's been more than half a year since Salvador Sobral secured Portugal's first ever Eurovision Song Contest victory, and it's about time I complete my look at what really happened. I already shared my top 10 highlights; now the time has come to let #thedarkside out. Which 10 things are, to me, the most horrible let-downs, or terrible disasters, or whatever negative adjective/noun combo you can come up with…? Check out my top 10 notsohighlights! 
My top 10 notsohighlights
There were soooo many ups and downs during this year's Eurovision, and picking ten of each has most definitely been a challenge. However, I can't include everything. So after careful consideration, and without further ado; It's time to let #thedarkside out! Here are the ten things that upset me the most during the 2017 Eurovision Song Contest; my notsohighlights!
Please remember, though; these are my own, very personal top ten disasters!! To others, these precise things may be the most amazingly wonderful highlights of the season! I'd love it if you'd leave me a comment, whether you agree with me or not. Especially if you don't!! So, in semi-random order;  here we go!
#1 Languages. Or rather; the lack thereof.
Like last year, this is one of the saddest things for me. I'm not sure if my passion for Eurovision comes from hearing so many different languages, or if it's the other way around. Either way, I love languages, and I particularly love languages at Eurovision! And this year, no more than seven entries were performed in a language other than English. And of those seven, only three (that's right; THREE!!) were entirely without English lyrics; Belarus, Hungary and Portugal. I guess I could include Italy here as well, to make it four, as they only had one little line in English. There is a slight glimpse of hope in this language darkenss, however, as all four of these songs were in the final. Three of them finished top 10, and one, as we know, even won! I pray this will bring about a "language flood" effect next year! And it seems I might be in luck for 2018 though, as countries like Spain, Slovenia and Greece are only accepting entries in their native language! Let's keep our finger's crossed, because, until this changes, the lack of languages will always be on top of my notsohighlights list.

#2 The horse's head
Ever since the first time I heard "Skeletons", I knew it was gonna be my number one this year. And to this day, so it remains. The same goes for the performance. Dihaj is actually acting the part, not just singing the song. She is cool and elegant at the same time, and the intensity is almost too much to deal with at times. I LOVE the idea of the room, and the writing on the walls and the walls coming down…and then there's the horse's head.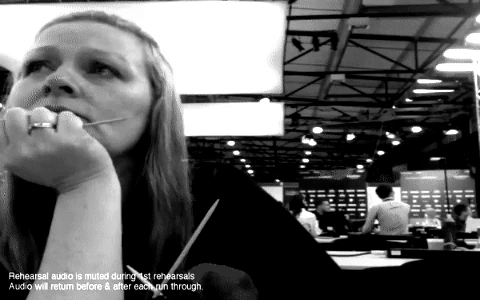 I will never forget the moment when I first saw it, and the utter despair and downright betrayal I felt. Everything was perfect, and then THAT happened.


Massive "thank you"s to my darlings Miki (for turning my shock into a gif) and Sascha (for capturing my despair and sadness…)!
You guys rock!
(Unlike the entries of ESC2017…see #7)
#3 The hosts and their script
I didn't realise until long after the contest, just how bad the hosts' script was. And also how uncomfortable they seemed delivering their lines. While I'm at Eurovision I really don't "watch the show". I watch the performances of each song, and when the hosts do their part I tend to busy myself with other, more interesting things. Like talking to the children on the livestream, for instance. So when people started talking about how bad the hosts were, I guess I thought "well, they can't be that bad", and then just went on with whatever.
A few weeks back, though, I watched the 2017 contest for the first time. And I realised that, yes, they actually can. Be that bad, that is. They just seem sooooo uninspired. Everything seems badly rehearsed. They all seem to be missing their cues. The "jokes" are even less funny than usual. It's just…bad. And that's such a shame, because in person they are just supernice! They're warm and funny and spontaneous and…simply wonderful. On stage, however…not so much!


Image; eurovsion.tv
#4 Czech Republic's turn…to make the wrong choices
Martina Barta. "My Turn". Czech Republic. I love her voice, the lyrics, the melody; everything. "My Turn" is just such a "me" song. Due to this, I simply don't get how it didn't qualify. The song, that is. And her live vocals. Although, after witnessing the performance in Kyiv, it became a bit easier to understand. You see; the very first time I heard the song, I saw the entire performance in my head. And then, when I saw the video, which had exactly the same atmosphere I had pictured, I got my hopes up. Perhaps they would keep it toned down! But of course they didn't.
At the first rehearsal, for the entire first verse and chorus, the backdrop was covered in weird blobs that turned into rather creepy eyes. And of course the eyes closed as she sang "everytime I close my eyes".

Exhibit 1; weird blobs. Exhibit 2; creepy eyes. Exhibit 3; closing at the "close".
Massive thankyou's to Ryan for visualising this horror in such clarifying bluntness.
This was my second moment of crying inside, and we hadn't even gotten through the first semi yet. It could have been so beautiful, and then it just turned out pretty cheap and tacky.
Although I'm not gonna pride myself on having changed the Czech delegations mind on this eyes business, I hope I might have contributed in some small way. After the first rehearsal I talked to one of their head honchos and expressed my concerns. Both about the eyes, and also about her outfit. And by the next rehearsal the eyes were gone. Thank heavens! The bronze metallic jumpsuit was there to stay though… Based on the final version of the performance I can almost understand why people didn't vote for it. Almost. The song in itself is still very close to perfection, though.

#5 Alex Florea
Some of you (okay, most of you!) are perhaps more than a little surprised that Alex ended up on my "not so high"lights list. I mean, I believe I might have mentioned, once or twice, that I really like his voice. Especially when he sings rock. Also, but this I'm not entirely sure of, I think you might have heard me express a certain positive opinion about his looks. (Holy TimTam; he's gorgeous!) So obviously, the reason why he's on this list is not that I don't like him or his voice, but the fact that he did this song. I will never understand what posessed him to do this. And it's equally mysterious to me how "Yodel It!" could end up as high as it did.

Massive "thank you"s to our Luke for working his magic on this collage!
#6 Koit Toome
Though I normally prefer new artists to returning ones, I was sort of welcoming Koit's return, since I rather liked his voice (more than his entry) back in 98.
https://www.youtube.com/watch?v=cI7RQc9Td6g
Then this happened. I'm not the slightest bit impressed. Not by the song. Not by his vocals. And very much not by the performance.

#7 The depressing lack of rock
As most of you will know; I'm a rock chick at heart. Eurovision has never been an arena for rock, but after last year, my hopes were up a bit. I loved both Georgia and Montenegro's entries, and even though they didn't do amazingly well, they sure ticked most of my boxes. In addition, there was also Cyprus, and though I didn't like "Alter Ego", at least it was rock! My hopes didn't last long, however. This year's rock entries; Ukraine. And that's it. It's also not a very good rock entry. I am not amused. I guess I could count Lithuania as alternative rock, and as this is one of my growers of 2017 it helps a bit. But still; two rock entries, out of 42?!?!? Again; I'm not amused.


And it's not that I don't like pop and ballads; I like them just fine. Just not only pop and ballads! So; could we please have some more musical diversity?! I find it especially disappointing in a year where we were actually supposed to celebrate diversity….
#8 Voices before songs
Every year there are countries that pick their entry based on voice rather than song, which I think is a shame, since it is, after all, a song contest. I love good voices; it's one of the reasons why I love Eurovision so much; finding new voices. There does however also need to be a good song there. If there isn't, it's just showing off. Every Eurovision needs one or two of those songs, but this year it just became ridiculous!
Georgia
Albania
Poland
Malta
Netherlands
Denmark
Croatia
Switzerland
I'm pretty useless at maths, but 8 out of 42; that has to be a fairly high percentage!
#9 Kyiv instead of Odessa
The moment it became clear that Jamala had brought the victory home, and we would be going to Ukraine this year, I was hoping they'd host it in Odessa. Not that there's anything wrong with Kyiv, and I loved it there, it's just that I've always wanted to go to Odessa. And I also really wanted to add the Black Sea to all the the ones I've swam in… One of the (MANY!!) highlights of Eurovision on Baku was when our hosts took us to their summer house by the Caspian Sea! Next time, perhaps! For sure!

#10 Russia
I don't even know where to begin on this subject. So I guess I'll just say;
Ukraine was right. Russia was wrong. End of story.
---
I love Russia at Eurovision
Oh, okay then; I guess I need to elaborate. And please, keep in mind that I'm not talking about the countries per se, nor their history at the contest. Russia is among my favorite countries at Eurovision, with their "Lady Alpine Blue" being my all time favorite entry. "Lost and Forgotten" also figures in my top 15, and "Believe" is one of my favorite winners. The song, that is; not the live performance… No, I'm just talking about the controversy that arose around the Russian (non-)participation this year.

Please, Russia; Give me something like this again!!
Should ESC stand above Ukrainian law?
In my opinion, Ukraine was in it's full right to deny the Russian artist entry into the country. She had broken their law. The fact that the Ukrainian broadcaster had made a promise that all countries would be allowed to take part is not a relevant point here. They never said Russia couldn't participate, just that they had to pick an artist that hadn't broken Ukrainian law.
Russia, on the other hand, knew full well, long before they made their choice, that this would happen. What's more, I am quite convinced they searched long and hard before deciding on Yuliya Samoylova as their representative.


And before you get your knickers in the proverbial twist; No, I'm not saying Ukraine is perfectly innocent and did everything right, because of course they didn't. Their main "crime" however, was that they sent a political (yes, of course it was, no matter how much they try to defend it by saying "historical") song last year. The EBU should have said; "Sorry Ukraine, you need to change this song if you wanna enter it." But they didn't. And people and juries alike voted for it.
And that concludes my #notsohighlights, 2017 edition
So, there you have them; my top 10 notsohighlights of Eurovision 2017. I didn't mean to end it on such a serious note, but sometimes that just happens. Out of these 10 however, the one I most want to see gone next year is the first one; languages. In my dream scenario at least half of the entries will be performed in a language other than English. And with this year's winner in mind, that might just come to pass.
Do you agree with my notsohighlights? If not; Which are yours?