Today is the day of the Söngvakppnin final! In a few hours we will know which of the six Söngvakeppnin finalists will fly the Icelandic flag in Lisbon come May. It's between a powerful rock ballad, a 60s/80s throwback up-tempo fun song, a modern Bruno Mars inspired dancey track, a huge Disney/musical theater ballad, a happy up-tempo Eurvosision-y number and a poppy hiphop inspired duo.
XTRA Preview: Söngvakeppnin 2018
As so many times before, Söngvakeppnin is the selection method chosen by RÚV to find Iceland' Eurovision Song Contest entry. The first time Söngvakeppnin, then called Söngvakeppni Sjónvarpsins, was used to select the Icelandic Eurovision entry, was all the way back in 1986, in the country's debut year. The format and rules have varied a bit over the years; semis or just one big final, language rule or not, number of entries, but on the whole, RÚV is very happy with Söngvakeppnin as their selection process.
2018 will be Iceland's 31st participation, and the entire nation is hoping for their first victory. With Portugal finally getting their win last year, Iceland is now number two, alongside Malta, on the list of countries with most participations without winning; they both have 30. Cyprus is in first place with 34. Iceland's best result at Eurovision is 2nd place, a result they have achieved twice; with "All Out of Luck" in 1999 and with "Is It True" in 2009.
XTRA Review: The Söngvakeppnin final
We have reviewed the six finalists, and we are presenting them here in tonight's running order.
Fókus – Battleline
Wiv: Wow; these guys can really sing! The lyrics are positive and happy, and they actually work better in English than in Icelandic. Which is not something I say too often… Their voices are great together, and the harmonies as well. And it's all a bit too polished for me to really go for it.
Score: 4/10
Hlynur: I can say that I prefer the English version, one reason is that their voices are more in harmony. This song sounds like it could be a theme song to inspirational children's movie. The song is not bad, however I don't really connect to it.
Score: 4.5/10
Tim: I like the harmonies between all of them, I love the fact that they all blend so well. With good practice, I hope that they are able to replicate the harmonies they have on stage.
Score: 8/10
Rodrigo: I guess this is too formulaic, but formulae work for a reason. It is effective if not innovative. I really can't say much else.
Score: 5/10
Áttan – Here for You
Wiv: When I heard Áttan would be in Söngvakeppnin I automatically assumed they would win, just like I did when I found out Svala was in last year. But that was before I heard the song. This is very different from what they normally do, and I'm not really all that impressed. It is very "Áttan doing Eurovision", and I don't like it much when artists try to "do Eurovision". And the English lyrics don't help one bit. My clear last place.
Score: 1.5/10
Hlynur: Out of the six songs that made it to the final I like this one the least. Usually artist have one style that they are good at, and this one does not match their usual style. However, this is the song that I hear most on the radio here in Iceland.
Score: 2/10
Tim: I loved how each of their voices compliment each other, and it fits in really well with the message of the song, I would not mind seeing this in Portugal.
Score: 8/10
Rodrigo: There's nothing offensive about this one, but it also doesn't stand out. Would I mind being chilling out in a bar with some friends and this coming up? No. Am I crazy about it? No.
Score: 4.5/10
Ari – Our Choice
Wiv: Ari has possibly got the best voice in the contest this year, which, since this is Iceland we're talking about, says a lot. The lyrics are wonderful, as everything Thorunn writes. And even though I think the Icelandic lyrics are better, I also like the English version a lot. As for the melody, it's moving and fits the message of the song.
Score: 7/10
Hlynur: Like the song tiny bit more in Icelandic, but it keeps charm in English. Ari is an excellent singer as well as having a charming personality that shines through song. Probably my favorite song this year.
Score: 8/10
Tim: I am loving his voice, you can really feel the emotion that he shows when he is signing his song. I can't wait to hear the live version of this version of the song.
Score: 7/10
Rodrigo: Welcome to Disney/Broadway. Ari has a very distinctive voice that would not sound out of place on the stage of a musical. Unfortunately, there is not much else that can save this entry. Three minutes come and go and there seems to be a distinct lack of excitement of any kind.
Score: 2/10
Heimilistónar – Kúst og fæjó
Wiv: This is really a kind of song that I should like, as I very often like this kind of sixties inspired music. Kúst og fæjó does very little for me, however. Which is kind of weird, cuz I like the story behind it too. And the ladies are good! But; nope. Unfortunately not.
Score: 4/10
Hlynur: Kúst og fæjó is popular here in Iceland, especially among kids. It has this funny factor and the ladies of Heimilstónar are quite famous actors. Therefore, many see this as a good options to send to Lisbon. I also think that the song is quite catchy and easy to sing along. And think there is a chance that it will win Söngvakeppnin. Although I would prefer others to win.
Score: 6/10
Tim: It may be an 80's themed song, but who doesn't love a throwback, there is always one in a NF, and out of the ones I have listened to so far, it has got to be one of the best ones this year.
Score: 6/10
Rodrigo: I'm weirdly happy after having listened to this. The song is nothing you haven't heard a million times before, but it has a "don't give a fuck" feel that makes it appealing. And that clumsy keychange is EVERYTHING! Surely not a contender to win, but one that will bring something different to the table.
Score: 5.5/10
Aron Hannes – Gold Digger
Wiv: His entry last year was among my favorites, and I have to admit this song has grown on me a lot. And the English lyrics suits the melody mych better then the Icelandic did. Aron Hannes is really good, and fun and super charming, and if the new show they're putting on is good, I can very easily see this win.
Score: 6/10
Hlynur: I much prefer this song in English. Liked his song from 2017 better, however his performance is more professional this year. He seems to be growing has an artist. This being the most upbeat song of the contest might work in his advantages. Might also do well in Lisbon if it goes there.
Score: 6/10
Tim: I love how upbeat this song is!!! I also love how he builds up a momentum right before the chorus and it just goes on from there, I also like the fact how the song takes so much inspirations from a lot of current hits and mashed them all to produce this spectacular song.
Score: 9/10
Rodrigo: This screams dance and have fun in a very Bruno Mars way. The only issue is probably that the comparison is too obvious and it's hard to compete with Bruno Mars. In any case, I would imagine that should he deliver a solid performance this should be up there with a chance to represent Iceland in Lisbon.
Score: 7.5/10
Dagur – Í stormi
Wiv: I cannot find words grand enough to express my happiness that this song will stay in Icelandic! Here's another amazingly powerful voice. I really like the rock feel of it. The song has a certain similarity to Magni's "Hugarró" from 2012, with the piano intro, the build and the sort of raspy rock voice. However, where "Hugarró" is perfection from beginning to end, this is missing something, especially in the build up to the chorus. It is still my favorite though, and I really hope Dagur will be flying the Icelandic flag in Lisbon! I love me a good rock ballad!
Score: 8/10
Hlynur: Fjarðarpóstur, one of my towns local newspapers, did an interview with me about Eurovision and Söngvakeppnin. The headline of it is "Thinks Dagur will win". Will stick to that, he is a powerful singer and the Icelandic lyrics fit the song super well. Since the songs this year are all quite equal, I think that the factor that will determine the winner is purely based on their singing performance on the night.
Score: 8.5/10
Tim: Dagur sells the song, and what a voice from him. I personally don't like the song, but it's about who sings the song and it suits him perfectly well.
Score: 6/10
Rodrigo: There's something irritating about the whole ensemble here but can't exactly put my finger on what it is. The performance seems rather forced and there is a lack of that "je ne sais quoi" (see what I did there?) that leaves me lukewarm.
Score: 4/10
Who do we want?
The XTRA Jury, this time consisting of Hlynur, Wiv, Rodrigo and Tim, has spoken. Below you can see the average score for each of the songs. And remember; this is not a prediction; it's just their personal opinions!
Their favorite tonight is Aron Hannes and his "Gold Digger"!
"Gold Digger" – Aron Hannes: 7.125
"Í stormi" – Dagur Sigurðsson: 6.625
"Our Choice" – Ari Ólafsson: 6
"Battleline" – Fókus: 5.375
"Kúst og fæjó" – Heimilistónar: 5.375
"Here for You" – Áttan: 4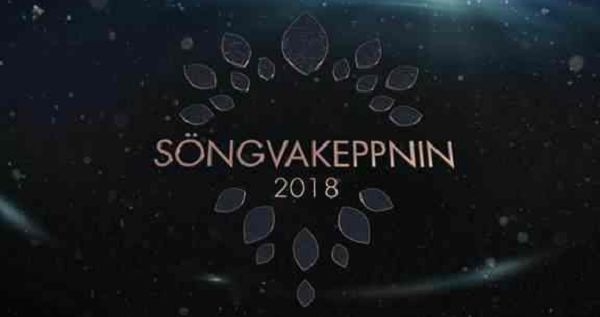 Who should win Iceland's Söngvakeppnin 2018?

Which of these six do you like best? Let us know by voting in our poll!