The national final season is in full swing. On the 10th March, the Finalen of Melodifestivalen is going to take place. We've taken a look at the entries and the procedure below, so here is the XTRA Preview & Review!
XTRA Preview: Melodifestivalen
One of the biggest, and fan-favourite national selection, Melodifestivalen is back for its final, where we will find out who will be representing the Scandinavian powerhouse in Lisbon in May. The act will be selected by an international jury and public vote.
The show will start at 20:00 CET and we will be tweeting and Instagramming from @ESCXTRA.
Among tonight's participants is bookies' favourite Benjamin Ingrosso, who is returning from last year with his song "Dance You Off". In addition to Benjamin, other returnees include Mariette, who is participating for the third time with the song "For You". Also in the line up is Margaret & Mendez who qualified from Andra Chansen with their songs 'In My Cabana' and 'Everyday'
XTRA Review: Melodifestivalen 2018
Méndez – "Everyday"
Tim: The performance itself is really lovely, but I am a bit worried a bit about his live vocals. Méndez himself is a performer and always gives his best in every performance, so I have to give him respect for trying to put on a spectacular show and singing live as it is difficult to do both.
Score: 8/10
Nathan: I really love this entry. I'm delighted it made the Final and I know that this will be a regular fixture on my playlists throughout 2018. The breathtaking colour that hits the cameras as the chorus begins, it's wonderful. Méndez sells this incredibly well live and watching the performance makes me smile from ear to ear. Fantastic.
Score: 9.5/10
Luke: The first half of this song is absolutely perfect, other than his live vocals sounding like he's a chronic smoker with a throat full of razor blades and whiskey. Then the second half hits and it basically just becomes the chorus repeating itself, it's like they gave up on giving it a good ending, it just…stops. It's a glimpse of something really good, but this would really need a revamp if it won.
Score: 6.5/10
Sami: I absolutely love the studio version, it's such a feel-good song. But the live performance is just unbearable. His vocals are pretty bad and even the performance is visually stunning, it is also bit messy. I will definitely listen to this on Spotify after the show, but I won't watch the performance ever again.
Score: 7/10
Renaida – "All the Feels"
Tim: I really love a bop, I do love EDM style music and this is what this song is giving me 100%!  She also executes her vocals flawlessly which what makes it such an exciting song and a nice one to dance to.
Score: 7/10
Nathan: What a bop. Literally. What. A. Bop. One of my favourites in the whole competition this year, it has only grown in love since its release onto Spotify after the first semifinal. Renaida sells this SO well down the camera, the choreo is slick and she's having the greatest time.
Score: 8.5/10
Luke: I really, really like this entry. It builds in such a perfect way and unlike some of the other finalists this year actually reaches something amazing. The performance is so enjoyable to watch, although I'm not quite sure I understand why the backing dancers look like they just escaped from prison, wearing all orange, and for some reason (especially with all of that orange) Renaida reminds me of Lisa Simpson?

Score: 8/10
Sami: This is a good song, but it's quite generic. I don't mind listening to it, but I also don't think it's the best song in this genre.
Score: 5/10
Martin Almgren – "A Bitter Lullaby"
Tim: I love a bit of country, I really do and I love how uplifting the song is, but the problem is that it just doesn't captivate or surprise me, like it did when I saw him in Malmö.
Score: 6/10
Nathan: Martin has such an excellent voice that he really sells this song as best as he can. However, for me the song isn't the kind of music I would listen to in general throughout the year.
Score: 5/10
Luke: I have two tastes in music: the stereotype of Eurovision music – very pop and bouncy schlager, and then….well, exactly this, cheerful and happy-go-lucky stuff with guitars and people loving life. A Bitter Lullaby fits in PERFECTLY with that other taste, and I'm so happy to see it in the Eurovision world!
Score: 9/10
Sami: I really love Martin's voice, but I don't really have a lot to say about the song. I like the lyrics and it's very well produced. It also reminds me of summer for some reason.
Score: 6/10
John Lundvik – "My Turn"
Tim: This is such a throwback ballad, very melodic and has a good message to it. But the problem is that it's so mellow, that he might get lost with the other songs that has bigger theatrics. I hope he manages to pull everyone in with the way he executes his vocals on the night.
Score: 6/10
Nathan: Watching this live in the semifinal, I could totally see why this qualified. However, in general I don't really listen to the studio version of this song. John really connects well with the camera in his performance and that will be his best chance of being able to sell it to the crowd on the night.
Score: 5/10
Luke: "IT'S MYYYYYY TURN" to be extremely basic on stage. Sanna Nielsen is SHOOK that her lighting idea has been stolen. Perhaps in the final performance, John will also have one of the lights malfunction and blind him by shining directly into his face, as happened in one of Sanna's rehearsals. This is just a completely nothing song, entirely unoriginal.
Score: 1/10
Sami: The studio version isn't anywhere as good as the live version. John is such a charismatic performer and he sounds amazing. Even the lyrics are bit cliché, I still like the story behind the song.
Score: 7/10
Jessica Andersson – "Party Voice"
Tim: I am going to say this a lot, I LOVE SCHLAGER, I LOVE SCHLAGER, I LOVE SCHLAGER!!! We really needed schlager back and Jessica definitely gave us this and executed her performance flawlessly!! I wish she gives that awesome performance in Stockholm like she did in Malmö.
Score: 9/10
Nathan: I am glad to say that this 2018 version of a schlager song really gets me bopping along live in the arena. It's another finalist that I wouldn't be listening to throughout the year but I can appreciate why this song appeals to a large portion of the audience. The lyrics are catchy and sweet, the choreography is on point and Jessica give it her full energy and personality.
Score: 6/10
Luke: Schlager is always a massive guilty pleasure of mine and I'm so happy that Jessica has returned to Mello with an absolute banger. But I have to ask, how exactly does one "Dance like a mother"?
Score: 9.5/10
Sami: Well, it was about a time to have a schlager song in the final again. I do enjoy this more than I enjoy schlager usually and I think it's because this is modern enough. Jessica didn't sound that good in the semifinal though.
Score: 6/10
LIAMOO – "Last Breath"
Tim: This song just shows vocally versatile LIAMOO is, and I love all the aspects of his live performance (who wouldn't I mean Sacha Jean-Baptiste was awesome with this staging!) plus I love how all the effects synchronise with the song, which appeals to the eye.
Score: 9/10
Nathan: This song tells a real story. I find myself going back to the chorus and singing it over and over again. It is ever so catchy. The staging for LIAMOO's performance is something special and I really pay attention for the full three minutes without ever deviating from his engaging looks to camera. I just know I'll be listening to this many hundreds of times this year.
Score: 8.5/10
Luke: Somehow I'm cringing really hard listening to this. I think it's the lyrics – they're just too cheesy and trying way too hard to be emotional in a song which is, at best, basic. It's also depressingly hilarious that LIAMOO was first in the odds for months before Mello, then he released whatever this thing is and the bookmakers were just like: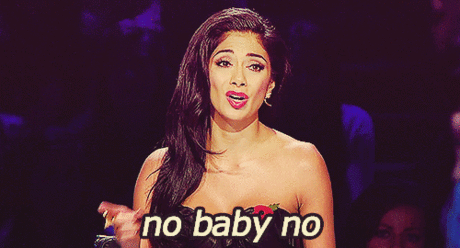 Score: 3/10
Sami: I didn't like this that much when I first saw it, but it has grown on me a lot. LIAMOO does both — singing and rapping — very well and there is some pure feeling in this song. I think it still is more made for radio than on the Eurovision stage.
Score: 7/10
Samir & Viktor – "Shuffla"
Tim: Looks like third time's a charm, with Samir & Viktor as they got to final straight away with this track. I don't blame them, it is an amazing track. However, I am still not convinced with their vocals, so if they win, is the main thing they will have to work on. But other than that, the song is awesome.
Score: 6/10
Nathan: Honestly, this entry caught me by surprise when we first heard it. I didn't expect to hear Samir & Viktor giving us the kind of sound that has the potential to be a global hit. I love Shuffla a lot and I'd love to see it do well on Saturday and I'd be happy with this winning.
Score: 9/10
Luke: This is something that could definitely get the audience going in Lisbon! Especially if they were to change all the Swedish cities into some of the participating countries, getting all of Europe on their feet and shuffling. I love it!

Score: 9/10
Sami: I absolutely love this song. It's just so much fun and if it wasn't in Swedish, it could be a worldwide hit. I really think everyone would dance to it on the arena, similar to Moldova last year. It's one of my favourite national selection songs ever.
Score: 10/10
Mariette – "For You"
Tim: I have been a very big fan of Mariette, I really love the song and how Mariette is always artistic with her Melodifestivalen performances. For You is not an exception, it's so simple, yet it still manages to bring me in. I know she won't win, but I would be very happy if she finally gets her shot at Eurovision.
Score: 9.5/10
Nathan: For me, this is undoubtedly the best entry that Mariette has brought to Melodifestivalen so far. This is staged in the most perfect way. I love how it comes across on camera and how Mariette engages with the audience at home. "For You" would be an incredible Eurovision entry for Sweden to show off it's modern pop approach in 2018.
Score: 9.5/10
Luke: I can't fault this in any way. It's catchy and different and just….it's perfect. I have nothing more to say – it's just spot on.
Score: 10/10
Sami: I prefer this over "Don't Stop Believing" but I think "A Million Years" was slightly better and had much better performance. I'm not sure what they are trying to do with the staging, it feels so empty. The song is good and modern and I would actually like to see how this does at Eurovision.
Score: 9/10
Felix Sandman – "Every Single Day"
Tim: I really love how emotional Felix gets with his performance. The more I listen to it, the more I just want to hide in my room and keep listening to it. I like that it just focuses on him and no one else. No theatrics and no gimmicks.
Score: 9.5/10
Nathan: Wow. Just wow. There is a not a lot more I can say. The emotion that Felix channels gets me emotionally on edge, I feel every single word and every single heartbreak that he's singing about. Beautifully written, beautifully staged and beautifully sung.
Score: 9/10
Luke: I usually hate these sorts of song, in which it's some teenage heartthrob singing a Justin Bieber-esque song about "WOOOOAHAHOHOHOHOHOOOO GIRL YOU'RE THE ONE FOR MEEEEE *hip thrust*"…but this is so understated and emotional that it completely overrides that instinctual repulsion – it's perfectly done.

Score: 9.5/10
Sami: This song keeps growing on me and I think the same thing is happening with the Swedish people. I wouldn't be surprised if this won. It's very traditional ballad, but very well done and Felix is really giving his all.
Score: 9/10
Margaret – "In My Cabana"
Tim: Is it possible to love Margaret even further? I mean this song is very awesome!! I cannot stop dancing along to it every time I listen to it. Having a Master Shot for like two-thirds of the song is hard, but she has executed this flawlessly with her dancing and vocals. I expect this to do very well.
Score: 10/10
Nathan: What a brilliant entry for Margaret to bring to Melodifestivalen. Reflecting current trends, of course, "In My Cabana" absolutely bangs. Margaret has no issues in selling this live now that they've made the tweaks to it and it's a song that I would listen to over and over again this year.
Score: 8/10
Luke: I propose a new rule for our Preview and Review: any song that starts with that bloody air horn instantly loses half its points. Please can we have this? Other than taking me to a ghetto within the first 5 seconds, the song itself is pretty catchy once it gets started, I just wish that it built up to something more at the end, since I'm left a little disappointed at the end.
Score: 5/10
Sami: Margaret is really riding on the current trend with this, but it's not a bad thing. The lyrics are bit silly, but overall it's just a fun song.
Score: 8/10
Benjamin Ingrosso – "Dance You Off"
Tim: I was really sceptical as to whether or not Benjamin can top off Good Lovin, and I am putting my money where my mouth is, cos he has done this very well. If he does win, it looks like the song, and even the staging is ready for Lisbon.
Score: 9.5/10
Nathan: Right, off the bat I must admit that this song is not for me. However, the staging of this entry is so professional that it really does look like a music video (until the ghastly wide shot from above that destroys illusion, anyway!) and Benjamin dances his way through the three minutes perfectly. However, my biggest fear is… how on earth do you replicate this song completely live with no pre-recorded backing vocals at Eurovision if it does win tonight's final?
Score: 7/10
Luke: The song is decent, but for me it's missing something that pushes it just that bit further into the "I want to marry this song" territory. In the live performance though, the staging completely makes up for that and I'm still partially at a loss to explain how the hell they've managed to achieve that effect on stage. The staging itself could push this into top 5 at Eurovision, if somehow the song isn't enough.
Score: 8/10
Sami: I really prefer this to "Good Lovin'" and I believe he will also do better this time. I guess it's the most likely winner, but even I like the song, I'm not sure if I would like to see this winning. Even it's a good song and Benjamin is a great performer, it still lacks some personality.
Score: 8/10
Rolandz – "Fuldans"
Tim: My eardrums!!! Oh god, I have no words to describe this atrocity, please make it stop. It's like I'm at a kid's show and they created a dance craze, just no…..
Score: 1/10
Nathan: Personally, I believe the inclusion of this song in the competition has forced another entry to miss out on progressing to the latter stages of this year's show. If this was an interval act, it would be thoroughly enjoyable. The fact that it is a competing entry which has robbed a spot in the Final from another artist which would be better placed to represent Sweden on the international stage is an injustice.
Score: 0/10
Luke: Ok, I know that the lead singer is a comedian…but this song is just so ridiculous and silly that it's become unenjoyable for me. The tune itself isn't that bad, but the whole performance is just so bizarre and a joke that it's completely ruined it. Sorry Rolandz, bye bye.
Score: 2/10
Sami: I hope I never have to listen to this song again after tonight's final.
Score: 0/10
Who do we want?
The XTRA Jury, this time consisting of Tim, Nathan, Luke and Sami has spoken. Below you can see the average each song achieved. Their favourite for tomorrow's show is Mariette's "For You"!
Mariette – For You: 9.50
Felix Sandman – Every Single Day: 9.25
Samir & Viktor – Shuffla: 8.50
Benjamin Ingrosso – Dance You Off: 8.13
Margaret – In My Cabana: 7.75
Mendez – Everyday: 7.75
Jessica Andersson – Party Voice: 7.63
Renaida – All The Feels: 7.13
LIAMOO – Last Breath: 6.89
Martin Almgren – A Bitter Lullaby: 6.50
John Lundvik – It's My Turn: 4.75
Rolandz – Fuldans: 0.75
Below, we've included a playlist for you. Which of these twelve do you like best? Make sure to let us know who you like by commenting!