The scheduled release date for the official Eurovision Song Contest 2019 CD compilation has been revealed. According to French entertainment store fnac, the compilation double CD will be released on April 26th!
Take a look at the artwork
Of course, release dates are always subject to change. Nevertheless, this release date is in line with expectations. The release date of April 26th is a week later than last year's release, which coincides with this year's contest also taking place a week later. In addition, the official artwork for the CD has been unveiled.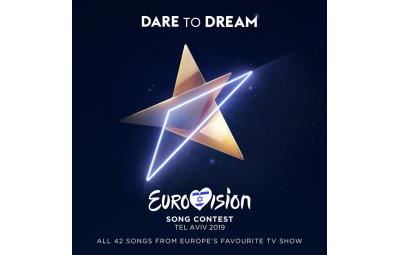 Presumably, this artwork was designed prior to the withdrawal of Ukraine, with 41 songs now remaining in this year's contest.
So far, there is no word of a release date for the official DVD of the contest, or whether they will be a Vinyl or Blu-ray release.
Track Listing
While the track listing for this year's CD is yet to be officially revealed, based on the ordering on previous editions of the compilation, the track listing is expected to be as follows:
Disc 1
Jonida Maliqi "Ktheju tokës" (Albania)
Srbuk "Walking Out" (Armenia)
Kate Miller-Heidke "Zero Gravity" (Australia)
PÆNDA "Limits" (Austria)
Chingiz "Truth" (Azerbaijan)
Eliot "Wake Up" (Belgium)
ZENA "Like It" (Belarus)
Luca Hänni "She Got Me" (Switzerland)
Tamta "Replay" (Cyprus)
Lake Malawi "Friend Of A Friend" (Czech Republic)
S!sters "Sister" (Germany)
Leonora "Love Is Forever" (Denmark)
Miki "La venda" (Spain)
Victor Crone "Storm" (Estonia)
Darude feat. Sebastian Rejman "Look Away" (Finland)
Bilal Hassani "Roi" (France)
Michael Rice "Bigger Than Us" (United Kingdom)
Oto Nemsadze "Sul tsin iare" (Georgia)
Katerine Duska "Better Love" (Greece)
Roko "The Dream" (Croatia)
Joci Pápai "Az én ápam" (Hungary)
Disc 2
Sarah McTernan "22" (Ireland)
Hatari "Hatrið mun sigra" (Iceland)
Kobi Marimi "Home" (Israel)
Mahmood "Soldi" (Italy)
Jurij Veklenko "Run With The Lions" (Lithuania)
Carousel "That Night" (Latvia)
Anna Odobescu "Stay" (Moldova)
Tamara Todevska "Proud" (North Macedonia)
Michela "Chameleon" (Malta)
D mol "Heaven" (Montenegro)
Duncan Laurence "Arcade" (The Netherlands)
KEiiNO "Spirit In The Sky" (Norway)
Tulia "Fire Of Love (Pali się)" (Poland)
Conan Osíris "Telemóveis" (Portugal)
Ester Peony "On A Sunday" (Romania)
Sergey Lazarev "Scream" (Russia)
Serhat "Say Na Na Na" (San Marino)
Nevena Božović "Kruna" (Serbia)
Zala Kralj & Gašper Šantl "Sebi" (Slovenia)
John Lundvik "Too Late For Love" (Sweden)
Bear in mind that with North Macedonia participating under their new name for the first time, it may be possible that their order within the track listing differs in comparison to previous years. However, with their country code still being mk, the EBU's method of organising the running order, their placing should remain the same.
It is expected that the digital release of the album will be released shortly prior to the physical release on April 26th.
Will you be buying this year's official Eurovision CD? What do you have in your collection so far? Let us know!