Welcome to The Xtra Files, our new series which will give you an insight into what the team at ESCXTRA think of your favourite entries into this year's contest! Today, we review Malta.
Now that all the songs have been released, we are able to review each and every one of them. Our honest and brutal reviews will keep you entertained until the rehearsals start on 5 May! We will also each give a score out of 10 for every entry, and create an ESCXTRA leaderboard of the entries!
The series continues today, with reviews of the Maltese entry, 'Chameleon' by Angelos, Dan, Ryan, Simon, Tim and Tom R. Let's get started!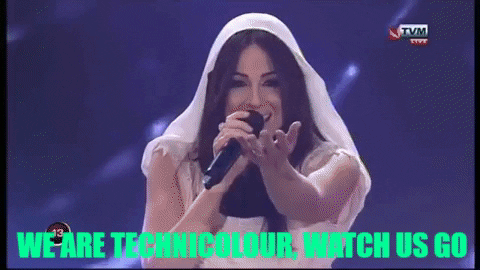 The Reviews
Angelos
Thanks Malta for bringing something fresh and contemporary to the contest. "Chameleon" is the kind of song that you don't immediately remember after first listening, but that makes you want to listen to on… replay. Over and over again! Great pop/reggaeton production with multiple hooks and one of the few female dance songs this year. I'm already looking forward to this performed live in Tel Aviv. This should definately do a top-10 with a good performance. Well done Malta!
Dan
I was a latecomer to this, initially thinking it was nothing special but my goodness, was I wrong. A few listens in and I now fully appreciate what a great pop track this is. It has essenses of Fuego but not enough for it to be classed as a blatant copy. The song suit's Michela's vocals perfectly and the production is on point. Without a doubt Malta's best offering this decade.
Ryan
Wow wow wow! This is the most chart-ready song in the entire contest, it's so 2019 with its reggaeton production and has multiple hooks that draw you in from the very first listen. The structure of the song is perfect, with the pop drops for the first two choruses keeping you waiting for the big explosion in the final chorus with the repetition of the middle eight. It really is genius! The music video is also amongst the best of the year, and I hope Malta can translate this to the stage. I'm so pleased they gave Michela a contemporary uptempo song rather than a ballad despite her immense vocal talents, if this was a Dua Lipa single it'd be a worldwide smash.
Simon
If you're not sure what wine you want at the shop, then it is common to pick something off the second shelf with intriguing label. And that's seemingly what the Maltese did when going shopping at the Swedish song shop. Absolutely off the shelf, but at least it is more radio-friendly and contemporary than your average 'Maltese' offering.
Tim
Chameleon for me is basically when 'Cool Me Down' meets 'Fuego' (don't shoot a person for expressing their opinion). Personally, I really like how the beat drops and every build up to the Chorus gets better everytime it happens. We all know how capable of a performer Michela is (she wouldn't have won X Factor if that wasn't the case) and I just hope she can replicate the personality the track shows to the stage and I cannot wait to dance along to this in Tel Aviv.
Tom R
Malta have always been a favourite country of mine in Eurovision and they haven't failed to disappoint this year! I was sceptical about them using X Factor to select their entry, but it has definitely paid off! "Chameleon" is very modern and feels like it would fit well into the charts and from her X Factor performances, it's clear that Michela is a natural performer! Being drawn between Croatia and Lithuania in the semi-final, there no doubt Malta will make it to the final! I hope the staging will complement the song well too. The music video has too many great elements for them not to be carried through to the stage in Tel Aviv!
Scores
Angelos
8
Natalie
8
Sara
8
Costa
8.5
Nathan P
10
Simon
5
Dan
8
Nathan W
10
Tim
8.5
Dominik
8
Nick
6
Tom O
9
Emanuel
8
Oliver
7.5
Tom R
9
Hlynur
7
Riccardo
9.5
Vincent
6.5
Lisa
10
Rigmo
10
Wiv
3
Luke
10
Rodrigo
5.5
Matt
7.5
Ryan
10
Miki
10
Sami
8
Therefore, the average score for Malta is 8.10.
Leaderboard
Malta reaches a fantastic 2nd place in our leaderboard with a score of 8.10!
Cyprus – 8.26
Malta – 8.10
Spain – 7.54
Norway – 6.96
Slovenia – 6.63
Hungary – 6.44
Iceland – 6.39
Ireland – 6.17
Czech Republic – 6.17
Portugal – 5.91
France – 5.74
Finland – 5.50
Austria – 5.39
Denmark – 5.13
San Marino – 5.11
Lithuania – 4.78
Australia – 4.65
Moldova – 4.50
Montenegro – 3.48
Tomorrow, it will be the turn of Armenia to be reviewed.
Do you agree with our reviews of Malta? What are your thoughts on Chameleon?
Let us know on social media @ESCXTRA!