Welcome to The Xtra Files, our new series which will give you an insight into what the team at ESCXTRA think of your favourite entries into this year's contest! Today, we review Italy.
Now that all the songs have been released, we are able to review each and every one of them. Our honest and brutal reviews will keep you entertained until the rehearsals start on 5 May! We will also each give a score out of 10 for every entry, and create an ESCXTRA leaderboard of the entries!
The series continues today, with reviews of the Italian entry, 'Soldi' by Dominik, Matt, Ryan, Sara, Tom R and Wiv. Let's get started!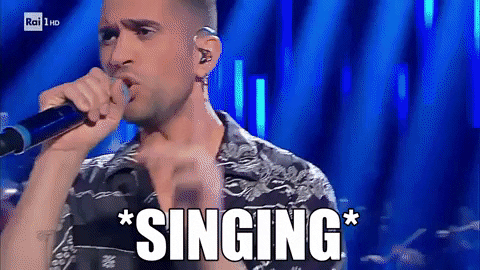 The Reviews
Dominik
I needed a few times listening to that until I totally liked it. It's such a good song and I really like the vibe of the song and the chorus is just brilliant. This will go down in Tel Aviv very well. On stage and at the parties. He's already getting more streams on Spotify as everyone else since the beginning and this song is probably in my Top 3 of my fave Italian entries since they returned in 2011. Soooo good!
Matt
Love it! Took me a while to get there but I now never skip this on the playlist. And I'm a simple creature. Tell me to clap twice and I will…CLAP CLAP… I would say this is a dark horse…CLAP CLAP… but at the time of writing it's still high in the betting stakes…CLAP CLAP
Ryan
This is a fantastic choice for Italy and potentially their strongest entry to date for me. It's modern, radio-friendly and the use of the handclaps is reminiscent of the "Allez!" lyric in Francesco Gabbani's much-loved "Occidentali's Karma". The music video for "Soldi" is very engaging and hopefully, without the restrictions of the Sanremo Festival, Mahmood will be able to add some exciting production elements to his staging in Tel Aviv.
Sara
Looking at all the songs, Soldi is my prefered winner this year. It's modern, it has an edge, it doesn't sound like any other song this year, and is performed with just the right amount of attitude. Despite my initial reluctance to accept this as Italy's entry (Irama anyone?????), it has grown on me a lot, and Italy continues their streak as my favorite Eurovision country; fingers crossed for Mahmood and Rome (Milan? Turin?) 2020.
Tom R
I don't know what to make of Soldi. It's not an awful song but I just can't see to place it very high in my ranking. There's too many songs that are just better than it. Though, I can't help listening to it without doing the CLAP CLAP in the chorus so that must be a good thing. Me and Italian entries have a weird relationship. I seem to dislike them before the contest but after the contest, they become one of my favourites – it happened last year! There's not much more to say about this one: it's not awful but it's not great but I can see it doing quite well in Tel Aviv like Italy always does!
Wiv
I love love love this! Ever since Italy returned to the contest, they have been among my faves most years. I still get upset thinking of Raphael being cheated out of his victory by *that*, and whatever happened in 2012, and 2013?! So, if it's not gonna be Iceland this year, it had better be Italy! Mahmood's voice it exquisite, the beat is über cool, and I love the story. And it's a song for everybody; both my mom and my 5th and 7th graders also love it. Forza Italia!
Scores
Angelos
7
Natalie
10
Sara
10
Costa
9.5
Nathan P
8
Simon
7
Dan
10
Nathan W
9
Tim
8
Dominik
8
Nick
7.5
Tom O
7
Emanuel
10
Oliver
10
Tom R
4
Hlynur
8
Riccardo
9
Vincent
9
Lisa
8.5
Rigmo
10
Wiv
10
Luke
5.5
Rodrigo
9.5
Matt
8
Ryan
8.5
Miki
9
Sami
7.5
Therefore, the average score for Italy is 8.43.
Leaderboard
And we have a new silver medalist *CLAP* *CLAP*. Yes, Italy ends up at 2nd place on our leaderboard with a score of 8.43.
Switzerland – 8.65
Italy – 8.43
Cyprus – 8.26
Malta – 8.10
Spain – 7.54
Armenia – 7.35
North Macedonia – 7.00
Norway – 6.96
Albania – 6.94
Belgium – 6.85
Estonia – 6.74
Slovenia – 6.63
Hungary – 6.44
Iceland – 6.39
Ireland – 6.17
Czech Republic – 6.17
Belarus – 6.02
Portugal – 5.91
France – 5.74
Finland – 5.50
Poland – 5.43
United Kingdom – 5.41
Austria – 5.39
Russia – 5.32
Denmark – 5.13
San Marino – 5.11
Latvia – 5.06
Lithuania – 4.78
Germany – 4.69
Australia – 4.65
Moldova – 4.50
Montenegro – 3.48
Israel – 3.30
Georgia – 3.00
Croatia – 2.96
Tomorrow, it will be the turn of Romania to be reviewed.
Do you agree with our reviews of Italy? What are your thoughts on Soldi?
Let us know on social media @ESCXTRA!