Welcome to The Xtra Files, our new series which will give you an insight into what the team at ESCXTRA think of your favourite entries into this year's contest! Today, we review Sweden.
Now that all the songs have been released, we are able to review each and every one of them. Our honest and brutal reviews will keep you entertained until the rehearsals start on 5 May! We will also each give a score out of 10 for every entry, and create an ESCXTRA leaderboard of the entries!
The series continues today, with reviews of the Swedish entry, 'Too Late For Love' by Dimitris, Luke, Miki, Rodrigo, Ryan and Vincent. Let's get started!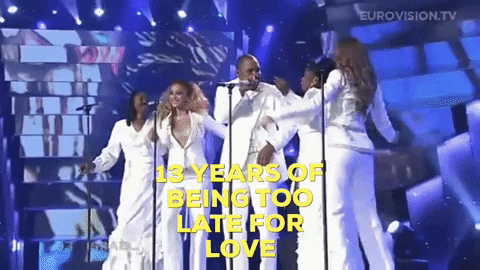 The Reviews
Dimitris
I'm not a massive fan of Sweden's entry this year, I have to admit it. I was not overly excited with Melodifestivalen in the first place (sue me) but at least it was a step-up from last year's disaster. However, I have to admit that this was one of the least mediocre songs Sweden had to offer, which isn't exactly a great thing. It's not necessarily a bad song at all, but I'm just not loving it. I feel like for a while now Sweden is just going with an obvious or safe option every year, that will obviously give them another top 10 somehow, and it's getting tiring.
Luke
Ok so Sweden do this every year and I'm really starting to get tired of it: they have a national final with some fantastic songs and they just go for the plain old generic safe entry. Yes, they'll do decently with this…but I'd love to, just for once, see Sweden send something different than the same old entries they've been sending for the last 5 years or so! I'm just bored of hearing the exact same song year in year out…
Miki
s it too late to love? It never really is too late to love or be loved but this song is definitely arriving late to the party genre wise. I know I might sound a bit harsh but other than it being a pleasant tune, with a beat and a glossy stage show this song has no business being in the top 5 according to the betting odds. John is extremely competent performer and songwriter. However, I the true shining stars of the song are the choir of ladies backing him up. Sweden will once again bring out the big guns for their stage show and it certainly is a credible entry, but it definitely leaves me linger for more.
Rodrigo
Unsurprisingly, Sweden has done a Britney and "ooops, they did it again". Much criticism went in the Swedes direction because of a perceived lack of overall quality in this year's Mello, but the reality is that you really only need one good song, and for that song to win. And so it did. "Too Late For Love" is a wonderful song, instant, catchy, modern and that leaves a great impression on first listen. John is a solid performer and he delivered flawlessly each time he had to.
Sweden know how to stage a song, and their Mello act was Eurovision ready (even if there are rumour of changes being implemented). Some say Sweden year on year sends entries that are too perfect, almost clinical, and use this as a negative. To me, this just shows the utmost respect they have for the contest and why they have been rewarded with great results since they missed out on the final. To me this has winner written all over it, and it should definitely be a contender.
Ryan
Melodifestivalen took a big step up again this year after what I consider to be its poorest edition in many years in 2018. "Too Late for Love" offers something slightly different to Sweden's stereotypical pop songs with its gospel element. When comparing this package to the UK's Michael Rice, it's obvious that "Too Late for Love" is the much more modern and professional offering. This should secure Sweden another top ten finish, but it's not a winner.
Vincent
The Nordics have had a bit of a journey in my preferences : I didn't like Norway, and after MGP I did (and even more after Amsterdam). I liked "Look Away" before UMK and then found it boring (and even more after Amsterdam). Sweden is the (un)happy medium of stability: I didn't like it much before Melodifestivalen, neither do I now, and though I enjoyed it at the Amsterdam Afterparty, I cannot say I do so when I listen to it. Lundvik is certainly talented, as a singer and a songwriter, but this is too gospelly for me.
Scores
Angelos
6.5
Natalie
8
Sara
9
Costa
7.5
Nathan P
5
Simon
3
Dan
8
Nathan W
4
Tim
9
Dominik
10
Nick
7
Tom O
9.5
Emanuel
7
Oliver
9
Tom R
9.5
Hlynur
4
Riccardo
3
Vincent
6.5
Lisa
7
Rigmo
9
Wiv
4
Luke
5
Rodrigo
10
Matt
9
Ryan
9
Miki
6
Sami
9
Therefore, the average score for Sweden is 7.17.
Leaderboard
Sweden reaches 8th place in our leaderboard with a score of 7.17.
The Netherlands – 8.65
Switzerland – 8.65
Italy – 8.43
Cyprus – 8.26
Malta – 8.10
Spain – 7.54
Armenia – 7.35
Sweden – 7.17
North Macedonia – 7.00
Norway – 6.96
Albania – 6.94
Belgium – 6.85
Estonia – 6.74
Slovenia – 6.63
Hungary – 6.44
Iceland – 6.39
Ireland – 6.17
Czech Republic – 6.17
Belarus – 6.02
Portugal – 5.91
France – 5.74
Romania – 5.74
Serbia – 5.63
Finland – 5.50
Poland – 5.43
United Kingdom – 5.41
Austria – 5.39
Russia – 5.32
Denmark – 5.13
San Marino – 5.11
Latvia – 5.06
Lithuania – 4.78
Germany – 4.69
Australia – 4.65
Moldova – 4.50
Montenegro – 3.48
Israel – 3.30
Georgia – 3.00
Croatia – 2.96
Tomorrow, it will be the turn of Azerbaijan to be reviewed.
Do you agree with our reviews of Sweden? What are your thoughts on Too Late For Love?
Let us know on social media @ESCXTRA!