This week we will be traveling to the "dark ages" of last year's host country, Portugal at the Eurovision Song Contest. Get the margaritas ready, whip out and flick your fans and Dança Comigo.
Portugal has just recently managed to score their first ever Eurovision win yet they were not always the hot tip for taking the infamous trophy back home. Exactly ten years before their win, Sabrina suggestively invited us on a trip to the moon with the promise of making all our dreams come true, but in the end …. She didn't.
Peeking at the right time
Despite not qualifying for the grand final and showcasing her interesting choreography during Saturday's show, Sabrina did kind of surpass everyone's expectations.
Her decent vocal performance, effortless dance moves (yes, I do think that the ocean wave dance move should make its comeback as showcased in the gif below) and the vibe of enjoying herself on stage truly did push Portugal only a few points away from qualifying, finishing in the unlucky 11th spot in the semi overall.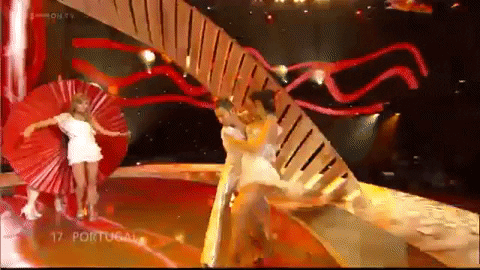 Dança Comigo (Vem Ser Feliz)
Cheesy yet brilliant! "Dança Comigo" is certainly not the best representation of the Portuguese music scene but somehow it manages to sneak through a bit of lighthearted and inoffensive fun to the lineup of songs in 2007.
Interestingly enough, when I was going through all the entries from Portugal and deciding on what song I would like to write about this was the song that immediately came to my mind.
I wanted something dancy, fun, summery and breezy so in walks Sabrina with her two dancers awkwardly moving around her.
However, I won't deliberate on discuss the musical value of the song mainly because I think it's fair to say no one would categorize this song as robbed, underrated or great for that matter.
What our other editors had to say
Riccardo:
I tend to be a fan of whatever Portugal does at Eurovision, oddly so since I always prefer upbeat stuff rather than the melancholic soup they often bring to the table. I mean Conan was my second place and I will never forgive juries and televoters for failing to see the masterpiece it was. But enough rambling, let's talk about Dança comigo. It's cute but not dangerous. It brings me to a crowded Lisbon street on a summer evening and I imagine myself walking holding a cold beer watching people eat and enjoying life, but that's a plus for me! I dig the dance moves but I can't quite say the same about her vocals or the outfits, and also what are those giant fans doing? I could only justify them if carnival is what they were aiming for. Overall, I like it a lot, but I would imagine I could get tired of it quite easily.
Natalie:
Who would've thought when watching this, that 10 years later Portugal would go on to win Eurovision? Certainly not me with the state of this entry. Part of me feels like this could pass as a subpar Strictly Come Dancing performance. Not to mention the fans used by the backing singers are bigger than my future. Although I'm appreciative of countries singing in their native language, were the English lyrics necessary towards the end? Absolutely not. Please, let me go back to forgetting that this ever existed.
Hlynur:
I honestly have nothing to say about this song. I can not say I like it but it does not annoy me at all. So I tried getting a feedback from my 4 year old nephew. His response came with little emotion; "It's very fine".
Simon:
I had wiped this one from the archives of my mind. Frothy and functionless, Portugal were never onto a winner with this one. I was going to say it hasn't aged well, but it was already dated before it was written. That said, Sabrina has a good voice and Portugal have committed far worse offenses over the years.
Is Dança Comigo (vem Ser Feliz) among your favorite Portuguese entries at Eurovision? Do you think Sabrina should have qualified for the grand final? Would you like to see Sabrina make her comeback to the contest?