Welcome to the second part of 'Junior Eurovision back in time'! In this article we look back to the 2004-edition. Like the 2003-edition, it also took place in Scandinavia, but this time in Norway. What do you remember about Lillehammer 2004?
Date: 20 November
Venue: Håkons Hall
Host broadcaster: NRK
Presenters: Stian Barsnes Simonsen & Nadia Hasnaoui
Number of entries: 18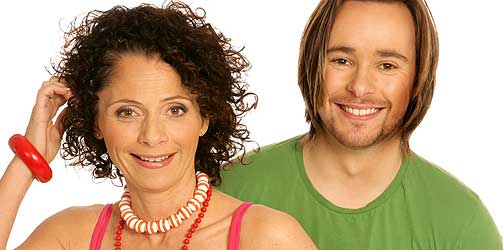 For a long time it was unclear where the festival would take place. Normally, the United Kingdom would host the second Junior Eurovision in Manchester. In the end the British broadcaster ITV had to deal with financial problems. As a result, they declined hosting Junior Eurovision 2004. Then, the EBU decided to leave the organization to Croatia, the winner of 2003. The country accepted, but the arena where the festival was to take place had already been booked. At last, Norway took over the organization. So the 2004 Junior Eurovision took place in Lillehammer.
Participating countries
Compared to 2003, the 2004 edition did not have many changes with regard to participating countries. All 16 countries that participated the year before also participated in 2004. We did welcome two new countries. Switzerland and France debuted. However, it would be the only participation for both countries. France did not participate for the second time until 2018.
The full list of participating countries:
Greece: Secret Band – O palios mou eaftos
Malta: Young Talent Team – Power of a Song
The Netherlands: Klaartje & Nicky – Hij is een Kei
Switzerland: Demis Mirarchi – Birichino
Norway: @lek – En stjerne skal jeg bli
France: Thomas Pontier – Si on voulait bien
North Macedonia: Martina Siljanovska – Zabava
Poland: KWADro – Łap życie
Cyprus: Marios Tofi – Onira
Belarus: Egor Volchek – Spiavajcie so mnoj
Croatia: Nika Turkovic – Hej mali
Latvia: Martins Talbergs & C-Stones Juniors – Balts vai melns
United Kingdom: Cory Spedding – The Best Is Yet to Come
Denmark: Cool Kids – Pigen er min
Spain: Maria Isabel – Antes muerta que Sencilla
Sweden: Limelights – Varför jag
Belgium: Free Spirits – Accroche-toi
Romania: Noni Razvan Ene – Îți mulțumesc
Interval act
While the voting lines opened and the kids had to wait for the points to come, it was time for an interval act! This year, the act came from Ireland. Irish boyband Westlife with former Eurovision-participant Nicky Byrne performed 'Ain't that a Kick in the Head?'
Top 3
Coincidence or not? In 2004, exactly the same countries were in the top three as the year before. However, in a different order.
3. Croatia: Nika Turkovic – Hej mali
2. United Kingdom: Cory Spedding – The Best Is Yet to Come
1. Spain: Spain: Maria Isabel – Antes muerta que Sencilla
Maria Isabel wins Junior Eurovision 2004
The young Spanish singer was only nine years old when she won the Junior Eurovision Song Contest for Spain. She received points from all other 17 countries, of which eight were the big 12! They came from Switzerland, France, Poland, Croatia, Denmark, Sweden, Belgium and Romania. With a total score of 171, Maria Isabel had the highest score ever at a Junior Eurovision Song Contest for a long time. Only in 2015 did someone get over that score, namely Mika from Armenia, who was then second.
After her JESC participation, María Isabel was very successful with 'Antes Muerta Que Sencilla'. Not only in Spain did her song hit the charts, but also in other countries such as France, Italy, Scandinavia and even in Latin America! A year after her victory, she released her second album.
Some fun facts
France and Switzerland debuted in Norway. It was also the only time that both countries took part in the festival. France returned to the Junior Eurovision Song Contest 2018.
Greece opened the show for the second time.
Poland sent KWADro to Norway. One of the singers, Weronika Bochat is the first singer to have performed at both the Junior and the major Eurovision Song Contest. In 2010, Weronika acted as background singer for the Polish entry.
Did you enjoy this review? Make sure to stay updated by following @ESCXTRA on Twitter, @escxtra on Instagram and liking our Facebook page for the latest updates!