As our team continues to grow, it means there are more of us that you can get to know! Therefore, we will continue to bring back our "Meet the ESCXTRA Team" feature each time we have someone new for you to meet. What is our personal Eurovision story? Why did we want to be a part of this website? What are our favourite Eurovision songs of all-time? Also, how can you get in touch with us on social media? Read on to find out!
ALINE VAN ROSSEM
Good evening Europe, Australia and the rest of the world! My name is Aline Van Rossem. I am a girl born on September 5, 1998. I call myself a 'small town girl in a big arcade' because I am one of the smallest in the group with my 1m57. No worries, I am proud of my height because I can often be at the front of a stage during a Eurovision event! I describe myself as a passionate person who always looks positive at life, filled enthusiasm and a good dose of joy a.
In addition to my great passion for the Eurovision Song Contest, I really love to dance. I have been doing that for 13 years now. I am also very happy to travel. Thanks to Eurovision, Europe has really stolen my heart. My goal is to visit all countries in our small beautiful continent. Furthermore, I am a student. At this moment I'm in my final year of Office Management – Business & Languages. I have always been passionate about languages so that's why I definitely wanted to use it in my professional life. I have considered doing a Journalism course but due to the lack of work opportunity in Belgium I decided not to. So now I call myself a 'hobby journalist' at ESCXTRA. 'Eurovision Journalist'… Sounds like a dream job right?
Your Eurovision journey?
Growing up with JESC
I will take you back to my childhood and explain how I got my passion for the Eurovision Song Contest. When I turned five, my mom gave me a children's atlas. Normally I would not like books, but that atlas fascinated me enormously! I started to browse through it, but unfortunately I could not read well at the time. In the atlas were the maps of every continent in the world with the flags beside it. At the age of seven I knew all the countries of Europe with the flag and capital by heart. My obsession with maps and simply countries grew enormously, so I searched for things related to that.
In the winter of 2005 the Junior Eurovision Song Contest took place in Hasselt, in my own country Belgium. Several countries were allowed to perform there and then they chose a winner. I thought that was such a nice concept that I continued to follow it! The Junior Eurovision Song Contest is therefore a big part of my childhood and now gives me a lot of nostalgic memories.
Introduction to the adult Eurovision
A year after my first Junior Eurovision experience I came into contact with the mature Eurovision for the first time. In 2006 Kate Ryan represented Belgium on the big stage in Athens. With her song 'Je T' Adore', many called her one of the top favorites. The Belgians had high expectations for a good end position and there was a lot of hype in our country. I have seen the semi-final, but unfortunately Belgium did not take place. Still, I watched the final a few days later and I really liked Lordi. I was just under eight years old, but I supported for the Hard Rock Hallelujah while my classmates were scared of them.
Eurovision injected since 2009
For some reason I skipped 2007 and 2008. Belgium paid little or no attention to the Eurovision during that period. In 2009 there was another hype. That time not through Belgium but through Turkey. The Belgian / Turkish Hadise represented Turkey with 'Dum Tek Tek'. She scored a huge hit in Belgium! So thanks to Hadise I received the Eurovision-fever.
The wonderful 10's for Belgium!
Tom Dice – Me And My Guitar
After 2009, a new decade arrived, and what a decade! In 2010 Tom Dice participated on behalf of Belgium with his cute song 'Me And My Guitar'. Many sources then called us the underdog. In 2010 I watched the semifinals of the Eurovision for the first time. Belgium performed in semifinal 1. I found the finalists' call quite exciting because we had to wait quite a long time to hear Belgium. I heard people in the Oslo arena screaming for Belgium and I enjoyed it so much. "Wow people love our country!" I thought. And yes! Belgium went to the final.
There were a lot of songs in the final that I liked, including 'Allez Ola Olé', 'Je Ne Sais Quoi', 'We Could Be The Same' and 'Sattelite'. Because I was quite young, my parents did not allow me to watch the voting because it took place rather late in the evening. The next morning I got up early to see who had won and where Belgium stood. Yay! Germany won and Belgium finished in a very nice sixth place! My love for the Eurovision grew even more.
Loïc Nottet – Rhythm Inside
In 2015 I was officially allowed to call myself a true Eurovision fan. I then also started looking at national selections such as Melodifestivalen. In addition to that, 2015 was also a very special year for Belgium. It was a normal school day for me when Rhythm Inside by Loïc Nottet was released. So I quickly took my ears during the break and started listening. Shortly thereafter I read some initial reactions and I could not believe my eyes. Did Belgium have a chance to win? Could 2015 really be the year of our second victory? Exciting!
So I watched the first semifinal with serious nerves. After the ninth finalist my heart broke and I thought 'oh no it won't be true right?' … and then the redeeming answer came. "The tenth and final finalist is … BELGIUM!". Then I suddenly knew what it felt like to have to wait so long. During the final, I didn't really consider winning or not. I really enjoyed seeing my country shine again. My big favorite was Sweden and it eventually won! Belgium finished fourth and I felt very proud.
Blanche – City Lights
Her song came out in March 2017. At the first listen, I thought it was super good! "Wow, is this really the Belgian entry? Can we really send such good songs?" Was my first thought. Then came the same story as with Loïc. Belgium was immediately among the top favourites for the victory in Kiev. So I was again proud to talk about my country because we finally did well at Eurovision!
At one point something went wrong. Blanche participated in a number of pre-parties, but was unable to meet expectations there. So I was a little worried, but I continued to support Blanche throughout the course because I knew it would be all right. I really believed in it! She improved every time she sang her song live and I thought that was great to see. How Blanche came across as more confident on stage also gave me a good feeling.
unfortunately, not everything went smoothly during the rehearsals in Kiev. So I started getting nervous and worried about Blanche. Then it was time for the semi-final. Unfortunately, the nerves also struck there, so it was scared to wait until the presenters called the finalists. After finalist nine I had given up, but still they called Belgium as 10th finalist! What a discharge for both Blanche and the whole of our country! I found that moment very special. I had a great deal of admiration for what Blanche had achieved. In the final she looked much more relaxed and could therefore present her song in the right way. After her performance, I thought for a moment that we might still be able to win, but in the end we became very nice fourth! Blanche's road to Kiev will always stay with me. Despite all the bad lucks, continue to make your dream come true.
Meeting Eurovision artists in real life
2018 and 2019 became very special editions for me. In 2018 I attended Eurovision in Concert for the very first time. I felt so excited to meet so many Eurovision artists in real life! I finally found the reason why I belonged to the Eurovision fandom. All people accept each other in the way they are, very friendly and openminded people! I wish some of my Eurovision friends lived closer to me.
The impact of 2019-winner Duncan Laurence
I remember at the beginning of 2019 that I very much wanted to see the Netherlands organize the Eurovision Song Contest. Their two Junior Eurovision productions from 2007 and 2012 charmed me enormously. However, I never expected my wish to come true so quickly. When AVROTROS announced Duncan Laurence as the candidate for the Netherlands at the Eurovision Song Contest I immediately showed interest. The previous years they sent quite famous names, so I thought it special that they once chose somebody rather unknown.
Song and music video release
On 7 March, 2019, like many other Eurovision fans, I was waiting for the song release on YouTube. Then I heard Arcade for the very first time and it just made me quiet. You should know, I am not normally a ballad fan, but WOW! I quickly had to listen a second time to process it better. After the second time I even got tears in my eyes! As if it changed something in my life.
The road to the Eurovision trophy
'Arcade' was the first song in a Eurovision year that never left my personal first place. Of course I had several favorites, but after a while I put Arcade on number one again and again. I believed so hard in a Dutch victory. I supported my dear neighbors as if it were my own country. During the entire road to his trophy, he has left such a big impression on me. I still can't explain how, but for the first time I can talk about an "idol".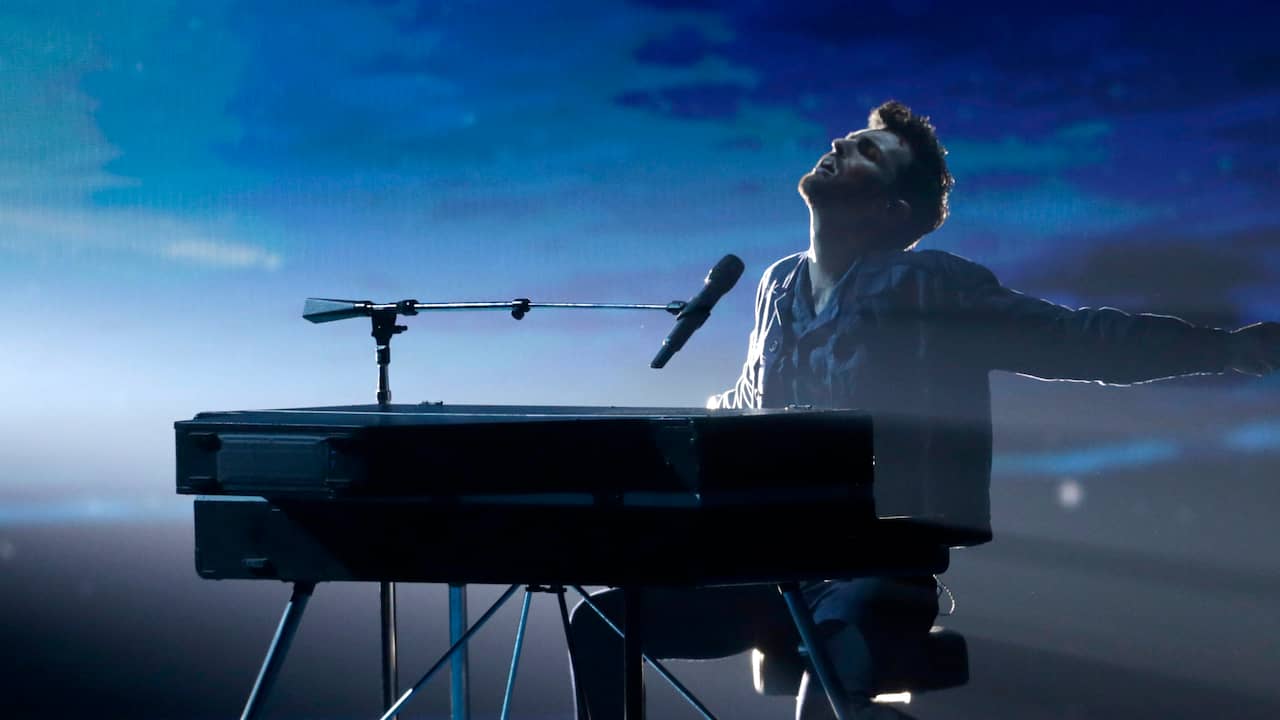 Thank you for making my dream come true, Duncan!
The evening of the final in Tel Aviv was a very special one for me. Together with a few friends I watched the final. I had a Dutch flag in my hands throughout the show because I wanted to see Duncan win so badly. For the umpteenth time I was so proud of the performance he has put down. Despite so much pressure, he kept himself calm every time, real respect for that! The last minute of the televoting was therefore very exciting. I found both the Netherlands and Sweden to be deserved winners, but Duncan had really stolen my heart so I hoped so hard for a Dutch victory. When he finally won, I would shout my throat and showed tears of happiness. My first Eurovision experience is a fact thanks to the Netherlands and Duncan Laurence!
Why is Eurovision so special to you?
Joining the Eurovision fanbase made me feel alive again. Previously, I felt like I didn't belong anywhere, but then Eurovision crossed my path and I totally fell in love with it. As soon as I discovered the fanbase I felt home. In 2017 I joined OGAE Belgium, I also made a lot of friends who share the same passion. I am totally loving my life now and I could not imagine a life without our beloved contest.
This year I'm celebrating my 10th year as a Eurovision fan so joining ESCXTRA in August 2019 was the right thing to do!
What attracted you to ESCXTRA?
During the two Eurovision weeks, I spend most of my time in school unfortunately. However, the livestreams ESCXTRA did from the press hall made me follow everything as much as I could. In that way, I kinda felt involved despite the distance. As I watched those live streams, I wondered every time what it would be like to be there. It is even on my bucket list to ever experience Eurovision from the press room together with a fan site. So I hope super hard that this dream will come true soon.
And finally; your top 5 songs of all-time?
5: Edsilia Rombley – Hemel En Aarde
Of course my top five should include a song from they year I was born. This is my personal winner in 1998!
As far as I remember, this was the very first song I ever heard in life. I discovered that this was a Eurovision entry only a few years after.
It's impossible to not keep smiling when hearing this song!
2: Duncan Laurence – Arcade
I rarely include very recent Eurovision songs to my all-time favourites, but it was love at first sight.
1: Katrina And The Waves – Love Shine A Light
Fell in love with this song two years ago so it is absolutely my favourite Eurovision song ever. However, with Duncan coming into my Eurovision life, Katrina has to cope with some serious concurrention.
Where to find you on social media?
You can find me on Twitter @alinevanrossem7 and on Instagram @itsalinevanrossem
Stay tuned for the next part in our Meet the ESCXTRA team series! Remember, you can share your Eurovision stories with us in the comments section below or via the comments sections on our Facebook page @ESCXTRA. We would love to hear them!