For the third year running, online voting will help decide who wins Junior Eurovision. However, is the current format fit for purpose, and should online voting be considered for the adult contest too?
Online voting at Junior Eurovision
Online voting was introduced to Junior back in 2017, with the format generally staying the same. The first round of voting opens two days before the event proper, and will close just before the show starts. A second, shorter round of voting will open after each act has performed, for about 15mins. You are required to vote for 3-5 songs, meaning you have to vote for at least 3 songs. The first round of voting for the 2019 contest is still currently open!
Votes can be cast via vote.junioreurovision.tv! Viewers from all over the world can vote for between three and five countries.
Our very first XTRA Debate considered the pros and cons of app voting. At the time, Nick raised the following points of contention:
A potential flatline of votes
Increased chance of fraud
Potential tech issues involved with a more modern voting method
In many respects, these issues are all prevalent with online voting too. However, do these issues prevent online voting from becoming a viable voting method?
Let's readdress the three issues above in respect of the current Junior system:
Flatlining votes?
If every act received the exact same amount of online votes, they would ultimately receive the same amount of points on a scoreboard. It sounds unlikely and in many respects it is. However, you only need to turn to recent Melfest scoreboards to see how the free access of multiple votes can create a 'flatline' effect. Back in 2018, a total of 13,993,975 votes were cast in the Melodifestivalen final. A huge number of votes which SVT regularly (and rightly!) can boast about the level of engagement. But, and there's a big but… the point distribution of the public was a mess. In giving audiences the chance to vote for all acts up to 5 times on the app, there was only 30 points between the act that got the least amount of public votes versus the act who got the most.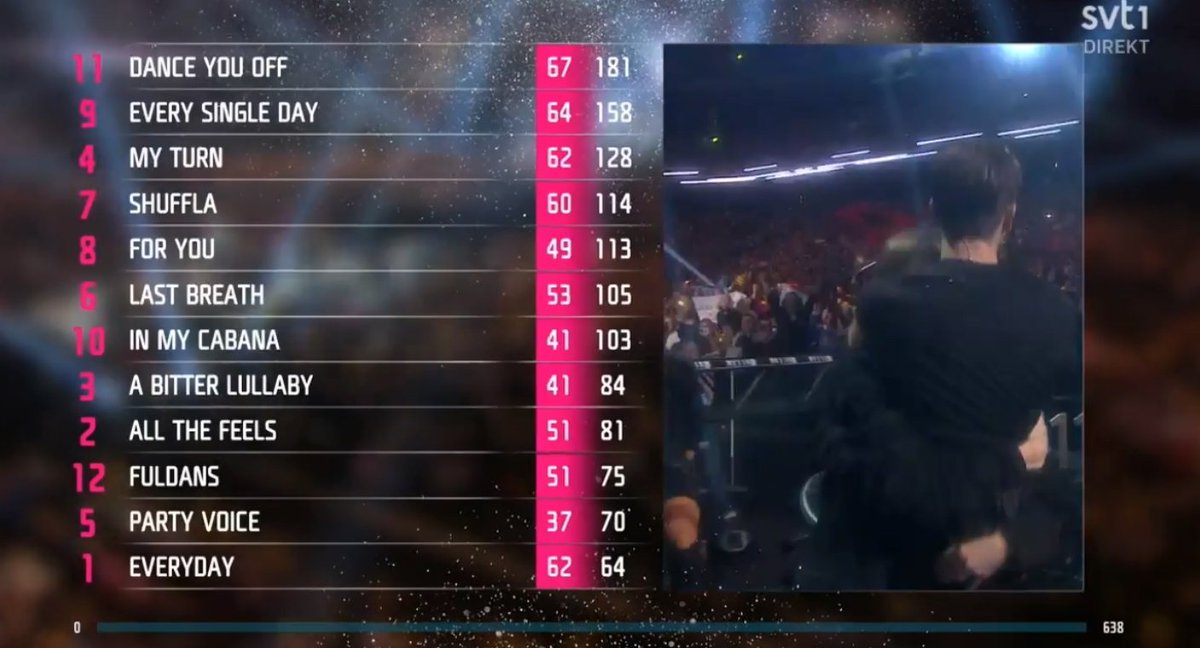 In effect, the official 50/50 public-jury split is eroded, as the distinct 1-12 point distribution we all know creates clear numerical distance to create a seemingly more 'valid' result. The absence of 9 or 11 points in favour of 10 and 12 respectively creates a sense of buoyancy, reducing the chance for a completely equal score.
To be clear, there are great merits to online voting. From an obvious/basic level, we should remind ourselves this is a Junior contest. Given the singers allowed to participate in Junior need to be between 9-14, we can safety assume that age range is the key demographic. It frankly seems problematic to ask children and pre-teens to pay to vote. Online voting provides a sense of democratic voice within the demographic, without causing ethical issues of impulsive paid-for phone/app voting. Similarly the proportional representation linked to online voting makes it pretty much impossible for an act to come last with 0 points.
Fraud – Tactical voting?
Since the vote opened, there have been murmurs within the fandom about tactical voting. Simply put, you want country X and only country X to do well, but the current system requires you to vote for at least 2 other countries. Theoretically, if you vote for two countries that are deemed to be not in contention, you bump up the collective vote of country X, while middling out everyone else.
Now, how much impact this has in reality is unknown, but probably smaller than people would like to think. Nevertheless, it does a huge disservice to all the participating acts and their teams.
Either way, it's a huge joke with kids being the collateral damage. If they are smart they'll rethink their concept for next year…

Miki Gligorov
However, other members of the team feel returning to a paid-for vote could be a potential solution, with a demographic trade-off…
They should just add it to the Eurovision app so people would pay for it but then again, the real kids that vote wouldn't have that much pocket money

Victoria
Yes it's a contest… but it is also a celebration with friendly competition. Unfortunately, there is little the EBU can do to mitigate these tactical voting campaigns within the fandom. However, given the healthy audience of Junior, with 2.5 million Ukrainians watching last year, a few hundred tactical votes has little impact.
However, there is something to be taken by the tactical voting campaigns. It indicates that the system is not fit for purpose. In forcing viewers to vote for at least three songs, we are unable to vote truly authentically. Why can audiences have up to 5 votes to spend freely across all songs, rather than 1 vote per country? Or a happy medium: up to 2 votes can be used for a single country?
Gamechanger
One reason to the questions above is the big voting gamechanger. Since 1997 when televoting in Eurovision first became a thing, audiences have always been told 'you cannot vote for your own country'. The reasons are obvious. In voting for yourself, you remove the 'contest' element of the Eurovision Song Contest. The point of the contest is to submit a performance for the rest of the continent to consider and freely vote for if they like it. To vote for yourself undermines that concept, while causing additional issues. In fully detaching the votes of audiences: 'Online vote' rather than say 'Albania's online vote' it allows for a global audience to vote, increasing engagement. However, it also prompts issues of diaspora voting, celebrity endorsements and population/audience share…
Audience share?
An obvious problem that arises with being able to vote for your own country is audience share. The bigger the country population/audience share the larger potential there is for a country voting for itself. Russia has a population of around 144 million. If every person watched and voted, the online vote could be a huge landslide. This works in reverse, too. Malta has a tiny population by comparison, but that would lead to a higher proportionate audience share. National media coverage can easily amp up the number of votes, but does this conjure up chaos energy?
You can expect a lot of coverage in host Poland, as indicated by moving the broadcast from TVP2 to TVP1. Sending a known act who has some form of fanbase (Viki of Poland or Melani from Spain) or has recently participated in a national talent competition (Jordan from Australia) can be a boost. Similarly, a debuting or returning nation will probably receive more coverage to create hype within the bubble and, bluntly, solidify ratings. Normally this makes little difference, but the ability to vote for your own country creates what feels like an awkward advantage.
Does the online vote in its current form facilitate a fair contest to all countries/participants/acts?
Tech issues
As with all things technology, there are loopholes, workarounds and means to override what in theory seems to be a good system. Online voting allows a large number of people to vote for free. Great. However, the lack of clarity surrounding the ways in which someone can vote can lead to a slew of issues that can skew the validity of the vote:
Multiple devices
VPN's
Tactical voting (see above)
It is important to note as with all Eurovision events, all votes are verified to ensure its validity.
It's really unfortunate because if the EBU don't enforce the rules properly people don't even care about them and they feel like the EBU is like "go ahead and cheat, we don't care"…

Victoria
However, to play devil's advocate… there are currently no 'rules' for JESC. At least, not that are easily accessible for the public as there are with the adult contest. You can certainly make a claim that the rules don't matter… but if they don't seemingly exist then what? Surely the executives of the contest, who all come from a tv/media background are aware of the pros and cons of online voting? Similarly, the EBU are within their rights to suspend or remove votes believed to be 'fraudulent'. However, who or what could be considered 'fraudulent'?
Highly doubt that is referring to one person on a VPN, probably more to a broadcaster trying to rig it?

Luke Malam
Is it against the rules to vote on multiple devices/proxy/VPN if it doesn't say you can't do it? This lack of clarity causes all sorts of chaos energy that can and should easily be fixed. Back in Lisbon, the EBU released a list of prohibited items. This included logical items such as 'explosives' and 'megaphones' to the surreal: 'ladders', 'trolleys' and 'chairs'. Now obviously all of these objects could interrupt or disturb a broadcast, but the specificity is fascinating. The EBU have no issue being super specific when they need to be (or can be), so it is odd they have left out seemingly obvious loopholes of VPNs/multiple devices that can mess about with results.
It goes without saying that the EBU have limited control as to what audiences do in the comfort of their own home… but perhaps a start would be to make the system less easy to break?
Should online voting continue in Junior? If so, can it be considered a viable voting method for the adult contest? We would love to hear your thoughts! Be sure to stay updated by following @ESCXTRA on Twitter, @escxtra on Instagram and liking our Facebook page for the latest updates!