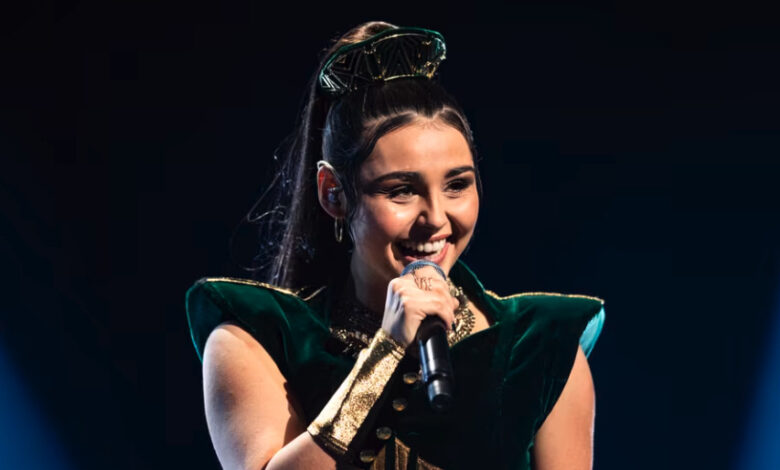 Last night, Norway chose Italian born singer Alessandra Mele as their entrant for Liverpool. Her song "Queen of Kings" emerged victorious in MGP 2023. Her victory was celebrated far beyond the Norwegian border… in the town of Cisano sul Neva – in Italy.
Cisano sul Neva goes crazy for Alessandra
Local broadcaster Savona News attended a public viewing in Cisano sul Neva last night. The town, located just a few miles down the coastal road from San Remo to Genoa, is Alessandra's hometown. Born in 2002, she is a regional kid to Savona. Alessandra was born in Pietra Ligure, grew up in Cisano sul Neva and went to school in Albenga. Alessandra Mele has an Italian father from the region and a Norwegian mother. Because of her, Alessandra moved to Norway a few years ago in order to study Music Production in Lillehammer.
To watch Melodi Grand Prix live from Trondheim in Norway, family and friends of the 21-year old singer gathered in Cisano sul Neva. Bar A Cadana hosted a public viewing session. The moment NRK announces "Queen of Kings" as the winner of Melodi Grand Prix 2023, loud cheers erupt from the audience. Make sure you check that out yourself…
Alessandra's victory at MGP
In the end, "Queen of Kings" became the runaway winner at MGP 2023. Runner-up Ulrikke Brandstorp picked up 133 points, 95 less than Alessandra had. Her gap in televoting was over fifty points. In the jury voting, she narrowly beat Atle Pettersen by just ten points.
Focus in the Eurovision world will now shift to other national finals, with MGP concluding last night. Many eyes will go in the direction of Cisano sul Neva again… Just down the road from there, the legendary Teatro Ariston will host the just as legendary Festival di Sanremo next week.
What do you think of the celebrations in Cisano sul Neva? Will this guarantee Norway some Italian support? Let us know! Be sure to stay updated by following @ESCXTRA on Twitter, @escxtra on Instagram and liking our Facebook page for the latest updates! Also, be sure to follow us on Spotify for the latest music from your favourite Eurovision acts. As well as YouTube to see our reactions to the news in the run up to the 2023 contest in Liverpool!