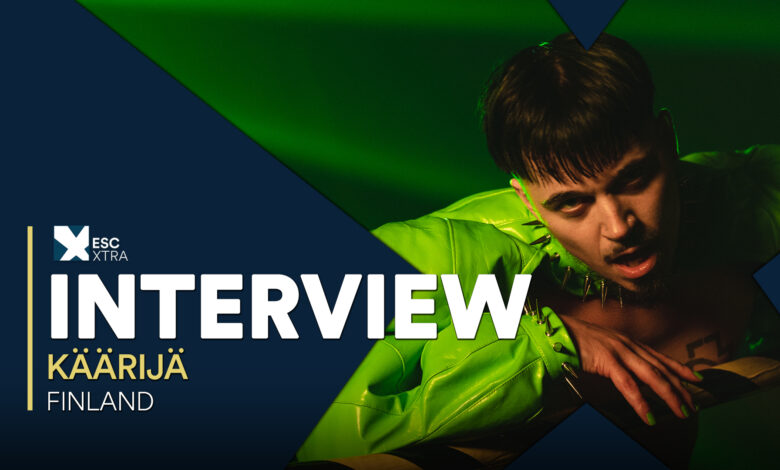 With the Eurovision Song Contest 2023 fast approaching, ESCXTRA had the opportunity to ask Finland's Käärijä some questions about his relationship with music, his journey towards Eurovision and, of course, "Cha Cha Cha". Read the full interview below:
"Rammstein especially helped me find my love for live music and for performing"
Hi Käärijä! Thank you so much for taking the time to answer our questions. First of all, how have you been since winning Uuden Musiikin Kilpailu and starting the journey towards Eurovision?
Käärijä: "I've been good and I'm feeling very excited. I'm really looking forward to the contest and I'm interested to see what happens afterwards. But I've also been quite tired and have had to make sure to get enough rest. I need to take care of myself so I'm in the best shape possible when it's Eurovision time!"
When did you discover your passion for music?
"I was very young, probably 3 years old. I was playing "drums" with pots and kettles from our kitchen. My dad used to play all kinds of records at home so I've been interested in music from a young age. My brother played the guitar and I started playing the drums. I finally got interested in rap music and started making my own music in 2014 so when I was 19 or 20 years old."
Your song (and tattoo) are inspired by your favourite band Rammstein. In which ways did their music help you discover your own love for music?
"They especially helped me find my love for live music and for performing. And they showed me that you can do things in your own way. I've seen them live 5 times and will see them again next summer."
You picked the stage name Käärijä in 2014, how similar or different are Käärijä and Jere as people?
"Jere is a bit more laid back and calm. Jere doesn't really like to be in the spotlight, whereas Käärijä loves attention, especially on the stage. Käärijä does things that Jere wouldn't dare to do. But they are mostly the same guy."
""Cha Cha Cha" was very easy to make"
I would also love to know more about your song "Cha Cha Cha"! How would you describe your song in three words? And can you tell us why you picked those three?

"1. Crazy. Because it basically combines two different songs and even more genres. There are all these different kinds of elements and different types of singing and rapping all mashed together.
2. Party. Because the song is a party song and it's about having fun. The story of the song is also based in a party.
3. Dark. Because the sound and the story of the song are a bit dark as well."
What was the song writing process of "Cha Cha Cha" like?

"It was very easy to make. My friend and I first made the first version, then we watched ice hockey and drank longdrink [a Finnish mixed drink made from gin and a mixer] and then finished the song in half an hour. We first started to make just some random song but eventually it started to feel like a potential Eurovision song because the "cha cha cha" chants are so universal and easy to sing along to."
Your song has a notable change in style about halfway through the song- could you explain more about the reason behind that?
"In the story of the song, the singer or main character starts feeling liberated and goes to dance on the dance floor. We wanted to create a nicer atmosphere to the song so it wouldn't be so dark all the way through. The same change that happens in style, also happens inside the head of the main character."
"Everyone just wants to have fun and 'Cha Cha Cha' is a feel-good song"
What made you decide to enter Uuden Musiikin Kilpailu?
"The song. I had thought about doing Uuden Musiikin Kilpailu but it was the song that made me decide. It just felt right."
Why do you think "Cha Cha Cha" is the perfect song for Eurovision?

"The song is a party and Eurovision is a party. Everyone just wants to have fun and 'Cha Cha Cha' is a feel-good song. That's why it fits so well. And I also think that there hasn't been a song like that in Eurovision before."
The green bolero you are wearing in your performance has already become iconic (and thankfully you found it again after losing it!) – did you choose that outfit yourself?
"I wasn't the one who designed it but I did decide that I wanted to have my stomach visible and be almost shirtless. That's why the bolero is the perfect piece of clothing! As soon as I saw the first sketch, I completely fell in love with it."
"The most exciting part is that I get to represent Finland"
Of course, we also have to talk about Eurovision! Finland has been doing very well in Eurovision recently with bands like Blind Channel and The Rasmus, do you feel any pressure to live up to that success?
"I'm not scared, I'm just trying to enjoy everything and the result will be what it will be. I don't feel too much pressure to succeed. I trust myself to achieve the kind of result that will satisfy us."
What has been the most exciting part of your Eurovision journey so far?
"The most exciting part is that I get to represent Finland. I think it's pretty cool to be able to represent my country and to put Finland on the map musically."
Are you a big fan of Eurovision yourself? If so, do you have a favourite song?

"I really like Eurovision and have watched it since I was a kid. My favourites are Verka Serducka's "Dancing Lasha Tumbai" (2007) from Ukraine and Måneskin's "Zitti E Buoni" (2021) from Italy.
Finally, I have the most important question of all: in your song, you sing about Piña Coladas as the party drink! But if you could create your own Käärijä cocktail, what would you name it and what would it taste like?
"I love Marli's Glögi, which is a Finnish Christmas drink. I always buy tons of it during Christmas time so I can drink it around the year, even during the Summer. So my Käärijä cocktail would be Vodka Glögi. I've had plenty of it. It tastes dark and spicy."
Thank you so much to Käärijä from Finland for taking the time to think about and answer our questions! The team over at ESCXTRA wishes you all the best on your Eurovision journey! It's crazy, it's party!