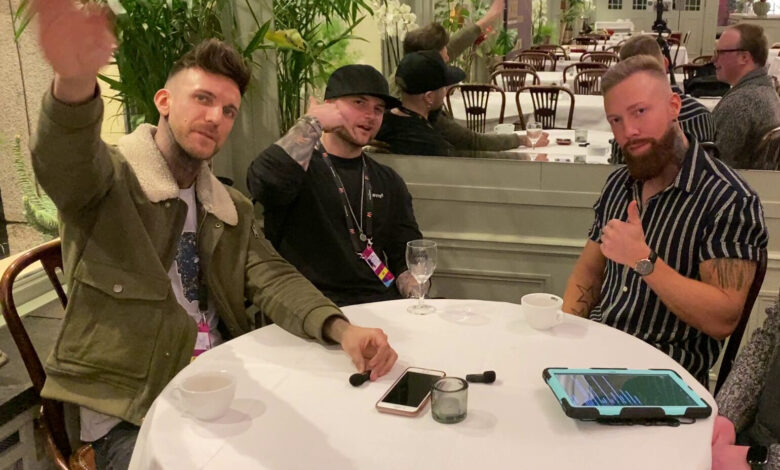 Smash Into Pieces are making their debut in the Swedish national final for Eurovision, Melodifestivalen, this year. They are taking part in the fourth heat which is taking place this weekend in Malmö with their song "Six Feet Under". Before the heat, we got the chance to speak to the band.
"This is a real good chance to show the Swedish people and Eurovision fans, who Smash Into Pieces are"
In the interview Smash Into Pieces shared the creative process, of how they got into Melodifestivalen. Even if they have been on many stages and an established band, it is still nerve-wracking to think about those 3 minutes on stage that will be broadcasted nationwide. Benjamin, who co-wrote "Troubled Waters" with Victor Crone in 2020 said that this experience opened his eyes about the potential Melfest has also for the band.
If you were wondering why the band has a tour coming up like the day after the heat, the tour was planned before they had the confirmation for Melodifestivalen. This is also the reason they have a concert on the day of the Melodifestivalen final. They are seeing what the results bring before changing the schedule for the tour. They told us, that they will be leaving for the UK less than two hours after the show, because they have a show there shortly after. True rockstars!
Melodifestivalen is a new step for Smash Into Pieces. While they have performed all over the world already in several concerts, being on television is new for them but their experience and the energy they are getting from the crowd will surely help when they make their Melfest debut!
"The Arcadia World" is a huge theme in the band. This is also the reason behind the futuristic optics and music videos. How we might live in the future, AI and how that could look like.
Talking about music videos… will "Six Feet Under" get one? Maybe 😉
You can watch the full interview and find out about the meaning of their song "Six Feet Under" and more below:
Smash Into Pieces will compete in the fourth heat of Melodifestivalen with their song "Six Feet Under"! Be sure to stay updated by following @ESCXTRA on Twitter, @escxtra on Instagram and liking our Facebook page for the latest updates! Also, be sure to follow us on Spotify and YouTube to see our reactions to the news in the run up to the Eurovision Song Contest 2022, which is due to take place in Turin, Italy!