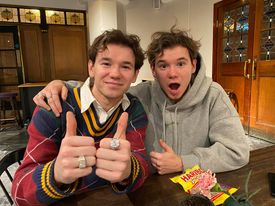 Originally from Norway, the musical twins Marcus & Martinus are making a name for themselves all over Scandinavia (and soon, the rest of Europe?). Tomorrow, they will perform their song 'Air' in the Final of Melodifestivalen in Stockholm at 20:00 CET. Our editor Dominik sat down with Marcus & Martinus to chat about their preparations for Melfest, 'summer bangers' and an upcoming European tour.
We want to make a good show that everybody in the arena can see, not only people on the TV. We want to make it big and good, so that everyone can enjoy it, anywhere you sit. So it's gonna be a big show.

Marcus & Martinus on on their upcoming performance in the final
You can watch the the full interview below:
Have the twins convinced you to watch their performance ahead of tomorrow's Final, or just need an excuse to listen to 'Air' again? Watch the video of their semi-final performance below:
Will you be rooting for Marcus & Martinus at Melodifestivalen tomorrow? Let us know! Be sure to stay updated by following @ESCXTRA on Twitter, @escxtra on Instagram, @escxtra on TikTok and liking our Facebook page for the latest updates! Also, be sure to follow us on Spotify for the latest music from your favourite Eurovision acts. As well as YouTube to see our reactions to the news in the run up to the 2023 Eurovision season.