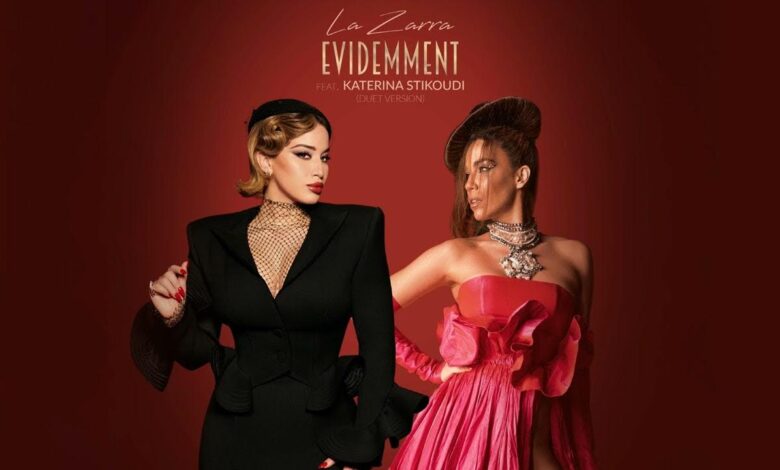 France's Eurovision 2023 representative, La Zarra, recently dropped a new duet version of her song "Évidemment", featuring Greek singer Katerina Stikoudi.
Collaboration at a distance
Released by Universal Music France, the collaboration features both singers performing in their native language, with La Zarra singing in the original French and Katerina Stikoudi providing vocals in Greek. The additional Greek lyrics were created by Greek lyricist Antonis Pappa.
The collaboration between the performers began in late April, while La Zarra was in the midst of a promotional tour for her participation at Eurovision. The duet was created at a distance with Greek record company Minos EMI stating that all that was required to complete it was "some online meetings, creativity and good spirits".
You can listen to the duet version of "Évidemment" here:
La Zarra at Eurovision
La Zarra performed the original French version of "Évidemment" at this year's contest in Liverpool. At one point touted as being one of the favourites to win, she ended up finishing in 16th place, having received a total of 104 points overall. La Zarra received 54 points from the jury and 50 points from the public vote, although there was some controversy over a hand gesture she made after he televote score was announced.
La Zarra is also set to perform at several shows across France over the coming months.
What do you think about the duet version of Évidemment? Let us know in the comments! Be sure to stay updated by following @ESCXTRA on Twitter, @escxtra on Instagram, @escxtra on TikTok and liking our Facebook page for the latest updates! Also, be sure to follow us on Spotify for the latest music from your favourite Eurovision acts. Follow us on YouTube to see our reactions to the news in the run up to the next Eurovision season.