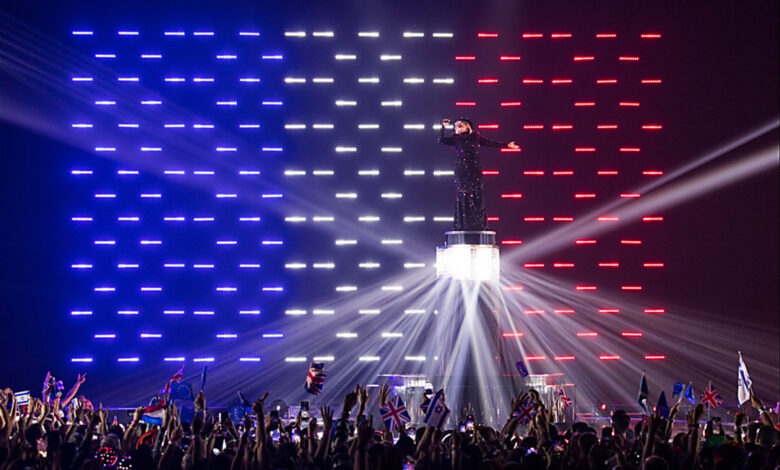 The French representative in the Eurovision Song Contest 2023, La Zarra, remains under public scrutiny since her controversial hand gesture during the televote results at the Grand Final on May 13, with France Télévisions calling her deplorable.
After finishing the 2023 contest in 16th place, Canadian singer La Zarra made a suggestive hand movement that many are saying was her flipping the bird.
Having been born in Morocco and raised in Montreal, Quebec, the 22 year old said to press "Although I represent France, I also have a double culture. It's not a negative gesture, it's a gesture of disappointment that we use between friends." She said that it meant "whatever" or "so be it" and was not derogatory.
France Télévisions said that France can't be convinced and remain upset. They went on to mention that La Zarra has been forced to cancel events and push back her concerts to December. French radio stations have stopped playing Évidemment and it is looking like the country has canceled their own representative in the month since the contest.
Louise Pointu d'Imbleval of France Télévisions said "… the Salle Pleyel is still not full," referencing La Zarras June 15 performance in Paris. The tickets to the show last week had been discounted multiple times, landing as low as 3.50 euros each.
Eurovision 2012 and 2023 winner Loreen spoke in defense of La Zarra during an interview with Le Parisien, saying "I think her gesture is connected to a frustration: we work so hard for Eurovision and we don't always achieve what we expected. It's win or lose. You can never really prepare for it."
Having not won since 1977 when Marie Myriam became the fifth victor from France, singing L'Oiseau et l'Enfant, the country has been plagued with low scores. Some blame their being part of the five automatic qualifiers, though their luck was thought to have changed.
Barbara Pravi placed second in the 2021 Eurovision Grand Final and the country returned to Junior Eurovision with massive success. Their 2020 and 2022 winning songs in the junior contest were both co-written by Pravi.
Stéphane Sitbon Gomez, director of antennas and programs for the public audiovisual group, said that they know they can do better than they did this year and how disappointed everyone is in La Zarra's actions. Gomez said that they still want to win at Eurovision and aren't sure if a national final will get them there or if they will need to stick with an internal selection.
France 2 confirmed earlier this month that they would be in Sweden for the 2024 contest. No announcement has been made about how their artist and song will be chosen.