Many Eurovision fans have said that Tu Canción was the not the right song for Spain – they believe that the runner-up in the Spanish national final, Aitana and Ana Guerra's Lo Malo should've represented the country. Eleni Foureira, the runner-up in Eurovision 2018, has revealed that she agrees that Lo Malo was the best song in the Operación Triungo final!
Aitana and Ana Guerra's Lo Malo still has Spain on fire; it has over 40 million views on YouTube and has been in the top ten of the Spanish singles chart for 17 weeks. How appropriate then that the singer of Fuego would also be crazy in love with the song!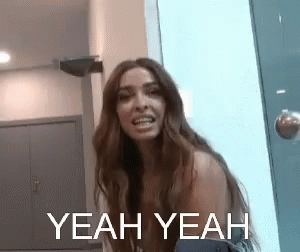 The Los 40 Radio interview
The conversation took place in an interview between the Albanian / Greek / Cypriot goddess and the Spanish Los 40 Radio. They created a challenge for her: listen to some of this year's Spanish summer hits and say whether she would collaborate with the artist, take the song to Eurovision, or release the song herself as a single.
Eleni's face clearly lights up when the interviewer introduces the next song:
This next one, they were about to represent Spain in Eurovision this year…

Malo? It's my favourite song, for sure! I love this song!
Eleni begins singing and dancing along to her favourite song and gives her answer to the challenge:
This song, I will collaborate, I will go to Eurovision with, and I will have my next single. All three of them.
It's even revealed that Eleni has supported the song since Operación Triunfo! She says that she saw the final and instantly thought "This is the best song of the night". When Lo Malo didn't win, Eleni was horrified, saying "No!" at her TV screen!
But Eleni isn't angry, she's actually very proud of the song:
It's a number one hit now, and it's one of my favourite songs in Spanish
Poco se habla de Eleni Foureira cantando "Lo Malo"…. Dice que es una de sus canciones favoritas en español. @foureira_eleni @Aitana_ot2017 @AnaG_ot2017 pic.twitter.com/z3Vs0tdyzq

— Foureira Fans Spain (@Foureira_Spain) 8 juni 2018
When Eleni visited our live stream in Lisbon…
If you watched our live stream in Lisbon, you'll remember the fun we had when Eleni appeared and had a chat with us, and all you guys at home!
Relive that experience below:

What are your thoughts on this? Should Lo Malo have won Operación Triunfo? Would you like to see a collaboration between Eleni Foureira and Aitana and Ana Guerra?
Let us know in the comments below and on social media @ESCXTRA