Welcome to Xtra Insider, our new series which will give you an insight into how well each country was statistically likely to do this year, as well as what the team at ESCXTRA think of your favourite entries into (what would have been) this year's contest! Today, we analyse and review Serbia.
Yes, this year's contest has been cancelled…but that doesn't mean we can't love the songs! In this series, we'll review each and every entry that would have taken part in this year's Eurovision. On top of this, we're introducing a new analysis section in which we take a look into each country's history and how likely they would have been to do well this year. Our honest and brutal reviews and analysis will keep you entertained throughout what would've been the Eurovision season! We will also each give points using the usual Eurovision points system (12, 10, then 8 down to 1), and create an ESCXTRA leaderboard of the entries!
Today, we'll be giving analysis and reviews of the Serbian entry, 'Hasta la vista' by Hurricane, from Isaac, Nathan P, Rodrigo, Sean, Simon and Vincent. Let's get started!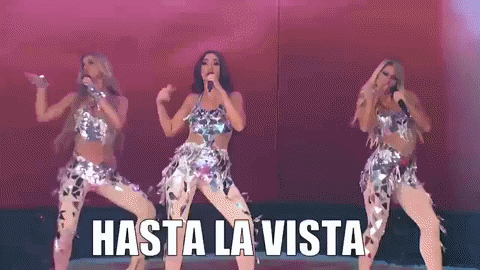 Serbia's history at Eurovision
Previously participating as part of 'Yugsolavia' and then 'Serbia and Montenegro', the Serbia we know and love today debuted independently back in 2007 and got things off to a fantastic start by immediately taking home the trophy with Marija Šerifović's entry 'Molitva'. They have been on a pretty good roll ever since, only failing to qualify three times out of 12 participations (2009, 2013 and 2017). However, their last top ten finish took place back in 2015, so they are definitely looking to get back to the top of the scoreboard soon.
This year's entry
Their entry this year is called 'Hasta la vista' and it's being performed by a pop-R&B girl group named 'Hurricane'. They have been a sensation in Serbia ever since Sanja Vučić, Ivana Nikolić and Ksenija Knežević formed the group back in 2017. One of those names should be quite familiar to Eurovision fans, as Sanja Vučić previously represented Serbia back in 2016 with 'Goodbye (Shelter)'. How exactly did these girls find themselves at Eurovision, you ask? Simple, they took part of Serbia's national final 'Beovizija 2020' and found it pretty easy to storm their way through the competition straight to victory.
How does this kind of song tend to do in the contest?
Serbia are no strangers to sending girl groups and the last time we saw a proper one at Eurovision was in 2013, when 'Moje 3' took part of the contest with 'Ljubav je svuda'. That year also marks one of the few times Serbia have NOT qualified for the final. They are known to do well with slower, more ethnic ballads as we can see from their winning entry in 2007 and their 3rd place finish in 2012.
The Reviews
Isaac
I want to dance very badly while Serbia is on, take that sentence either way. It should be a mess but Hurricane do a lot of work into making this sound breathless and exciting.
Nathan P
There are not enough words in the English or Serbian languages to tell you how much I love this. From its demo reveal in Beovizija to the revamped version it has been the song of the season for me and will probably enter my ESC250 Top 10 songs of all time. This is truly Serbian to the turbo-folk-esque backing to the styling. The staging is over the top brilliance adnis a complete gear change to what Serbia has given us since their debut. Modern, fresh but still references the mid 2000s sound to Eurovision despite not feeling dated at all.
Rodrigo
I simply can't deal with the level of trashiness. Detest every single second of this. Even the chorus is a dated punchline from a shit film. Perhaps that's all you need to know…
Sean
Ask and you shall receive. The fandom has been begging for Hurricane since its incepttion, and of course the year that they win Beovizija, Eurovision is cancelled. I appreciate that Serbia has chosen a song that is representative of the Serbian pop scene. It's a bop through and through. Might not have been my favorite of the whole selection, but for me, this is class.
Simon
It lightens the mood and is exactly what we'd expect from this trio at Eurovision. Fair play to Serbia, but it is clearly no winner. When planning for live shows, they made the right choice by ditching the unnecessary dancers and found some experienced backing singers to help Sanja with the heavy duty work.
Vincent
Hasta la vista baby! I actually needed some time to properly like this entry, I originally found it a bit too messy, but now I'm just shouting "Imam novi plan!" confined in my kitchen whenever the song finds its way to whatever playlist I'm listening to. It's catchy, modern, and in the national language. Perhaps a bit repetitive, but the catchiness makes up for it.
Scores
Costa
8
Nick
10
Tim
8
Dominik
6
Riccardo
5
Tom O
8
Isaac
7
Rigmo
5
Tom R
8
Lisa
12
Rodrigo
1
Vincent
7
Luke
8
Sami
12
Wiv
2
Matt
7
Sean
8
Nathan P
12
Simon
5
Therefore, Serbia receives 139 points in total!
Leaderboard
Serbia just beats Ukraine to reach 2nd place with a score of 139.
Bulgaria – 163
Serbia – 139
Ukraine – 135
Australia – 117
Belgium – 109
Czech Republic – 104
San Marino – 97
Albania – 97
Poland – 76
Tomorrow, it will be the turn of Israel to be reviewed. For now, take another listen to Serbia's entry below!
Do you agree with our reviews of Serbia? What are your thoughts on Hasta la vista?
Let us know in the comments below and on social media @ESCXTRA