Welcome to Xtra Insider, our new series which will give you an insight into how well each country was statistically likely to do this year, as well as what the team at ESCXTRA think of your favourite entries into (what would have been) this year's contest! Today, we analyze and review Iceland!
Yes, this year's contest has been cancelled…but that doesn't mean we can't love the songs! In this series, we'll review each and every entry that would have taken part in this year's Eurovision. On top of this, we're introducing a new analysis section in which we take a look into each country's history and how likely they would have been to do well this year. Our honest and brutal reviews and analysis will keep you entertained throughout what would've been the Eurovision season! We will also each give points using the usual Eurovision points system (12, 10, then 8 down to 1), and create an ESCXTRA leaderboard of the entries!
Today, we'll be giving analysis and reviews of the Icelandic entry, Think About Things by Daði og Gagnamagnið, from Dominik, Nathan P, Riccardo, Rigmo, Vincent and Wiv. Let's get started!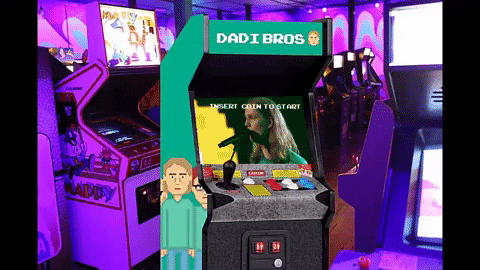 Iceland's history at Eurovision
When Iceland made their Eurovision debut in 1986 in Bergen, they were the last of the Nordic countries to join the contest. Their first entry was the fun, uptempo song "Gleðibankinn", performed by trio ICY. And even though the entire population thought they were going to win, they finished down in 16th place. This first entry has given name to an almost annually recurring phenomenon, known as "Gleðibankasyndrómið", the Gleðibankinn syndrome. This is when the "entire" population is convinced Iceland will win Eurovision, just like they were back in 1986. The syndrome occurs around mid to late April, most years. Unfortunately, this conviction has never been proven right, as Iceland has never won the contest. Iceland's best result at Eurovision is 2nd place; both in 1999 (Selma, "All Out of Luck") and 2009 (Yohanna, "Is It True?"). Iceland has also finished last twice, in 1989 (nul points) and in 2001.
This year's entry
The Icelandic national selection is called Söngvakeppnin Sjónvarpsins. It has changed over the years, but seems to have found its form with two semi-finals, where all entries have to be performed in Icelandic, and a final in which the songs are performed in the language they would be performed in at Eurovision. This year, the clear winner of Söngvakeppnin was Daði Freyr og Gagnamagnið" and their song "Gagnamagnið/Think About Things". It's a fun, danceable and extremely singalong friendly song that is very hard to not like. It is winning "pre-party"and fan community votes all over the world, and a lot of people feel quite sure Iceland would've finally gotten their first Eurovision victory. Hopefully they won't have to wait for another 30 years before picking another "winning entry".
How does this kind of song tend to do in the contest?
It's hard to pick a category for this song. Using adjectives like fun, quirky, singalong friendly, danceable, electronic, catchy, different and current to describe it, songs that come to mind might be "Friend of a Friend" (Czechia 2019, 11th place), "Toy" (Israel 2018, winner), "Lie to Me" (Czechia 2018, 6th place) and "Tonight Again" (Australia 2015, 5th place). In this year's contest "Think About Things" might have competed for the same votes with Lithuania and Russia.
The Reviews
Dominik
Probably the most original song of the year. "Think About Things" is funny, entertaining and has a brilliant meaning. Moreover, Dadi knows how to work with a crowd and the song shows how incedible talented the whole group is. Would love to see them on the ESC stage next year! Amazing entry and would've been a possible winner.
Nathan P
If this had given Iceland their first win after everything they have ever sent I would have be disappointed. Why this was picked up by the celebrities I have no idea. I guess locals are going to…well…local! It is a fun song I give it that! The funk production i good and they do have charisma for days. The little dance routie they did is very Cha-Cha-Slide-esque.
Riccardo
I will start off saying I am so glad to see Iceland getting back to the spotlight and I am equally glad that Dadi won Söngvakepnnin. I admittedly prefer his 2017 song and I wish he had kept it in Icelandic, however it is impossible not to love his quirks, dance moves and excellent performing skills. Hope this is the indication that Iceland is getting its momentum back and that a victory is just around the corner.
Rigmo
Who is your daddy? Mine looks like he jumped out of an old atari game where you play an 80s computer technician. This has everything I love about Eurovision – a catchy tune, charismatic performers, a fun stage show, WIND MACHINES! This review was brought to you by Netflix.
Vincent
I always sing "but lately" instead of "believe me" in Iceland's chorus. The proof that the first time I listened to it, it stayed in my mind (with its misheard lyrics). It's a sing-along song, with such a positive atmosphere, a really original message that changes from songs about love (between adults), peace or injustice, and one of the catchiest chorus of the season.
Wiv
I loved (and still do!) Daði Freyr's entry in Söngvakeppnin 2017, but back then everybody knew that it was gonna be Svala for Iceland. I was a bit worried the same thing might happen this year, as DIMMA is massively popular, and good! However, the Icelandic people saw sense and chose "Think About Things". I'm convinced they would have won the contest, finally bringing Eurovision to my rock. Now we'll have to wait a bit longer; though hopefully not another 30+ years! I love it when I love the Icelandic entry, and I quite often have them high up on my list. This is however only the second (I think) time Iceland is my winner!
Scores
| | | | | | |
| --- | --- | --- | --- | --- | --- |
| Costa | 8 | Nick | 6 | Tim | 7 |
| Dominik | 8 | Riccardo | 10 | Tom O | 12 |
| Isaac | 10 | Rigmo | 12 | Tom R | 12 |
| Lisa | 5 | Rodrigo | 12 | Vincent | 12 |
| Luke | 6 | Sami | 5 | Wiv | 12 |
| Matt | 10 | Sean | 3 |  |  |
| Nathan P | 5 | Simon | 7 |  |  |
Therefore, Iceland scores 162 points in total!
Leaderboard
Iceland JUST misses out on stealing the #1 spot from Bulgaria by a single point and becomes our new second place with a score of 162 points.
Bulgaria – 163
Iceland – 162
Russia – 156
Malta – 154
Israel – 148
Germany – 142
Serbia – 139
Denmark – 136
Ireland – 136
Ukraine – 135
Norway – 134
Italy – 129
Latvia – 121
Romania – 121
Armenia – 120
United Kingdom – 120
Australia – 117
Netherlands – 113
Austria – 111
Belgium – 109
North Macedonia – 107
Czech Republic – 104
Spain – 100
Cyprus – 97
San Marino – 97
Albania – 97
Moldova – 82
Belarus – 81
Poland – 76
Georgia – 72
Slovenia – 53
Tomorrow, it will be the turn of Estonia to be reviewed. For now, take another listen to the Icelandic entry below!
Do you agree with our reviews of Iceland? What are your thoughts on Think About Things?
Let us know in the comments below and on social media @ESCXTRA