Welcome to Xtra Insider, our new series which will give you an insight into how well each country was statistically likely to do this year, as well as what the team at ESCXTRA think of your favourite entries into (what would have been) this year's contest! Today, we analyze and review Finland!
Yes, this year's contest has been cancelled…but that doesn't mean we can't love the songs! In this series, we'll review each and every entry that would have taken part in this year's Eurovision. On top of this, we're introducing a new analysis section in which we take a look into each country's history and how likely they would have been to do well this year. Our honest and brutal reviews and analysis will keep you entertained throughout what would've been the Eurovision season! We will also each give points using the usual Eurovision points system (12, 10, then 8 down to 1), and create an ESCXTRA leaderboard of the entries!
Today, we'll be giving analysis and reviews of the Finnish entry, Looking Back by Aksel, from Matt, Nick, Sean, Tim and Wiv. Let's get started!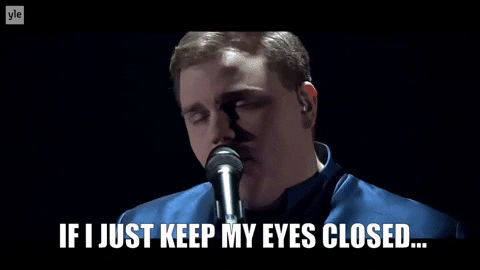 Finland's history at Eurovision
Finland have a long and often unsuccessful relationship with the contest, for years they were the perennial underachiever along with Portugal, registering 45 years of zero top 5 results, before winning in style with their (at the time) record-breaking and incredibly memorable Lordi's 'Hard Rock Hallelujah' in 2006. Since then, they have only replicated what might be called a success once with 2014's 'Something Better' by Softengine, which came 11th, making their two biggest successes of this century rock songs, a distinction few countries can claim. Despite this, they are sure to offer something stylistically different each time, running the genre gamut throughout the 2010s to varying degrees of reception.
This year's entry
Looking Back' won the Finnish national final over a fan favourite entry, 'Cicciolina', which is never a good start, and the song saw highly mixed reception after it won UMK. The song itself is a ballad performed by Aksel, the lyrics discussing nostalgia. Had the contest gone ahead, you could have expected Aksel standing alone on a stage looking heartfelt as he sang this song.
How does this kind of song tend to do in the contest?
This song is very similar to many of the United Kingdom's entries over the past decade. This by itself bodes poorly as most of these songs haven't done well, but sometimes, these songs can connect if performed well. I think though that had the contest gone ahead, it would likely have been a long shot for Aksel and therefore a long shot for him getting Finland to the final.
The Reviews
Matt
Aksel's vocal is strong, really strong. We know he can do it live, having seen it at UMK. Along with the cute staging, you can see why it won it's national final, however, the song lacks any kind of upper gear and I need a bit more of Aksel's personality to bring the performance alive.
Nick
Right, I need to forget about Cicciolina for a second. Give me a second…. Yeah, so, with Cicciolina leaving my head, it's also been way too long since listening to Looking Back. I just cannot for the life of me remember how this goes.
Sean
I don't want this to come off as salty, but this was probably the worst choice of the six songs in UMK this year (it's a close race bettween this and Lover View though). Everytthing aboutt it is fine, I guess. There's nothing offensive about it in any way, which is exacttly the problem. Nothing about it is notable. I'm hinestly shocked it did remotely well in the televote in UMK, because I can't imagine anyone being moved enough to vote for something this inoffensive.
Tim
Aksel, my dear Aksel, you've produced a track such a great track, with a lot of emotional meaning. Funnily enough, I somehow related to it, especially as the contest is not taking place this year. 'But we never knew what we had, until it's over and we're looking back'. It's a lyric i'm able to relate to Eurovision or not. I scored it the way it is, as I'm just a sucker for songs with baggage. I hope Aksel comes back for UMK, he deserves his moment.
Wiv
I'm not entirely sure why I don't like this, but I really don't. It's pleasant enough, I guess, and Aksel is a good singer. The song reminds me a bit of Estonia's "Storm" from last year, so who knows; it might have surprised us all by qualifying for the grand final. I love me a good male ballady entry, but this is missing the "good" part.
Scores
| | | | | | |
| --- | --- | --- | --- | --- | --- |
| Costa | 4 | Nick | 5 | Tim | 8 |
| Dominik | 10 | Riccardo | 6 | Tom O | 5 |
| Isaac | 3 | Rigmo | 5 | Tom R | 5 |
| Lisa | 1 | Rodrigo | 7 | Vincent | 6 |
| Luke | 10 | Sami | 12 | Wiv | 1 |
| Matt | 3 | Sean | 2 |  |  |
| Nathan P | 1 | Simon | 1 |  |  |
Therefore, Finland scores 95 points in total!
Leaderboard
Finland reaches a disappointing 28th place with a score of 95 points.
Bulgaria – 163
Iceland – 162
Russia – 156
Malta – 154
Switzerland – 151
Israel – 148
Germany – 142
Serbia – 139
Denmark – 136
Ireland – 136
Ukraine – 135
Norway – 134
Italy – 129
Latvia – 121
Romania – 121
Armenia – 120
United Kingdom – 120
Australia – 117
Netherlands – 113
Austria – 111
Belgium – 109
North Macedonia – 107
Czech Republic – 104
Spain – 100
Cyprus – 97
San Marino – 97
Albania – 97
Finland – 95
Estonia – 93
Moldova – 82
Belarus – 81
Poland – 76
Georgia – 72
Slovenia – 53
Tomorrow, it will be the turn of France to be reviewed. For now, take another listen to the Finnish entry below!
Do you agree with our reviews of Finland? What are your thoughts on Looking Back?
Let us know in the comments below and on social media @ESCXTRA