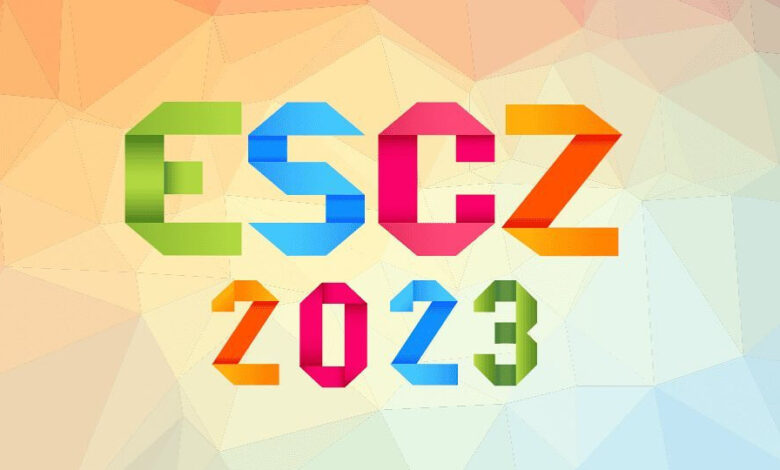 The Czech Republic's much-hyped return to a live national final for the first time since 2008 draws to a close this week with results to be revealed in Prague on Tuesday evening. We spoke with Head of Delegation Kryštof Šámal about ESCZ and the process of creating the broadcast.
Creating the broadcast
The show on 30 January at ČT's studios gave five acts the chance to perform their songs live before online voting opened for a week. Billed before the show started as "necessary to increase the popularity of Eurovision in the Czech Republic", the show perhaps seemed somewhat unconventional for checking that criteria: it went out at 9pm on a Monday night, was available on ČT's streaming platform and the official Eurovision YouTube channel, and was broadcast entirely in English.
"Very simply, it was the only day and time in this period that we could use a studio at Czech television, and not pay huge amounts of money for an outside broadcast. So we had to do it on that day, but we then got lucky that we could use the EBU's platforms to stream as well which worked out nicely for us," began Head of Delegation Kryštof Šámal.
"Given the limited time scales we had to put this together, it would have been easier to go the same way we did in the previous years, but we wanted to go further. We got permission to use the Eurovision platforms to stream as well, and you can't turn down that offer. Performing songs live is by far the best way for fans to judge them. I wouldn't say this is the type of broadcast we're aiming for long-term, but it's a step in the right direction to where we want to be."
Appealing to the general audience
The idea of broadcasting entirely in English was all thought through with a view to helping Czechs become more actively involved in Eurovision, although as a concept it might seem strange to begin with.
"At Eurovision, the people that can vote for our act aren't Czechs. So by doing the show in English, we think we can make it more accessible for the wider audience public, get bigger exposure, and start the engagement earlier leading into May. And if that works, we are able to grow our brand in the Czech Republic by having done well and letting Czech people feel part of the wider Eurovision community.
Šámal explained further: "I think that us Czechs, as a generalisation, need to have a series of good successes in Eurovision for the general audience to appreciate the brand. If we don't get to the finals, people won't care; if we do, and place well, more and more people will appreciate the brand and the platform – especially if you have diverse music genres, as we're not focusing on traditional pop. It's an educated guess for us, that if we're more successful we can do a live broadcast on TV because we can show the audience that we've had good results and now they can be a bigger part of it by choosing out entry in a live TV show."
Success in the national final
With all of those goals in mind, what is success going to look like this year for the national selection?
"It's very hard to quantify this, because in terms of viewing audiences the numbers are counted differently in different places. On iVysílání someone has to watch the show from start to finish to be counted, whereas on YouTube it's only a matter of seconds, so it's very hard to come up with an analytically based target," Šámal added. "For me, personally, it would be the number of votes. Last year it was very good, a little bigger than the previous years, so if this exposure can help us to go 20-25% higher it would be great, if we could do double that it would be exquisite. That said, it will be harder as we're a final of five this year, so a slightly reduced number of artists' fans will be voting."
ESCZ
The Czech national final will take place tonight, although the artists already performed in the broadcast last week.
The competing songs are:
Maella – "Flood"
Pam Rabbit – "ghosting"
Markéta Irglová – "Happy"
Vesna – "My Sister's Crown"
RODAN – "Introvert Party Club"
The winning song will be chosen through 100% public voting consisting of 70% international and 30% Czech. According to Eurovision Prediction, Vesna is the big favourite to win tonight!
Did you enjoy the Czech national final? Let us know! Be sure to stay updated by following @ESCXTRA on Twitter, @escxtra on Instagram and liking our Facebook page for the latest updates! Also, be sure to subscribe to our YouTube channel to see our reactions to the news in the upcoming months.