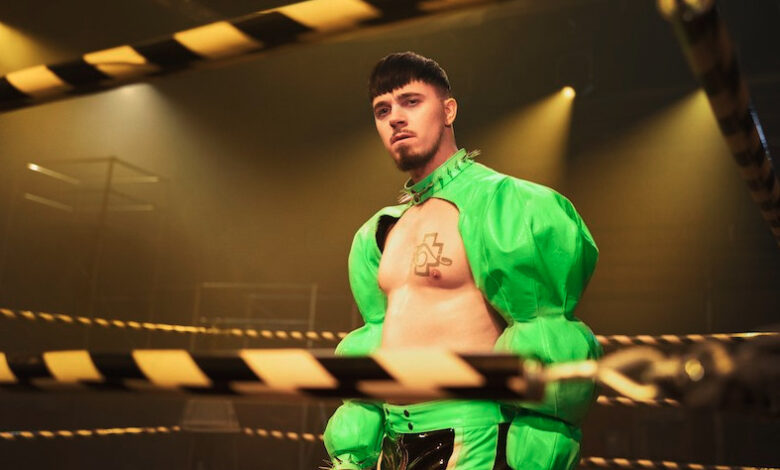 After an exciting evening, Finland has selected their Eurovision entry! Käärijä has won Uuden Musiikin Kilpailu 2023 with "Cha Cha Cha"!
The results
Seven acts performed their song in the national final, and the results were calculated with the help of an international jury (25% of the votes) and votes of the public (75%).
The competing songs, in the running order, were:
So what were the final results like? Check them out below!
| | | | |
| --- | --- | --- | --- |
| Song | International jury points (25%) | Televote (75%) | Total |
| 1. Käärijä – "Cha Cha Cha" | 72 points | 467 points | 539 points |
| 2. Portion Boys – "Samaa taivasta katsotaan" | 28 points | 124 points | 152 points |
| 3. Keira – "No Business on the Dancefloor | 42 points | 91 points | 133 points |
| 4. Robin Packalen – "Girls Like You" | 46 points | 81 points | 109 points |
| 5. KUUMMA – "Ylivoimainen" | 44 points | 63 points | 107 points |
| 6. Lxandra – "Something to Lose" | 46 points | 24 points | 70 points |
| 7. Benjamin – "Hoida mut" | 34 points | 32 points | 66 points |
"Cha Cha Cha" was already the favourite to win ahead of the show, being first in the odds and the winner that was chosen by the Xtra Prediction voters! Congrats to everyone on the 12 points! The team over at ESCXTRA must be pretty disappointed, since Benjamin was our winner.
You can rewatch the performance here:
Who is Käärijä?
According to Finnish broadcaster YLE:
Käärijä is an artist who is almost impossible to define. Unabashed and unpredictable, Käärijä loves to break boundaries, follow his own beat and explore new things. Käärijä's debut album Fantastista was released in 2020. The artist's music takes on a whole new dimension live – indeed, Käärijä's unfettered live performances are what he's known for.

His debut single Urheilujätkä was released in 2016 and since that time Käärijä has done his own thing. Käärijä hates being confined to a specific genre, preferring to combine elements from, among others, rap, metal and electronic music. His lyrics deal with everyday things, the passage from youth to the threshold of adulthood, from house parties to after-parties.

Käärijä has watched Eurovision since he was a little boy, with Verka Serduchka's Dancing Lasha Tumbai being an especially memorable performance. He has also been interested in UMK for several years. This year, he was 150% sure that he would be submitting an entry, because when Cha Cha Cha came along, Käärijä knew the time was right.

"Finland is a party country, a heavy metal country and a pop country – this song brings all of those together," Käärijä said in the beginning of his UMK journey.

Press release by YLE
Finland in Eurovision
Making their Eurovision debut in 1961 with the entry "Valoa Ikkunassa" by Laila Kinnunen, Finland hasn't always had the best time at the contest. Finland didn't have a smooth start at Eurovision, placing last three times in the 1960s. Marion Rung was Finland's first success, placing 6th in 1973 with "Tom Tom Tom" – this remained as Finland's best result until 2006.
Before the turn of the millennium, Finland placed last a further five times while they placed in the top ten on only three occasions. Finland's fortunes finally changed however in 2006 when Lordi won the contest in Athens with "Hard Rock Hallelujah" – marking Finland's only win and only top 5 result.
During the semi-finals era, Finland has qualified for the final on nine occasions. The Rasmus became the second Finnish act in a row to qualify for the final with "Jezebel". In the final, the group placed in 21st place with 38 points.
Are you excited about Finland's Eurovision entry?? Let us know! Be sure to stay updated by following @ESCXTRA on Twitter, @escxtra on Instagram and liking our Facebook page for the latest updates! Also, make sure you follow us on Spotify for the latest music from your favourite Eurovision acts.