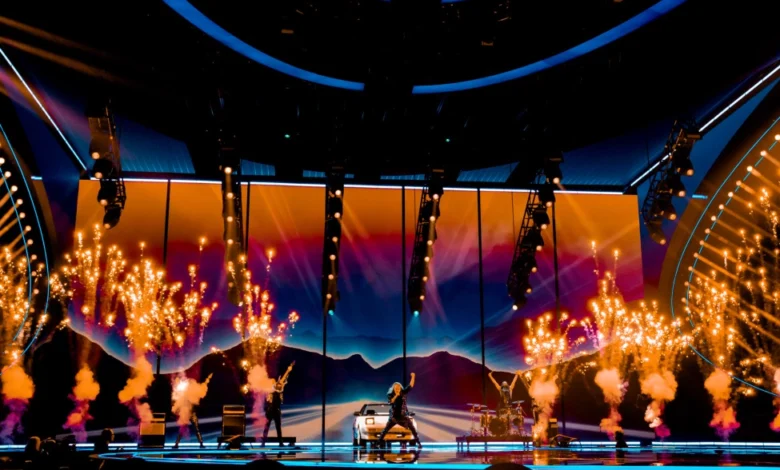 Ahead of a busy day with Semi-Final 2 rehearsals and an impromptu OGAE Australia catch up, Australia's Eurovision 2023 representatives Voyager have announced dates and locations for their UK & Europe 2023 headline tour 'Fearless In Love'.
Fearless In Love 2023 tour
Earlier today, Australia's Eurovision 2023 representatives released a breakfast treat for all the metal-heads in the fandom with the announcement of their UK & Europe headline tour. The Fearless In Love tour coincides with the release of the band's 8th studio album of the same name.
So, if you're looking to cure the Post-Eurovision Depression with some Prog-Metal then you can mosh out across Europe and the United Kingdom, including the popular Euroblast Festival, Manchester's Club Academy and London's Dome.
Tickets go on sale Friday 12th May, 9am (BST), 10am (CET). As well as this, fans can get an early preview by listening to their latest single, 'Prince of Fire' from the upcoming album. The highly anticipated 11-track album, Fearless In Love, embraces the band's love for 80s and 90s glam rock with their quintisential Aussie grit. Exploring dynamic percussion and melodies with the emotive lyrics that resonate with audiences from that generation. The album will be released on 14th July.
OGAE Australia meet & greet
As well as this exciting news. Voyager found time in their busy SBS schedule to meet and greet with members of OGAE Australia this morning! Fans were able to get photos, the famous keytars as foam hands and have a relaxed chat with the band. During the event, Voyager revealed they would love to perform at the world famous famous Download Festival in Castle Donington, UK. Meanwhile there was a lot of buzz for today's rehearsals after watching the live Semi-Final last night. There was a lot of love for Malta's The Busker now Voyager are on the ground and uniting through music with their new international friends and competitors.
Are you backing Voyager's 'Promise' to bring the contest to Australia for the first time? Will you be attending their Fearless In Love tour? Let us know! Be sure to stay updated by following @ESCXTRA on Twitter, @escxtra on Instagram, @escxtra on TikTok and liking our Facebook page for the latest updates! Also, be sure to follow us on Spotify for the latest music from your favourite Eurovision acts. As well as YouTube to see our reactions to the news on the ground here in Liverpool!