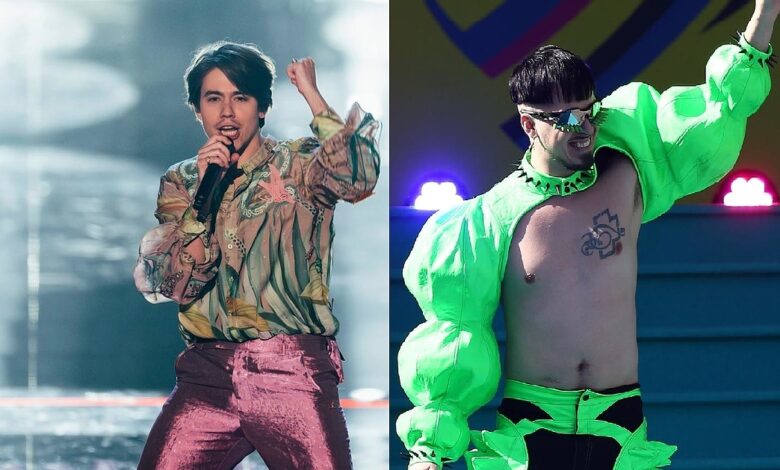 Probably not the gift you're expected to receive after participating in Eurovision!
One of the many things fans love about the contest is the friendships that are made along the way. Käärijä (Finland) and Bojan (lead singer of Joker Out, Slovenia) 's friendship started back at the Madrid preparty. Over time, their friendship was often shared online by themselves, managers and fans lucky enough to meet them in real life. During their time in Liverpool, they became even closer friends. Käärijä broadcasted a wholesome livestream of him and his new bff (which he referred to as 'his rich son') going to a steak restaurant. In the following two weeks, the two best friends would always find time to see each other.
Adopting a seal
In one particular interview it was mentioned there are rumors circulating about Käärijä and Bojan planning to adopt a baby seal. Bojan, who did not hear the rumor before, jokingly asked Käärijä if it would be a good idea. The interview blew up amongst fans, who were now dying to see their favorite Eurovision duo became seal dads.
It even reached the Vienna Zoo, who decided to gift the duo what they desired so dearly.
No, there's no need to build an aquarium in Bojan's garden just yet, as they have recieved a 12 month sponsorship for the sea lion seals in the Zoo of Vienna. Joker Out's manager Gregor shared the happy news on his instagram;
Hopefully Käärijä and Bojan will be able to visit their seals in the Zoo together, but as they will both have a pretty busy schedule this summer, it will likely not happen soon. But always make sure to follow our website and socials, just in case you miss the reunion!
Be sure to stay updated by following @ESCXTRA on Twitter, @escxtra on Instagram, @escxtra on TikTok and liking our Facebook page for the latest updates! Also, be sure to follow us on Spotify for the latest music from your favourite Eurovision acts, as well as YouTube to see interviews from the Eurovision Song Contest 2023!