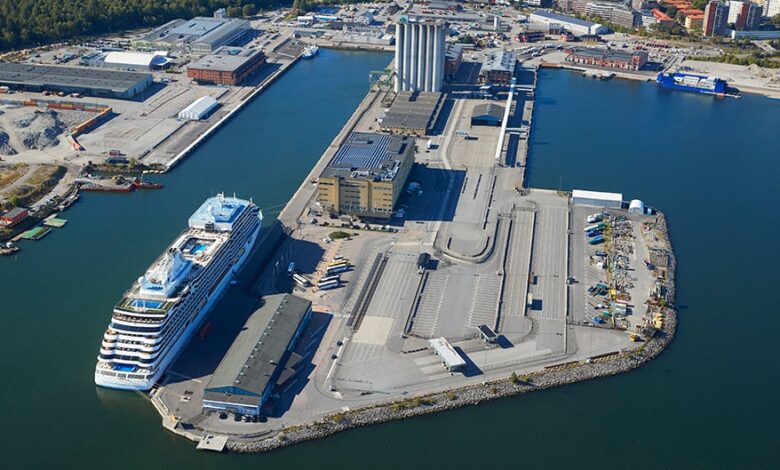 As fans eagerly await news on which Swedish city will play host to the Eurovision Song Contest 2024, local media in Sweden have reportedly seen Stockholm's city bid proposal. Among the details includes an ambitious plan to build a temporary arena at the Frihamnen docks.
Stockholm to host Eurovision 2024 in temporary venue?
According to documents seen by Swedish news outlet, DN, Stockholm's city bid submitted to SVT includes plans to build a temporary arena for Eurovision 2024. This pop-up venue will be located in Frihamnen, a shipping port roughly 20-25mins away from Stockholm Central Station. Now many will remember we have been down this shipping lane before. Back in 2014, Copenhagen hosted the contest at the B&W Hallerne and converted the surrounding area into a 'Eurovision island'. So, while this concept is not new, it does not seem cheap either, to not use pre-existing venue spaces.
The bid documents state the temporary structure could host between 11,180 to 14,700 guests. The aim is to find sustainable and flexible solutions to meet the growth and demands of modern Eurovision hosting. As well as solving the issue of finding a venue in Stockholm that can be vacated for enough weeks. In order to be sustainable, there are long-term usage plans to host more events post-Eurovision.
Also within the bid is a nod back to Sweden's hosting of Eurovision 2016. The proposed Eurovision Village for the 2024 bid includes mention of Kungsträdgården, the same location that was used in 2016.
Supporting the bid are, Visit Stockholm, Stockholm Chamber of Commerce and Fastighetsägarna Stockholm. As well as this, funds will be raised through the annual investments expected in the area in 2024 and assurances that the venue will be equipped to full EBU standards. Staffan Ingvarsson the CEO of Stockholm Business Region concludes:
"We have very good experience in organising large international events in Stockholm. We know that we can do it in a very good way, with all that is required in terms of security and good reception."

Staffan Ingvarsson, CEO Stockholm Business Region
The final date for the submission of bids was June 12, with an announcement of the winning city expected sometime in the coming weeks of Summer. In total, four cities submitted proposals to SVT.
Why is Stockholm struggling to find a suitable arena?
In recent years, the EBU has started to shy away from the idea of 'bigger is better'. Instead, opting for venues below 15k capacity, aware that Eurovision is first and foremost, a television production. Meanwhile, such is the scale of a modern contest, the EBU requires a venue to be available for 4-6 weeks for stage construction and rehearsals. As well as a further week after the contest to unpack and return the venue to its usual form.
Although the obvious choice would be Stockholm's Friends Arena that hosts the annual selection, Melodifestivalen, yesterday it was announced that global superstar, Taylor Swift is taking over the venue when Eurovision 2024 could take place. Also at over 50k capacity, it is far beyond the EBU's specification range. Further to this, the local football team, AIK Fotboll will be playing matches there next May. So what about the Tele2 then? Of course, with a capacity up to 40k depending on concert layout, it more than fits the brief. It also has history with the contest, being used as a secondary venue in 2016 for people to watch the Grand Final. However, Tele2 is home to two football teams, Hammarby and Djurgården who need the venue for their home matches next May. That leaves us with the Globen (Avicii Arena)… or it would if the venue was not under major renovations throughout the entirety of 2024.
Therefore, it leaves SVT in a tricky position if they want the contest in Stockholm. Hence the unusual proposal to build a temporary structure. Unless, all this suggests we are not going to Stockholm after all…
Are you ready for Eurovision 2024 to dock in Stockholm's Frihamnen port? Let us know! Be sure to stay updated by following @ESCXTRA on Twitter, @escxtra on Instagram, @escxtra on TikTok and liking our Facebook page for the latest updates! Also, be sure to follow us on Spotify for the latest music from your favourite Eurovision acts. As well as YouTube to see our reactions to the news ahead of the next Eurovision season.