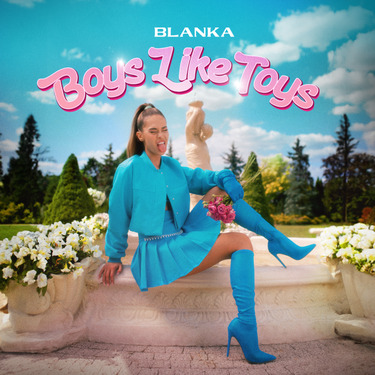 Bejba is back with a new summer bop!
'Boys Like Toys'
You don't wanna mess with Blanka after hearing the lyrics to her new song, 'Boys Like Toys'. She is truly kinda krejza! Poland's most recent Eurovision participant Blanka released her newest single today on July 4.The title may suggest something sweet and playful, but our girl is singing about using a boy obsessed with her as her toy. She's suggesting that she will be using him how a boys would use a girl. That's some feminist power right there!
The song sounds like a proper summer jam, with uplifting instrumental parts and a pleasant melody. Blanka also shows her critics that she can carry this song vocally just as well as 'Solo' during the contest in Liverpool!
'Boys Like Toys' is composed by Blanka Stajkow, Andrzej Jaworski, Jeremi Sikorski and Kevin Mglej and produced by WOLF HOUSE.
Music Video
In the music video, we see Blanka and her girlies hanging out together in a beautiful white mansion. Any guy that approaches her, is magically turned into a cuddly teddy bear. In between, we see shots of Blanka showing off her dance skills and having fun with her friends at the pool and in the hallways. In the final shot, Blanka shows her secret collection of teddy bears, while putting a finger on her lips as to tell the viewers to keep the secret of what happened to the boys.
Go check out and enjoy 'Boys Like Toys' down below!
What do you think of Bejba's new single? Let us know! Be sure to stay updated by following @ESCXTRA on Twitter, @escxtra on Instagram, @escxtra on TikTok and liking our Facebook page for the latest updates! Also, be sure to follow us on Spotify for the latest music from your favourite Eurovision acts.