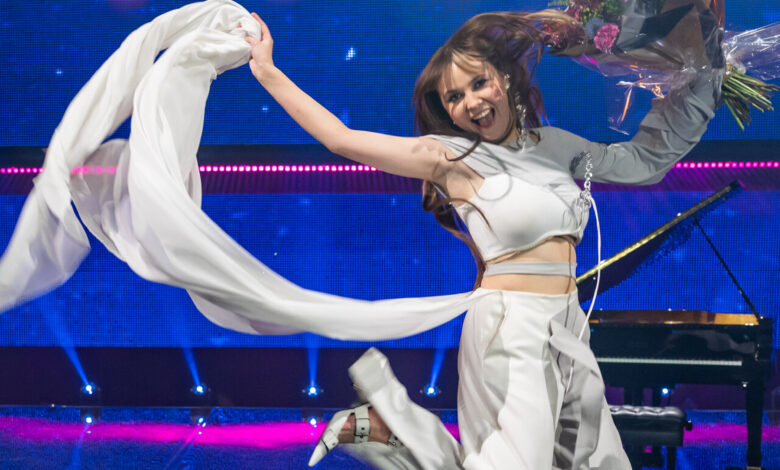 Earlier this year, ERR the national broadcaster of Estonia confirmed their participation in the Eurovision Song Contest 2024 to be held in Sweden next May. More recently ERR announced the return of Eesti Laul to select the entry, as well as changes to a one Semi-Final format. After going through 215 submissions, tonight during Ringvaade, ERR has revealed the 15 acts taking part in the Semi-Final of Eesti Laul 2024 on January 20.
Eesti Laul 2024 Semi-Finalists
Tonight, ERR announced the full line-up of Semi-Finalists taking part in Eesti Laul 2024. Tomorrow, ERR will confirm the five acts pre-selected by the 41 member jury that will automatically advance to the Final. Below are the Semi-Finalists, alongside the names of their entries and songwriting teams that will compete on January 20.
OLLIE – 'My Friend' (Oliver Mazurtšak)
Sofia Rubina – 'Be Good' (Jason Hunter, Robert Stanley Montes, Renae Rain)
Ewert and The Two Dragons – 'Hold Me Now' (Ewert Sundja, Erki Pärnoja, Ivo Etti, Kristjan Kallas)
Multikas, Ewert Sundja – 'Oblivion' (Joosep Järvesaar, Hugo Martin Maasikas, Ewert Sundja)
Anet Vaikmaa – 'Serotoniin' (Sven Lõhmus)
5MIINUST x Puuluup – '(nendest) narkootikumidest ei tea me (küll) midagi' (Põhja Korea, kohver, Lancelot, Päevakoer, Marko Veisson, Ramo Teder, Kim Wennerström)
YONNA – 'I Don't Know About You' (Johanna Eendra, Jakob Kaarma, Semjon Greef)
Silver Jusilo – 'Lately' (Silver Jusilo, Markus Palo)
INGA – 'No Dog On A Leash' (Inga Tislar, Markus Palo)
Peter Pöder – 'Korra Veel' (Peter Põder)
Antsud – 'Vetevaim' (Aile Alveus, Antsud)
Cecilia – 'FOMO' (Cecilia-Martina Mägi, Sander Sadam, Liis Hainla)
Traffic – 'Wunderbar' (Stig Rästa, Silver Laas)
Ingmar – 'Dreaming' (Ingmar Erik Kiviloo)
Laura – 'Here's Where I Draw The Line' (Laura Põldvere, Johannes Lõhmus)
Among the line-up we see many newcomers and of course some very familiar names! The most notable of all is Estonia's 2005 and 2017 representative, Laura. Elsewhere are Traffic who are featuring in the national final for the seventh time. Last years' runner-up OLLIE returns to the selection. Meanwhile INGA is returning for the fourth time, Antsud return after their previous appearance in 2017, YONNA formerly known as Johanna Eendra took part in 2019, and Silver Jusilo and Peter Pöder who both took part in 2022. Interestingly, Ewert Sundja has two entries in this edition, who last took part in the old Eurolaul format in 2004. One of Ewert's entries, 'Oblivion' features Multikas which is the alter ego of Cartoon who took part in Eesti Laul 2016.
Format of Eesti Laul 2024
Since 2009 Estonia has used the Eesti Laul national final to select its representatives. As we previously reported, twenty entries have been selected by a pre-jury of 41 members, who listened to the songs blind, with no knowledge of names involved or song titles. In the event that a competing entry does not comply with the regulations, two back-up songs will be selected in reserve. Meanwhile Estonia's Radio 2 will also preview songs that missed out on selection to promote and boost new music in the country. Tomorrow, five songs will also automatically advance to the live Grand Final. All of the competing entries will be revealed on December 8.
Only one Semi-Final consisting of 15 entries is set to take place. From which, 5 will progress to the Final across two rounds of voting. The winners of the first round will be decided by the jury vote and TV viewers' phone votes, and winners of the second round will be decided only by the viewers' phone votes. In order to promote Tartu's status as European Capital of Culture 2024, the city will host the Semi-Final on January 20.
In the Grand Final, the winning Semi-Finalists will join the five automatic qualifiers. The usual voting format consisting of two rounds will return. The first round will determine the acts in the 'Super Final' and is decided by 50% jury voting and 50% public vote. During the Super Final, the Estonian representative is chosen by 100% televoting.
The Grand Final of Eesti Laul 2024 will take place in Tallinn on February 17, (5pm GMT, 6pm CET, 7pm EET and 4am AEDT).
Eesti Laul 2024 live show dates:
Semi-Final – January 20
Grand Final – February 17
Estonia in the Eurovision Song Contest
Back in 1994 Estonia made their Eurovision debut in Dublin with Silvi Vrait and the entry, 'Nagu merelaine'. During the contest the Baltic nation placed 24th with just 2 points. Despite the early setback, Estonia have achieved ten top ten results in total. Their best result came with Estonia's only win in 2001. In Copenhagen the collective of Tanel Padar, Dave Benton and 2XL scored victory with 198 points for 'Everybody'.
Last year the Estonian public chose ALIKA and 'Bridges' through Eesti Laul 2023. During the Liverpool contest, ALIKA achieved Estonia's best result in the Grand Final since 2018. Earning a total of 168 points, resulting in 8th place.
Who should represent Estonia in Eurovision 2024? Let us know! Be sure to stay updated by following @ESCXTRA on Twitter, @escxtra on Instagram, @escxtra on TikTok and liking our Facebook page for the latest updates! Also, be sure to follow us on Spotify for the latest music from your favourite Eurovision acts. As well as YouTube to see our reactions to the news in the run up to the new Eurovision season.