Welcome to Xtra Insider, our new series which will give you an insight into how well each country was statistically likely to do this year, as well as what the team at ESCXTRA think of your favourite entries into (what would have been) this year's contest! Today, we analyse and review Moldova.
Yes, this year's contest has been cancelled…but that doesn't mean we can't love the songs! In this series, we'll review each and every entry that would have taken part in this year's Eurovision. On top of this, we're introducing a new analysis section in which we take a look into each country's history and how likely they would have been to do well this year. Our honest and brutal reviews and analysis will keep you entertained throughout what would've been the Eurovision season! We will also each give points using the usual Eurovision points system (12, 10, then 8 down to 1), and create an ESCXTRA leaderboard of the entries!
Today, we'll be giving analysis and reviews of the Moldovan entry, 'Prison' by Natalia Gordienko, from Costa, Nathan P, Nick, Rigmo, Sean and Tom O. Let's get started!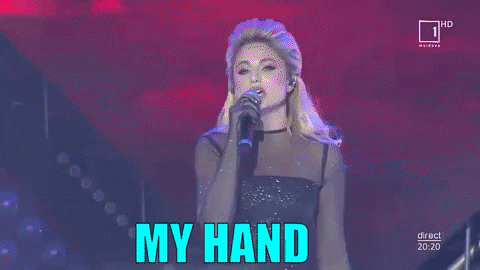 Moldova's history at Eurovision
In general, Moldova has been the country that sends quirky entries that do well mainly with the televoters. Their best result ever came in 2017, when Sunstroke Project returned with their viral sensation Epic Sax Guy and finished third with "Hey Mamma". The country is known of their interesting props and characters, including the drumming grandma, 5-meter-long projection dress and a sand artist.
This year's entry
However, for the second year in a row, Moldova is sending a pretty generic and serious ballad, sung by a female singer. Natalia Gordienko is returning to the contest with totally different entry from her first one. In 2006, she sang cheap pop song "Loca" with Arsenium and almost got naked on the stage. Now she is all grown up and very dramatic. She has the so-called Dream Team behind her, including Greek composer Dimitris Kontopoulos, Russian superstar Philipp Kirkorov and lyricist Sharon Vaughn, who also finished third last year with "Scream", performed by Sergey Lazarev representing Russia.
How does this kind of song tend to do in the contest?
The song is pretty generic in this genre – a ballad with a lot of drama and bit of a beat. It seems that the era for these kind of songs is already over and for the past years, we haven't had anything like this doing particularly well. With Kirkorov's Dream Team behind it, there is a possibility for the stage performance to have been something spectacular, which could have given the song a better chance.
The Reviews
Costa
I'm aware that incoherence within which Moldova selected this has soiled my opinion of this song. But, I don't really care? I would be more willing to look past the controversy if the song was anything special…but it's…fine. I just want Moldova to take the hint and go back to sending fun entries over power ballads that fall way beyond the standard set by the godly "O Mie".
Nathan P
I enjoy aspects of this song and the beat is decent at the end. But I can't escape how cheap this song is. It feels mass produced from the "Dream Team" camp. There's nothing genuine or Moldovan oo this, it feels and sounds brought in. There's no twist to it, no character, no flair. It's empty and soulless like she's going through the motions. It's trying to be a slick package yet it feels slightly dated and there's a hint of tacky about it, It's trying to be things and doesn't own any aspect of it.
Nick
If we ignore her pronunciation of the English language, we actually have… a bog standard Eurovision ballad. Oh no wait, for that we actually need this typical pronunciation as well. Smother it in Kirkorov's glamour and Moldova might just sneak through. It's not a bad song, but if this qualifies… let's just say other factors will probably play a major part in it.
Rigmo
Don't worry, Natalia, Kirkorov will find him a new pet next year and you'll be freed from your cage. I feel like I should hate this, but the moment that 80s synth beat kicks in, I'm begging for my own cell! Shove me into solitary confinement and just blast that background tune all day at my direction and I promise to never ask for parole.
Sean
I hate to be *that* person, but I have never been able to sit through Prison all the way through. Ever. Even writing this review, I tried to listen to it one more time. At first I was like "ok, still not great but at least I got through it" just to look at the time stamp and see that we hadn't even reached 1:30. This is by no means Natalia's fault. She's doing just about everything she can to save this. But I'm more than willing to put blame on the Dream Team and the Moldovan broadcaster for such a terrible offering.
Tom O
Oh look it's another "Dream Team" song, and it certainly sounds like one. Not one of the best though. The song is fine and Natalia is a good singer. There's some nice drama in the music. I imagine on stage something would be done to lift it up, but on it's own it doesn't excite.
Scores
Costa
4
Nick
4
Tim
5
Dominik
6
Riccardo
1
Tom O
6
Isaac
8
Rigmo
8
Tom R
6
Lisa
6
Rodrigo
2
Vincent
5
Luke
1
Sami
5
Wiv
3
Matt
3
Sean
1
Nathan P
4
Simon
4
Therefore, Moldova receives 82 points in total!
Leaderboard
Moldova narrowly escapes ending last on our list with a score of 82.
Bulgaria – 163
Israel – 148
Serbia – 139
Ukraine – 135
Australia – 117
Belgium – 109
Czech Republic – 104
San Marino – 97
Albania – 97
Moldova – 82
Poland – 76
Tomorrow, it will be the turn of Romania to be reviewed. For now, take another listen to Moldova's entry below!
Do you agree with our reviews of Moldova? What are your thoughts on Prison?
Let us know in the comments below and on social media @ESCXTRA