Welcome to Xtra Insider, our new series which will give you an insight into how well each country was statistically likely to do this year, as well as what the team at ESCXTRA think of your favourite entries into (what would have been) this year's contest! Today, we analyse and review Russia.
Yes, this year's contest has been cancelled…but that doesn't mean we can't love the songs! In this series, we'll review each and every entry that would have taken part in this year's Eurovision. On top of this, we're introducing a new analysis section in which we take a look into each country's history and how likely they would have been to do well this year. Our honest and brutal reviews and analysis will keep you entertained throughout what would've been the Eurovision season! We will also each give points using the usual Eurovision points system (12, 10, then 8 down to 1), and create an ESCXTRA leaderboard of the entries!
Today, we'll be giving analysis and reviews of the Russian entry, 'Uno' by Little Big, from Dominik, Matt, Nick, Rigmo, Rodrigo and Tom O. Let's get started!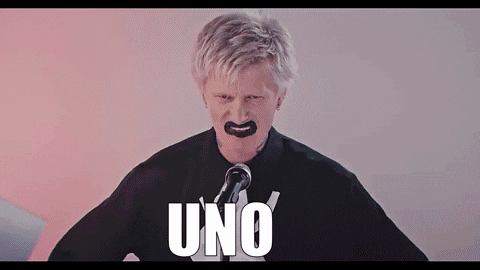 Russia's history at Eurovision
From the outset Russia established themselves as one of the powerhouses of the contest. They made their debut back in 1994 with Youdipph, who finished in 9th place with 'Vechni stranik'. Since then they have made a further 20 finals. With a total of 13 top 10 placings and having only been outside the top 15 twice in their history. Their most successful entrants include runners-up Alsou, Polina Gagarina and Buranovskiye Babushki. As well as t.A.T.u., Serebro and Sergey Lazarev who have four third places between them. Eventual debut winner Dima Bilan won at the second attempt in 2008 with 'Believe', scoring 272 points, after finishing runner-up in 2006 with 'Never Let You Go'.
This year's entry
Earlier this year Russian broadcaster Channel One internally selected Little Big with their very big viral hit 'Uno'. Little Big are a satirical Rave/EDM band from St. Petersburg, with members Ilya Prusikin, Sergey Makarov, Sonya Tayurskaya, and Anton Lissov. Most famous for their provocative videos and infectious anthems, they made their breakthrough in 2016 with 'Skibidi'. This became a Tik Tok crossover and amassed almost 400 million views on YouTube. Aiming to repeat that success, 'Uno' is the party anthem with a Latin flavour. The song is a humour filled appreciation for a good holiday with a catchy, knee-shaking dance to boot!
How does this kind of song tend to do in the contest?
Well we know Russia has past form on how to capture the casuals with a 'Party For Everybody'. Back in 2012 everyone's favourite grandmothers came second to Loreen and Euphoria, almost winning the televote that year. Already 'Uno' is a huge Tik Tok meme, like Little Big's other hits 'Skibidi' and 'I'm Ok'. So far it is the second highest viewed Eurovision entry behind Netta's 'Toy' on the Eurovision channel with over 70 million views. Throughout Eurovision history from 'Dschingis Khan' to 'Hey Mamma', has shown an infectious beat with a memorable routine is a recipe for success. However Lithuania and Iceland with 'On Fire' and 'Think About Things' respectively, have also taken this concept on board. With three viral songs all with their own Tik Tok dances, it remains to be seen who will come out numero uno.
The Reviews
Dominik
This is already ICONIC! When I first listened to their older music I wasn't really excited but "UNO" is catchy, fun and different. It's very entertaining to listen to it and even more fun to watch this performance from the music video for example. I would totally listen to the song again and again and I can already see this becoming huge for the Eurovision parties in the next years!
Matt
I think this was a calculated risk that ultimately would have paid off. Not that it would have won Eurovision but I can certainly have seen it finish in top 5. It's been pitched at the right level of comedy. Bonkers!
Nick
Russia, the epicentre of peace ballads and pompous pop songs. So…what exactly is this? Batsh*t crazy, that's what it is! And I am living for it. It's like Aqua had a baby with Dutch comedian Stefano Keizers (seriously, Google him) and the Costa del Sol is here as well. A complete madhouse, but I just love it. UNO DOS QUATTRO!
Rigmo
Finally a Eurovision song with lyrics that actually MEAN something. Uno is right, because this song is numero uno for me thanks to a combination of the catchy tune, the fabulous clothes and dance moves that echo me standing in line behind a public toilet.
Rodrigo
I'm sure this is somehow meant to be funny. It is not. I feel my IQ lower by 50 points every time this comes up. Nonsensical rubbish.
Tom O
I didn't know Little Big before the reveal and was a little skeptical before hearing the song. But UNO is one of my favourites of the year. It's great fun, catchy and the visuals in the video performance are memorable. Rerfreshing from Russia after many attempts to push for a win with a serious high production song.
Scores
Costa
8
Nick
12
Tim
8
Dominik
10
Riccardo
7
Tom O
12
Isaac
10
Rigmo
12
Tom R
6
Lisa
12
Rodrigo
1
Vincent
6
Luke
10
Sami
7
Wiv
2
Matt
8
Sean
12
Nathan P
10
Simon
3
Therefore, Russia receives 156 points in total!
Leaderboard
Russia just misses out on taking the lead with a score of 156.
Bulgaria – 163
Russia – 156
Israel – 148
Serbia – 139
Ukraine – 135
Romania – 121
Australia – 117
Belgium – 109
Czech Republic – 104
San Marino – 97
Albania – 97
Moldova – 82
Poland – 76
Tomorrow, it will be the turn of Georgia to be reviewed. For now, take another listen to Russia's entry below!
Do you agree with our reviews of Russia? What are your thoughts on Uno?
Let us know in the comments below and on social media @ESCXTRA