Welcome to Xtra Insider, our new series which will give you an insight into how well each country was statistically likely to do this year, as well as what the team at ESCXTRA think of your favourite entries into (what would have been) this year's contest! Today, we analyze and review North Macedonia!
Yes, this year's contest has been cancelled…but that doesn't mean we can't love the songs! In this series, we'll review each and every entry that would have taken part in this year's Eurovision. On top of this, we're introducing a new analysis section in which we take a look into each country's history and how likely they would have been to do well this year. Our honest and brutal reviews and analysis will keep you entertained throughout what would've been the Eurovision season! We will also each give points using the usual Eurovision points system (12, 10, then 8 down to 1), and create an ESCXTRA leaderboard of the entries!
Today, we'll be giving analysis and reviews of the North Macedonian entry, You by Vasil, from Isaac, Nathan P, Riccardo, Sean, Tim and Tom O. Let's get started!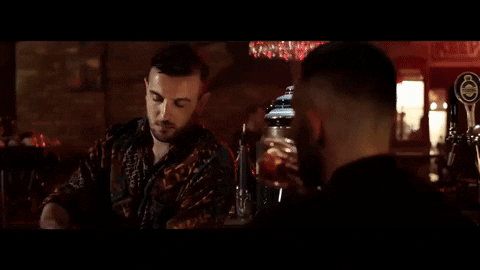 North Macedonia's history at Eurovision
North Macedonia made their Eurovision debut in 1998, when Vlado Janevski performed "Ne zori, zoro", finishing 19th. In their 19 appearances they have only secured one top 10 result; Tamara Todevska finished 7th in 2019 with her anthem to women, "Proud". One thing that stands out when you look at the relatively short history of North Macedonia at Eurovision is return artists. Karolina represented the country in 2002, with "Od nas zavisi" (19th), then returned in 2007 with "Mojot svet" (14th). Tamara Todevska had great success in 2019, but she also participated in 2008, when she failed to qualify for the final with "Let Me Love You", alongside Vrcak and Adrian. Kaliopi is one of the biggest stars in North Macedonia, and she represented her country two (and a half?) times; with "Crno i belo" in 2012 and again in 2016 with "Dona". The half is because she was selected to be the first Macedonian representative at the contest, back in 1996. However, they failed to qualify from the audio qualifying round.
This year's entry
For the 2020 contest MRT, the North Macedonian national broadcaster, internally selected Vasil to represent them in Rotterdam, with his song "You". This would not have been Vasil's first performance at Eurovision, as he was one of the singers providing backing vocals for Tamara in 2019. Participating in the Eurovision Song Contest has been a dream for Vasil for a long time. He first attempted to represent North Macedonia all the way back in 2007, with his own song "Pomogni mi". Unfortunately he only finished 13th in the national final.
How does this kind of song tend to do in the contest?
This kind of male Latin inspired dance entry doesn't have a long tradition in the contest. We've seen full blown Latin rythms from Spain quite a few times, as can be expected, but they are generally more up-tempo. The closest to this entry is the Swiss 2019 entry, "She Got Me", which finished 4th, even though that had a much clearer beat. The videos are however very similar. In this year's contest it's pretty alone in its genre, so it probably wouldn't have had to fight with too many other entries for the points. Some people mention Germany and Austria, but that's probably mainly because they all have young, male singers.
The Reviews
Isaac
There's some excellent choral and instrumental work on this song, I think from what I've seen among fan communities, this has been underrated given how late it showed up in the process. Vasil's performance itself isn't the most standout, he lets the song carry him, but I think the whole package is a solid effort from North Macedonia.
Nathan P
Why is he not dancing with the bartender? He has more chemistry with him than the badly dressed girl LOL! This song is growing on me I have to admit. But there is something a tad cheap about this. It's a tad under produced it's crying to go full on slavic deep house or full on Electro-Tango but never commits to what it wants to be. I like the song in the bridge and its Final 8. It is a tad George Michael album track from 2004 though.
Riccardo
North Macedonia keeping the momentum going! When a song keeps me intrigued, I like it and this does exactly so. Thank you for the journey around the world exploring different styles, the intricate blend of instrumentation is music to my ears am totally feeling it, especially the ending and those tango sounds.
Sean
Well someone liked the She Got Me music video huh. In all seriousness, I appreciate the tango influences in the instrumentation and in general there's not much it does inherently wrong. The big problem is that by the end of the three minutes, the chorus that wasn't too inspired lyrically in the first place gets *very* repetitive. I'm also kinda picky about male falsetto, and Vasil's isn't really my taste (though it by no means is the worst of this year).
Tim
Well I will tell you what I think of You; I think it's amazing, Vasil really surprised me, and I thought he could not get better than his recent release 'Patuvam' but it's such a bop, and I actually want to try and copy the dance moves but I'm not as proficient and as flexible. I am looking forward to him performing this live at some point (whenever that may be). But for now, I will be putting this on repeat along with his latest release.
Tom O
In recent years one of my favourite countries from the Balkans. 'Proud' last year was a triumph so it was always going to be difficult to match it. Mila Moskov at Junior Eurovision last year also gave us something special. 'You' to it's credit tries something new and Vasil is a great choice of artist, but I struggle to connect with this one.
Scores
| | | | | | |
| --- | --- | --- | --- | --- | --- |
| Costa | 5 | Nick | 7 | Tim | 8 |
| Dominik | 7 | Riccardo | 8 | Tom O | 6 |
| Isaac | 7 | Rigmo | 8 | Tom R | 6 |
| Lisa | 6 | Rodrigo | 7 | Vincent | 6 |
| Luke | 4 | Sami | 4 | Wiv | 3 |
| Matt | 5 | Sean | 4 |  |  |
| Nathan P | 4 | Simon | 2 |  |  |
Therefore, North Macedonia scores 107 points in total!
Leaderboard
North Macedonia only reaches 17th place with a score of 107.
Bulgaria – 163
Russia – 156
Malta – 154
Israel – 148
Serbia – 139
Ireland – 136
Ukraine – 135
Norway – 134
Italy – 129
Romania – 121
Armenia – 120
United Kingdom – 120
Australia – 117
Netherlands – 113
Austria – 111
Belgium – 109
North Macedonia – 107
Czech Republic – 104
Spain – 100
Cyprus – 97
San Marino – 97
Albania – 97
Moldova – 82
Poland – 76
Georgia – 72
Slovenia – 53
Tomorrow, it will be the turn of Germany to be reviewed. For now, take another listen to the North Macedonian entry below!
Do you agree with our reviews of North Macedonia? What are your thoughts on You?
Let us know in the comments below and on social media @ESCXTRA