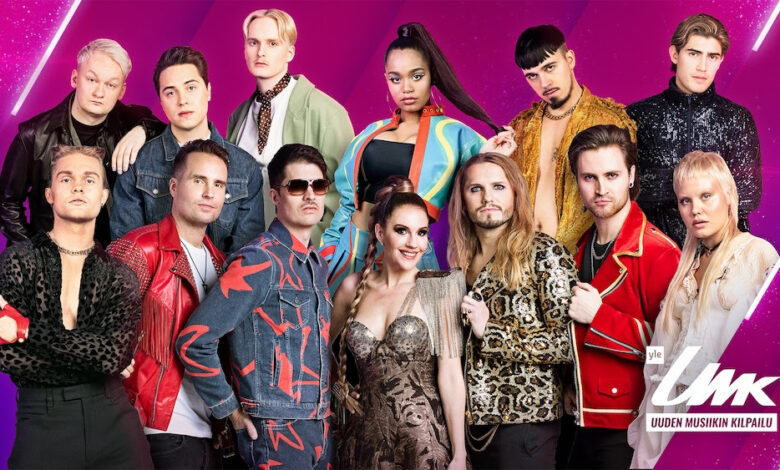 Finland's highly popular pre-selection show UMK (Uuden Musiikin Kilpailu) is due to take place Febuary 25. This is where we will find out who will represent Finland at the Eurovision Song Contest 2023. The seven competing artists and the titles of their entries have been announced, with the songs being released daily (starting yesterday).
The seven participants of Uuden Musikiin Kilpailu 2023 were revealed last week on the official UMK social media pages.
The artists and their songs are as follows:
About UMK 2023
From January 12, a new entry was released per weekday, with the last entry being released on January 20. The release order was as follows:
January 12 – Keira
January 13 – Benjamin
January 16 – Robin Packalen
January 17 – Lxandra
January 18 – Käärijä
January 19 – KUUMAA
January 20 – Portion Boys
Head of the UMK jury, Tapio Hakanen, previously gave fans a little hint of what to expect:
The seven finalists include familiar faces and new, up-and-coming talents. We have, among others, the best dance song in UMK history sung by an unbelievably strong new singer, a song that just oozes sexuality by a well-known artist, a heartbreakingly beautiful ballad by one of Finland's biggest export hopefuls, well-known and up-and-coming bands, and one of the strongest rap bangers in UMK history.

Tapio Hakanen
The televised show will take place in the Finnish city of Turku on February 25, where cultural venue Logomo will host the exciting fans coming to support their favourite acts. The tickets have already sold out, after only being on sale for a day.
Finland in the Eurovision Song Contest
Making their Eurovision debut in 1961 with the entry "Valoa Ikkunassa" by Laila Kinnunen, Finland hasn't always had the best time at the contest. Finland didn't have a smooth start at Eurovision, placing last three times in the 1960s. Marion Rung was Finland's first success, placing 6th in 1973 with "Tom Tom Tom" – this remained as Finland's best result until 2006.
Before the turn of the millennium, Finland placed last a further five times while they placed in the top ten on only three occasions. Finland's fortunes finally changed however in 2006 when Lordi won the contest in Athens with "Hard Rock Hallelujah" – marking Finland's only win and only top 5 result.
During the semi-finals era, Finland has qualified for the final on nine occasions. The Rasmus became the second Finnish act in a row to qualify for the final with "Jezebel". In the final, the group placed in 21st place with 38 points.
Are you excited for UMK23? Let us know! Be sure to stay updated by following @ESCXTRA on Twitter, @escxtra on Instagram and liking our Facebook page for the latest updates! Also, make sure you follow us on Spotify for the latest music from your favourite Eurovision acts.