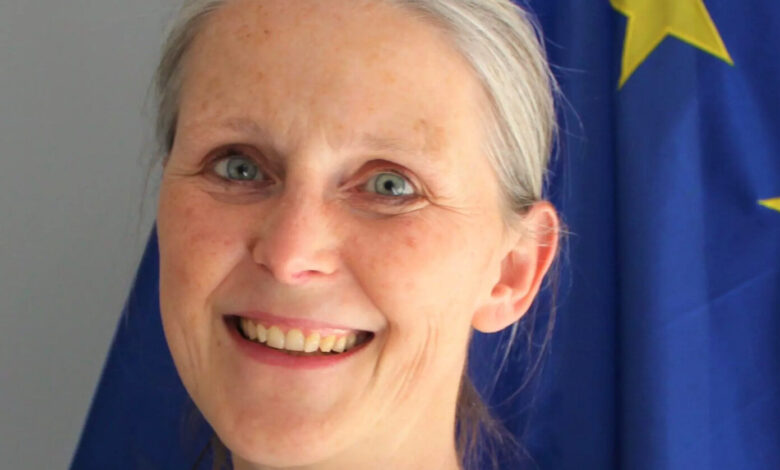 Nina Obermaier, the European Union Ambassador to New Zealand, has said that she would like to see the country debut at the Eurovision Song Contest. Obermaier made her statement during an interview on New Zealand radio.
Obermaier: "I don't see why not!"
Nina Obermaier spoke to Charlotte Cook on RNZ, during which Eurovision was discussed. When Cook asked the EU Ambassador what she thought about the idea of a New Zealand début at the Eurovision Song Contest, Obermaier was quick to answer. She said:
Yes, absolutely. I don't see any reason why New Zealand wouldn't be able to join. It would require a bit of enthusiasm though… Because Eurovision is massive: Viewing parties all over Europe!."

Nina Obermaier on RNZ
Besides calling for a potential début, Obermaier also mentioned the method of selecting an entry as important. She feels a national final would be most suitable, as their entry should be in the hands of the New Zealanders themselves.
Her Excellency Obermaier has been the EU Ambassador to New Zealand for well over three years now, having taken office back in November 2019. Her mandate ends this year.
New Zealand at Eurovision?
Ever since the début of Australia at the Eurovision Song Contest back in 2015, fans have had the tendency to look overseas for other potential debutees. Countries like Canada, China, USA and even Qatar have all been mentioned in the past. The candidate with the most mentions is, however, still Kazakhstan due to their participation in the Junior Eurovision Song Contest. New Zealand has also been in the minds of many.
The Oceanic country has been an associate member of the European Broadcasting Union ever since 1980. TVNZ has held this membership for well over forty years now. Like in Australia, Eurovision has a decent following in the country despite never taking part.
When Eurovision Asia was scrapped in 2020, media looked to the EBU for a statement regarding a potential New Zealand adventure at Eurovision itself. The EBU then responded by saying there were "no plans to invite New Zealand" to the contest. This was due to the fact that, despite a similar fan base for the contest in New Zealand and Australia, Australia's SBS had been broadcasting the contest for over three decades. This is not the case for TVNZ.
What do you think? Should New Zealand be allowed to début at the Eurovision Song Contest? Let us know! Be sure to stay updated by following @ESCXTRA on Twitter, @escxtra on Instagram, @escxtra on TikTok and liking our Facebook page for the latest updates! Also, be sure to follow us on Spotify for the latest music from your favourite Eurovision acts. As well as YouTube to see our reactions to the news in the run up to the new Eurovision season.