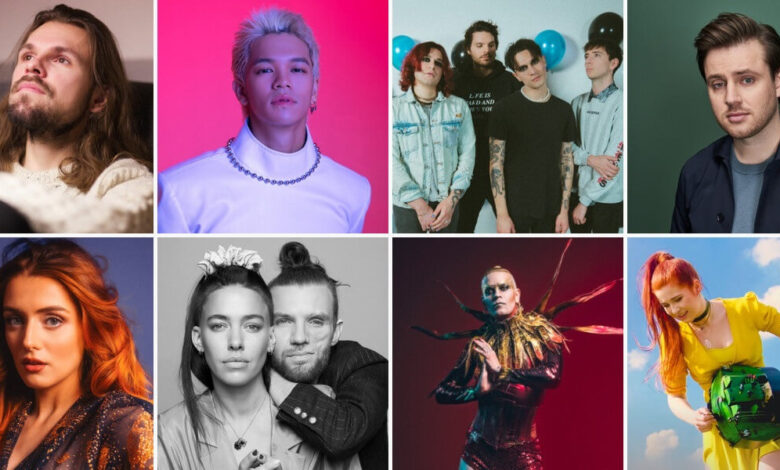 The German broadcaster NDR has announced the first 8 acts that will take part in Germany's preselection show for Eurovision Song Contest 2023, Unser Lied für Liverpool. This will take place on Friday 3rd March. In the interim period, a ninth act will be chosen from a public vote hosted on TikTok to complete the final lineup of 9 acts.
The 8 acts revealed so far are as follows, with their songs also listed with links, most of them linked on eurovision.de:
*at time of writing, not linked on eurovision.de, though included in the recap, an official version may be awaiting publication
The show, Unser Lied für Liverpool, will be hosted by Barbara Schöneberger, the regular spokesperson for Germany at several recent Eurovision Song Contests. It can be watched on eurovision.de, ONE
The ninth and final act will be chosen from a poll of TikTok users. This poll will be open from 13:00 CET on Friday 27 January until 20:00 CET on Friday 3 February. They have 6 acts to choose from, so one of the below will also make it to the German selection final.
Betül
Leslie Clio
From Fall To Spring
Ikke Hüftgold
JONA
Mitchy Katawazi, André Katawazi, NASHUP
Germany in the Eurovision Song Contest
Germany is the nation that has taken part in the most Eurovision Song Contest finals, being present for every single edition except for 1996, where Leon's "Planet Of Blue" failed to pass the preselection round present in that year. They have won twice, in 1982 with Nicole's "Ein bißchen Frieden", and in 2010 with Lena's "Satellite". Since 1999, they have been part of the "Big Five", meaning that the German entry is always qualified for the Grand Final.
Since 2015, German fortunes have been on a somewhat downward turn. They have only escaped the bottom five in the Grand Final once in this time frame. This was in 2018 when Michael Schulte's "You Let Me Walk Alone" finished 4th. In 2022, Malik Harris' "Rockstars" became the 8th German entry to finish last in the Grand Final.
Are you excited for Unser Lied für Liverpool? Let us know! Be sure to stay updated by following @ESCXTRA on Twitter, @escxtra on Instagram and liking our Facebook page for the latest updates! Also, make sure you follow us on Spotify for the latest music from your favourite Eurovision acts.