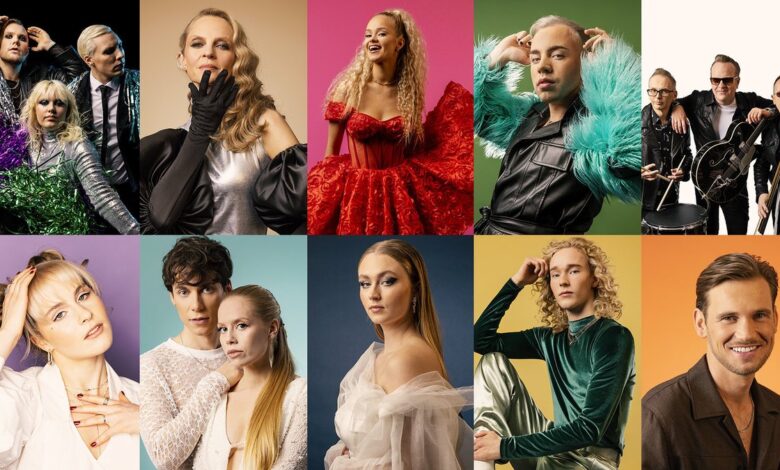 During a live broadcast on RÚV tonight all ten acts in Söngvakeppnin 2023 were revealed. Compared to earlier editions this year's contest brings mainly new names to the Söngvakeppnin stage.
Six of the selected songs were picked from the 137 entries which were submitted to RÚV. The remaining four acts were invited by RÚV to participate. It is not yet known which four are the invited artists.
As always the songs have to be performed in Icelandic in the semi-finals. In the final they have to perform the Eurovision version of the songs. Nine of the entries have both an Icelandic and English version. Langi Seli og skuggarnir's entry "OK" is the only song that's just in Icelandic.
You can listen to all the songs on ruv.is.
Söngvakeppnin 2023 live show dates:
Semi-Final 1 – February 18
Semi-Final 2 – February 25
Final – March 4
The songs (in their semi-finals) are as follows:
Semi-Final One
BRAGI – Stundum snýst heimurinn gegn þér / Sometimes the World´s Against You
MÓA – Glötuð ást / Loose this dream
Bendeikt – Þora / Brave Face
Celebs – Dómsdagsdans / Doomsday Dancing
Diljá – Lifandi inni í mér / Power
Semi-Final Two
Kristín Sesselja – Óbyggðir / Terrified
Langi Seli og Skuggarnir – OK
Silja Rós & Kjalar – Ég styð þína braut / Together we grow
 Úlfar – Betri maður / Impossible
Sigga Ózk – Gleyma þér og dansa / Dancing Lonely
Find out more about the competing acts below:
Sigríður Osk
Sigríður Ósk Hrafnkelsdóttir, better known to the public as Sigga Ózk, is a 23-year-old musician who has been in the business for several years. She has released several songs, including "Sjádu mig", "Ný ást" and "Segdu mér". She has also participated in the Swedish edition of Idol.
Langi Seli og skuggarnir
This band has been active since the late 1980s. They have had quite a few hits over the years, among others "Kontinentalinn" and "Breiðholtsboogie". They released two albums, one in 1990 and one in 2009. Even though the lyrics are in Icelandic, their happy 50s influenced music works for everyone, no matter their nationality.
Kjalar og Silja Rós
Kjalar is a 23-year-old newcomer on the Icelandic music scene. He has become a household name over the past few months however, as he has been one of the participants in Idol. He is still in the running of winning the competition, where he is one of the final four singers. Kjalar has revealed himself to be a bit of a Eurovision fan; in his first audition to Idol he performed Salvador Sobral's winning Eurovision entry "Amar Pelos Dois"
Silja Rós is an actress, musician and songwriter. She competed in The Voice Iceland 2017. After her The Voice participation she released her debut album, which was chosen as Album of the Week on national radio station Rás2.
Úlfar
Úlfar Viktor is a 28-year-old singer and make-up artist who describes himself as a massive Eurovision fan. Last year he participated in the TV-show Fyrsta Blikid, which is a reality show following people on their first meeting with a blind date. During this show he talked about both being a singer and his love for Eurovision.
Celebs
If Celebs should go on to win Söngvakeppnin we might be faced with a first; for the second year running Iceland (or any country?) will be represented by three siblings. The band members are Katla Vigdís Vernharðsdóttir and her brothers Valgeir Skorri Vernharðsson and Hrafnkell Hugi Vernharðsson. The band was founded in 2019, and they have performed at festivals all over Iceland, perhaps most notably during Iceland Airwaves.
Celebs has received a lot of praise for their music, and in 2021 they were nominated in two categories at the Icelandic Music Awards; Rock Album of the Year and Rock Song of the Year.
Bragi
Arnar Bragi Bergsson, footballer and singer, leapt onto the music scene back in 2018, when he participated in Swedish Idol. He made it all the way to the final four. In Iceland he has been more known for his football talent than for his singing. With his participation in Söngvakeppnin this is about to change.
Bragi's entry is called "Stundum Snýst Heimurinn Gegn Þér" in Icelandic, while in English the title is "Sometimes the World's Against You".
Móeiður Júníusdóttir
Móeiður, or Móa, is an experienced artist, as she was a very popular singer in the 1990s. A lot of her earlier music can be found on Spotify. After a long break from music (close to two decades!) she released a new song, Pure, in October 2021. Last year she also released "Shine" together with Ari Arnalds. She started writing music again a couple of years ago. Her recent music has quite a different sound compared to her 90s songs. This is her first attempt at representing Iceland at Eurovision.
Diljá
Diljá is a 21-year-old singer with a lot of experience performing live. She took her first steps on to the Icelandic music scene at the very young age of 12. This was back in 2015, when she participated in Iceland Got Talent. Since then, she has kept on singing, among other things she is the lead singer of the band Midnight Librarian.
Kristín Sesselja
Kristín Sesselja has had quite a bit of success on the Icelandic music scene for the past couple of years. She is often described as a musical poet. In 2021 she was voted Newcomer of the Year at the Icelandic Listeners' Awards. In 2022 she moved to Oslo, where she has signed a contract with the record company Balance It Out, to work on her debut EP. She is now back in Iceland to work on other projects, among other things her Söngvakeppnin entry.
Benedikt
Benedikt Gylfason is a young and promising pop singer, songwriter and producer from Reykjavík. He is currently studying singing and jazz piano. Ever since he was very young, he has felt the need to perform. He started composing both pop and classical music at an early age and has performed in both theater and operas. When he graduated from Menntaskólinn in 2021 he performed one of his own songs during the graduation ceremony.
What do you think of this year's lineup in Söngvakeppnin? Who is your favorite? Let us know by leaving a comment below! Be sure to stay updated by following @ESCXTRA on Twitter, @escxtra on Instagram, @escxtra on TikTok and liking our Facebook page for the latest updates! Also, be sure to follow us on Spotify for the latest music from your favourite ESC and JESC acts.