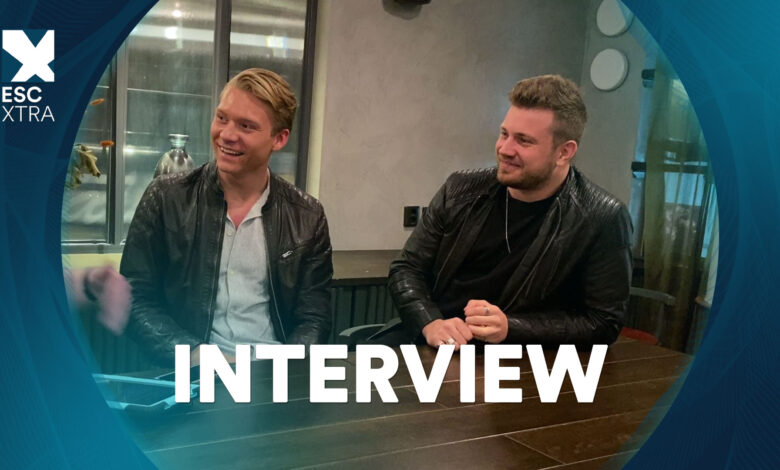 Before the first heat of Melodifestivalen 2023 kicks off this Saturday in Gothenburg, we had the chance to speak with Adam Woods who is not only doing his Melfest debut, but also his stage debut. He's competing together with Jon Henrik Fjällgren and Arc North. And we had the chance to speak to Anton Fargau Petrini, who is the CEO of the publishing record label LoudKult. He gave us insight, into the record label perspective and interest in Melodifestivalen.
"The only important thing is to make sure this number will be the best it can be"
Adam Woods told us that the entry he is competing with was pitched to him by Jon Henrik and Arc North. Previously he never thought, that being on stage is realistic for him. Needless to say, he knew this was where he should be the second he stepped on this stage. On Saturday he will make his official stage debut in front of a big audience in the arena and at home.
Previously he was mainly focused on being in the studio, writing songs, and producing them. Both Adam and Anton also talked about how they grew up with Melodifestivalen in their lives, but never really thought about going this way until now. Never say never. Anton, who is the CEO of LoudKult, even said, that he is planning to host songwriting camps later this year for future Melfest editions. So this all is just the beginning of something much bigger.
The slogan of LoudKult is "By Artists For Artists" meaning everybody at the label is working in the music industry as an artist, which is a huge plus because everybody can understand what you are going through. Adam has been with the label for three months and he said it was an amazing time so far and he already made huge steps in this short time.
So far LoudKult did not focus much on the Swedish market. Melodifestivalen is the perfect chance to open the way to a big audience here. Before the focus was more on the US and Germany. Anton mentions that he will focus on the work behind the scenes for now and not as an artist in Melodifestivalen, but never say never 😉
You can watch the full interview with Adam and Anton below:
Adam Woods will compete with Jon Henrik Fjällgren and Arc North this Saturday in Melodifestivalen. They are Song No. 7 with their entry "Where You Are (Sávežan)"! Be sure to stay updated by following @ESCXTRA on Twitter, @escxtra on Instagram and liking our Facebook page for the latest updates! Also, be sure to follow us on Spotify and YouTube to see our reactions to the news in the run up to the Eurovision Song Contest 2022, which is due to take place in Turin, Italy!