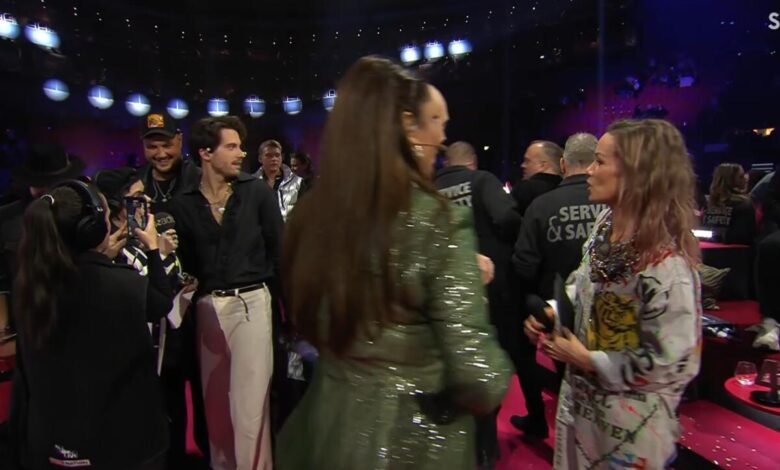 A remarkable moment took place during Efterfest in Göteborg last night. Composer Thomas G:son was in the green room during the aftershow, but in the middle of the live broadcast, security guards walked in and removed him from the venue. What happened there?
Thomas G:son and SVT
Whilst Linda Bengtzing, Farah Abadi and Jesper Rönndahl were hosting Efterfest online last night, the remarkable scene occured. As Victor Crone was giving an interview to Sveriges Radio, G:son was standing next to him. However, at that point, security guards entered. After grabbing the 54-year old by his arm, they escorted him out. Efterfest host Linda Bengtzing looked shocked and exclaimed "That was G:son!". Footage of the incident can be seen on the SVT Nyheter website here.
Melodifestivalen project manager Anders Wistbacka released a statement on behalf of broadcaster SVT. He refused to give any details about the incident, but said that more information about the moment will be released at a later moment during Melodifestivalen.
A staged incident?
Others have commented by saying that the rules in the Melodifestivalen Green Room are very strict. Only those accredited have access to the Green Room, also during Efterfest. As Thomas G:son did not have any compositions in last night's show, he was supposedly not accredited for the show. That could also be an explanation for the incident.
Sweden's Eurovision commentator Edward af Sillén was quick to comment on Twitter about the incident, sharing the footage as well. He has however since removed his tweet and replaced it with a new one, in which he suggests the removal of Thomas G:son from the Green Room was staged by SVT and the composer themselves. That is also what newspaper Expressen are suggesting in their article. There, it's Linda Bengtzing who admits that she was not in on the joke.
More details will undoubtedly be released later. Thomas G:son is a well-known name in Melodifestivalen circles. He's been responsible for fifteen Eurovision entries in his career, including "In A Moment Like This" and "Euphoria". His Melodifestivalen list is even longer. This year alone, he's competing with four songs. Loreen, Theoz, Nordmann and Mariette all have songs by Thomas G:son for this year's competition.
The first heat of Melodifestivalen 2023 took place last night. Jon Henrik Fjällgren, Arc North ft. Adam Woods and Tone Sekelius qualified for the final in Stockholm. Elov & Beny and Victor Crone made it through to the semis.
What do you think happened? Is this really a joke on SVT's behalf? Let us know! Be sure to stay updated by following @ESCXTRA on Twitter, @escxtra on Instagram and liking our Facebook page for the latest updates! Also, be sure to follow us on Spotify for the latest music from your favourite Eurovision acts. As well as YouTube to see our reactions to the news in the run up to the 2023 contest in Liverpool!