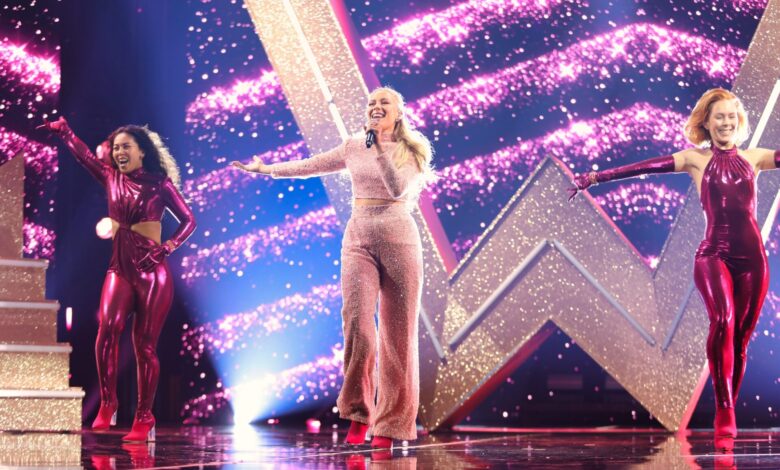 Today the Swedish broadcaster SVT released the first snippets for heat 2 of Melodifestivalen 2023. This morning we got 1-minute snippets of each song. Tomorrow morning we will be getting 30 seconds of the rehearsal footage, which will be recorded during the rehearsals today. Heat 2 will be taking place in Linköping.
Melodifestivalen 2023 Heat 2 snippets:
All My Life (Where Have You Been)
Wiktoria
Låtskrivare: Herman Gardarfve, Melanie Wehbe, Patrik Jean, Wiktoria Johansson
Comfortable
Eden
Låtskrivare: Benjamin Rosenbohm, Eden Alm, Emil Adler Lei, Julie Aagaard
Grytan
Uje Brandelius
Låtskrivare: Uje Brandelius
On My Way
Panetoz
Låtskrivare: Anders Wigelius, Daniel Nzinga, Jimmy Jansson, Nebeyu Baheru, Njol Badjie, Pa Modou Badjie, Robert Norberg
Now I Know
Tennessee Tears
Låtskrivare: Anderz Wrethov, Jonas Hermansson, Thomas Stengaard, Tilda Feuk
Never Give Up
Maria Sur
Låtskrivare: Anderz Wrethov, Laurell Barker
Mer av dig
THEOZ
Låtskrivare: Axel Schylström, Jakob Redtzer, Peter Boström, Thomas G:son
Melodifestivalen is back on tour
Melodifestivalen 2023 is back on their annual tour for the first time since 2020. They kick off in Gothenburg for the first heat on February 4th and finish in Stockholm in the Friends Arena on March 11th to crown their representative for the upcoming Eurovision Song Contest!
4/2 Heat 1 – Göteborg
11/2 Heat 2 – Linköping
18/2 Heat 3 – Lidköping
25/2 Heat 4 – Malmö
4/3 Semifinal – Örnsköldsvik
11/3 Final – Stockholm
In 2022 Sweden was represented by Cornelia Jakobs and her song "Hold Me Closer" after winning Melodifestivalen 2022. She won the second semi-final in Turin and finished 4th during the grand final with a total of 438 points!
Who are you looking forward to the most in heat 2? Let us know! Be sure to stay updated by following @ESCXTRA on Twitter, @escxtra on Instagram and liking our Facebook page for the latest updates! Also, be sure to follow us on Spotify and YouTube to see our reactions to the news in the run up to the Eurovision Song Contest 2022, which is due to take place in Turin, Italy!