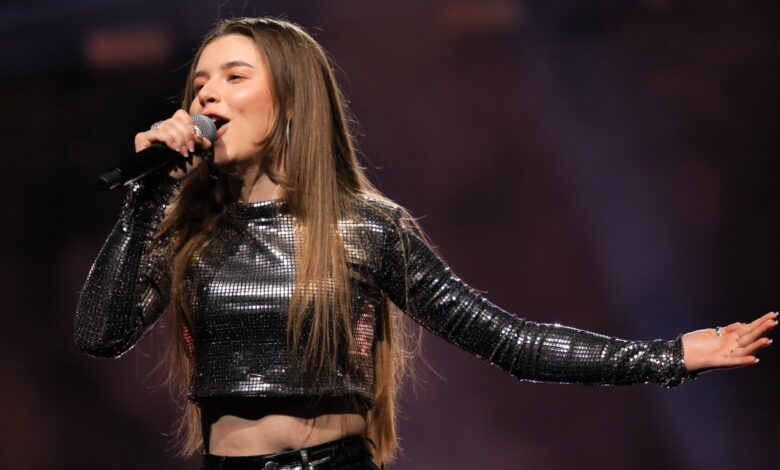 Tonight the second heat of Melodifestivalen 2023 took place. After the heat in Gothenburg last week, the competition moved to Linköping for their next show. Another seven acts competed for two spots in the final and two spots in the semi-final next month.
Heat Two participants (in running order):
Wiktoria – All My Life (Where Have You Been)

Eden – Comfortable

Uje Brandelius – Grytan

Panetoz – On My Way

Tennessee Tears – Now I Know

Maria Sur – Never Give Up

THEOZ – Mer av dig

After all the acts performed, the public was able to vote for their favorite. The acts with the most total votes went directly to the final. After this the lines got re-opened and the public could once again vote. For the remaining slot for the final and the two semi-final spots, the points were given by all the age groups and the televoting. The winner went directly to the final while positions 2 and 3 made it to the semi-final next month.
Results:
Winner of the first voting round: Maria Sur – Never Give Up
Results of the age group voting:
Song
Age Group
(3-9 Years)
(10-15)
(16-29)
(30-44)
(45-59)
(60-74)
(75+)
Televote
Total Points
1. Wiktoria – "All My Life (Where Have You Been)"
8
8
8
5
5
5
5
3
47p
Eliminated
2. Eden – "Comfortable"
3
3
1
1
1
1
1
1
12p
Eliminated
3. Uje Brandelius – "Grytan"
1
1
3
3
3
3
3
5
22p
Eliminated
4. Panetoz – "On My Way"
10
12
12
10
12
10
10
8
84p
FINAL – Winner of the second round
5. Tennessee Tears – "Now I Know"
5
5
5
8
10
12
12
12
69p
Semi-Final
6. Maria Sur – "Never Give Up"
–
–
–
–
–
–
–
–
–
FINAL – Winner of the first round
7. Theoz – "Mer Av Dig"
12
10
10
12
8
8
8
10
78p
Semi-Final
Listen to all the Melodifestivalen 2023 songs available so far: