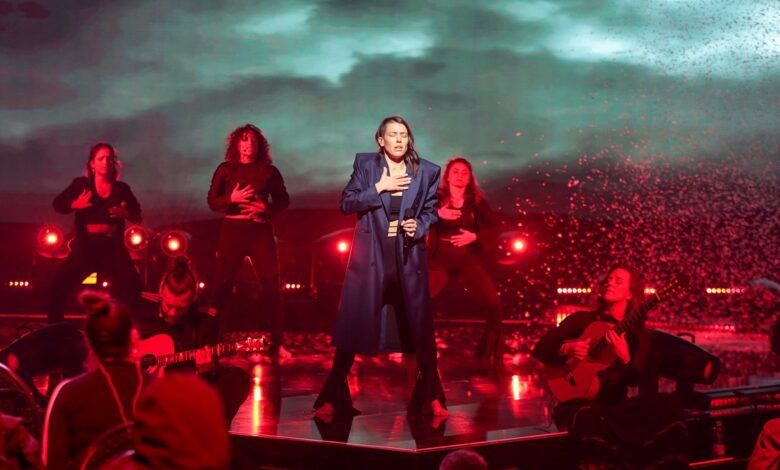 Frida Gold will not be taking part in tonight's German national selection after singer Alina Süggeler has been unfortunately taken ill, unable to take part in the rehearsals. This means that the number of acts competing to be Germany's Eurovision entry this year has been reduced to 9.
According to a statement released by the band, Alina was taken sick during the second day of rehearsals, during which time the band could only do limited rehearsals. This is Frida Gold's full statement on the matter:
"Already on the second day of the rehearsals it was obvious to all involved that Alina Süggeler was very ill and suffering from fever. She was only able to do two run-throughs, during which she could only sing sporadically. She then immediately left for home in the hope that rest and medication could stabilize her for the next day.

Unfortunately, the opposite happened; in addition to fever, chills and a sharp sore throat, she had completely lost her voice. She immediately made a doctor's visit, who insisted that she be off sick for a week and absolute bed rest.

Available short-term medication did not lead to any improvement to enable her to meet the requirements of the competition. For Alina and everyone involved, after weeks of work and preparation, this is a shock and an immeasurable disappointment.

It was Frida Gold's idea and desire to present the message of the song "Alle Frauen In Mir Sind Müde" in front of a large audience, as it is an important topic.

The possibility of possibly singing it in Liverpool as the German entry was also a big motivation.

Frida Gold would like to thank all the organisers and of course their fans."

Frida Gold
Since only 8 of the planned 9 acts will now compete, the scoring for the show has changed. The 8 juries will still award points in the 12-1 Eurovision system, but will not award a 7 point score, in addition to the 5 point score that was already dropped. As such, points will be awarded as follows: 12, 10, 8, 6, 4, 2, 1 – so in total the juries will award 368 points to the acts tonight.
Frida Gold were due to perform 8th. The one act due to perform after them, Lord Of The Lost, will keep their running order number of 9th, despite in actuality, now performing 8th.
Who are Frida Gold?
Frida Gold are a popular band in Germany, perhaps best known for their domestic hits from the early 2010s, "Wovon sollen wir träumen" and "Liebe ist meine Rebellion", as well as two albums rated gold in Germany.
They had planned to compete to represent Germany with the song "Alle Frauen in mir sind müde". It will now no longer be competing in Saturday's national final, but you can listen to it below:
Will Frida Gold's departure be a 'what could have been' for Unser Lied für Liverpool? Let us know! Be sure to stay updated by following @ESCXTRA on Twitter, @escxtra on Instagram, @escxtra on TikTok and liking our Facebook page for the latest updates! Also, be sure to follow us on Spotify for the latest music from your favourite Eurovision acts.