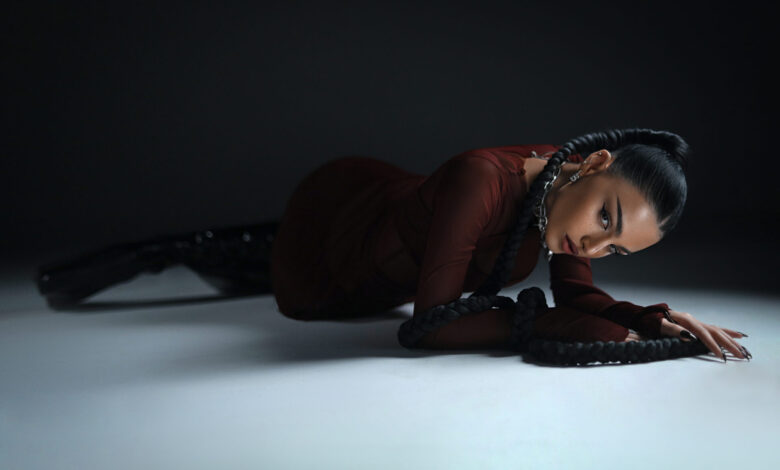 The Armenian entry for the 2023 Eurovision Song Contest has finally been released! This evening, AMPTV premiered 'Future Lover' performed by Brunette.
Armenia's Eurovision 2023 entry
Earlier this year, AMPTV announced their entrant for Eurovision 2023. Up-and-coming songstress Brunette will fly the Armenian flag in Liverpool this May. Brunette (real name Elen Yeremyan) had a hit in 2022 with "Bac kapuyt achqerd", which has been watched nearly 5 million times on YouTube. Her entry for Liverpool 2023 has been highly anticipated by fans around the world, and now it's finally here!
Until recently, AMPTV have been playing their cards close to their chests this season, with the release date for Brunette's entry only being confirmed a few days ago. When the release date of her song was announced, Brunette wrote the following on her Instagram page:
I know we've all waited for so long for the release of my song and the wait is almost over. 🖤 I've spent all these months creating something that truly reflects who I am as an artist and as a human. I hope this song touches your hearts just as it did mine. #ijustwannamakeart

Instagram – @brunette_e_
Listen to Armenia's Eurovision 2023 entry below!
Brunette will perform 'Future Lover' in the first half of the second semi-final on May 11. This marks the 36th song to be released for Eurovision 2023 – only one more remains, Georgia's entry 'Echo', which is due to be released tomorrow (Mar 16th).
Armenia in Eurovision
2023 marks Armenia's 15th year participating in the Eurovision Song Contest. The country has an excellent record, qualifying for the final 11 times out of 14 attempts, with 7 of these 11 appearances in the final resulting in a top 10 finish.
The best results that Armenia has had so far are two 4th place finishes, in 2008 with 'Qele, Qele' and in 2014 with 'Not Alone'.
Last year Armenia finished 20th in the final with the song 'Snap' by Rosa Linn, which received 61 points. Despite this modest result, Rosa Linn ended up having the most success of the 2022 participants, with 'Snap' going viral after the Contest and ending up in music charts worldwide and clocking up over 548 million streams on Spotify alone!
What do you think of Brunette's song for Eurovision 2023? Let us know! Be sure to stay updated by following @ESCXTRA on Twitter, @escxtra on Instagram, @escxtra on TikTok and liking our Facebook page for the latest updates! Also, be sure to follow us on Spotify for the latest music from your favourite Eurovision acts, as well as YouTube to see our reactions to the news in the run up to the new Eurovision season.