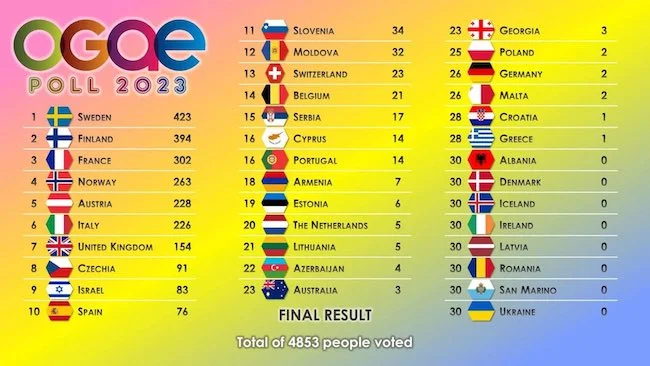 The last votes are in and the winner has been crowned! It's Sweden with Loreen and her entry 'Tattoo'!
Wait, did Eurovision 2023 already happen..?
Fear not, there's still some time before the Grand Final takes place. Sweden has emerged victorious for the second time in a row in the OGAE Poll of 2023.
Every year, many Eurovision fans eagerly await the results of the annual OGAE poll. OGAE is made up of over 40 fan clubs from around the world. For the poll, they cast votes in Eurovision's classic 12 to 1 points system. With the OGAE voting historically taking place across April, it is one of the first opportunities for fans to discover how a significant number of real people are reacting to this year's entries. Last year's poll was won by Sweden as well, represented by Cornelia Jakobs with 'Hold Me Closer'.
Check out our analysis of previous (up to 2020) OGAE Polls here.
All 42 clubs have now voted and Sweden has been declared the winner! Loreen's 'Tattoo' received a total of 423 points, with Finland's Käärijä in second place with 394 points.
A total of 4853 people voted on the poll. From the 37 countries who are participating this year, 29 of them received points in the voting.
Have the OGAE clubs correctly predicted the winner? Not long now to find out!
The OGAE Poll final results
Below the full list all countries that received points in the poll.
First place: Sweden (423 points)
Second place: Finland (394 points)
Third place: France (302 points)
4. Norway (263 points)
5. Austria (228 points)
6. Italy (226 points)
7. United Kingdom (154 points)
8. Czechia (91 points)
9. Israel (83 points)
10. Spain (76 points)
11. Slovenia (34 points)
12. Moldova (32 points)
13. Switzerland (23 points)
14. Belgium (21 points)
15. Serbia (17 points)
16. Cyprus (14 points)
17. Portugal (14 points)
18. Armenia (7 points)
19. Estonia (6 points)
20. Netherlands (5 points)
21. Lithuania (5 points)
22. Azerbaijan (4 points)
23. Australia (3 points)
24. Georgia (3 points)
25. Poland (2 points)
26. Germany (2 points)
27. Malta (2 points)
28. Croatia (1 point)
29. Greece (1 point)
What do you think about the results of the OGAE poll 2023? Be sure to stay updated by following @ESCXTRA on Twitter, @escxtra on Instagram, @escxtra on TikTok and liking our Facebook page for the latest updates! Also, be sure to follow us on Spotify for the latest music from your favourite Eurovision acts, as well as YouTube to see interviews and reactions to the news in the run up to the Eurovision Song Contest 2023!