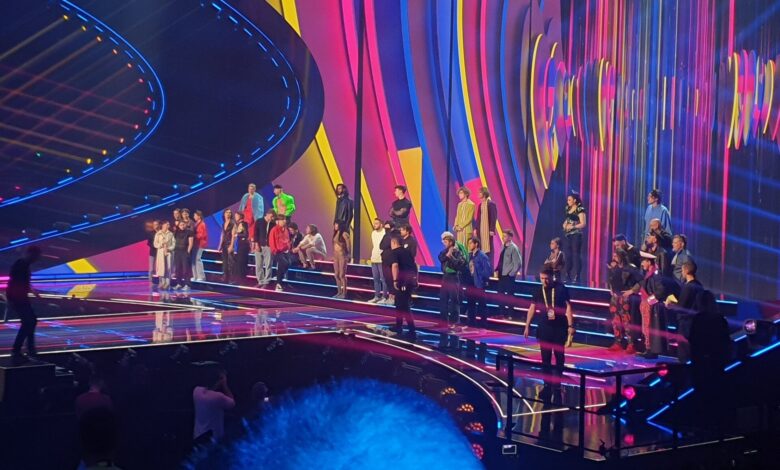 Not long after testing a new way of announcing the qualifiers at the Eurovision Song Contest, the EBU have scrapped their idea. In the test this afternoon, all semifinalists were up on stage for the announcement of the qualifiers for the Grand Final. Fans online reacted passionately against the change. The EBU have now announced they will revert back to the old way of announcing the qualifiers.
Melfest style for Eurovision?
In the new style of announcing the qualifiers, as shared by our colleague Sean of ESCUnited, all acts would be on stage to join the hosts. The hosts would then announce the first five qualifiers, followed by interviews on the satellite stage. In the next segment, another four qualifiers would get a ticket to the Grand Final. Finally, the remaining six acts would be on a split screen to show them all as they awaited the news of the tenth and final qualifier. This style is similar to the style used in Melodifestivalen.
EBU responds: Back to the old way!
However, fans online were quick to voice their discontent over the new approach. A petition was even launched to scrap the idea before it would see daylight in tomorrow's show. Many comments were based on the fact that support from loved ones and the delegation is very necessary for artists who do not qualify. Especially the split screen for the tenth qualifier was deemed 'cruel' by many.
The EBU responded to the manner as follows in an official statement sent out to accredited press at the event:
After trying a new system of presenting the qualifying countries in Dress Rehearsal 1 of the First Semi-Final of the Eurovision Song Contest 2023 it was decided by the production team to revert back to the previous reveal sequence used in recent years with artists learning whether they will progress to the Grand Final together with their delegations in the Green Room. Whilst this change will not now be implemented this year there are other innovations in the show for viewers to look forward to.
As a result, we'll now get to see the acts in the Green Room with their delegations as the hosts announce the qualifiers for Saturday's Grand Final – the way we used to see it.
What do you think about the announcement by the EBU? Let us know! Be sure to stay updated by following @ESCXTRA on Twitter, @escxtra on Instagram, @escxtra on TikTok and liking our Facebook page for the latest updates! Also, be sure to follow us on Spotify for the latest music from your favourite Eurovision acts, as well as YouTube to see interviews and reactions to the news in the run up to the Eurovision Song Contest 2023!