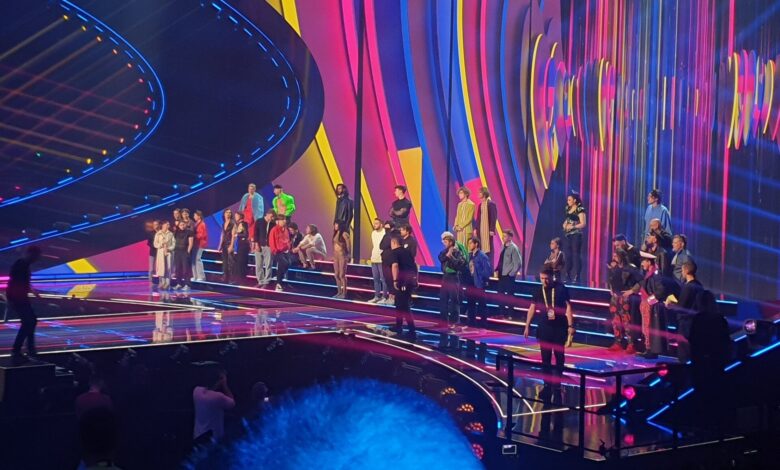 And the fans online are sharing their (sometimes brutually) honest opinion on it.
If you've been active in the Eurovision fan community on social media in the past few weeks, you may have heard of a rumor concerning the qualifier announcement during this year's semi-finals. Our team in Liverpool has confirmed that this rumor is in fact true and has been proven during today's dress rehearsals. Pictures are currently circulating online, where the artists can be seen standing on stage while waiting to hear their country being called out by the hosts.
"As we feared, there is indeed a new format for revealing the results. Surprisingly, rather than stand-ins, all 15 of the actual artists actually rehearsed the reveal sequence. All acts stand on the stage across three levels of the steps.

Hannah and Alesha will then reveal the first five qualifiers in no particular order. After each announcement, the cameras cut to each artist and then their delegations in the green room."

https://escxtra.com/2023/05/08/live-eurovision-2023-semi-final-1-first-dress-rehearsal/
While normally the acts are surrounded by their team and loved ones in the Green Room during the result, this year will be very different. People have compared the new format to popular British talent show X-Factor, assuming it was hosting broadcaster BBC who decided to use this new format.
Response of the fan community
Many fans had been hoping the rumor was false, and have now expressed their dislike on social media. The overall response is severely negative, with people calling the new format 'disgusting' and 'cruel'.
There's even a petition being shared online, pressing the EBU and the BBC to rethink their desicion implementing the format.
All of us at ESCXTRA care about the mental safety of the artists and hope that we will all remain 'United by Music'.
What do you think about the announcement format for the semi-finals? Let us know! Be sure to stay updated by following @ESCXTRA on Twitter, @escxtra on Instagram, @escxtra on TikTok and liking our Facebook page for the latest updates! Also, be sure to follow us on Spotify for the latest music from your favourite Eurovision acts, as well as YouTube to see interviews and reactions to the news in the run up to the Eurovision Song Contest 2023!