Today, the Eurovision 2023 press centre opened its doors once again, and accredited members of the media saw a full run-through of the Grand Final from start to finish. Immediately after, we invited members of the press to vote in our annual press poll.
During the rehearsal, accredited members of the press were able to follow proceedings, either at the press centre in Liverpool or via the online press centre. After today's acts took to the stage, we invited members of the media to vote for their THREE favourite rehearsals of the day.
The results for the rehearsals of the Grand Final are: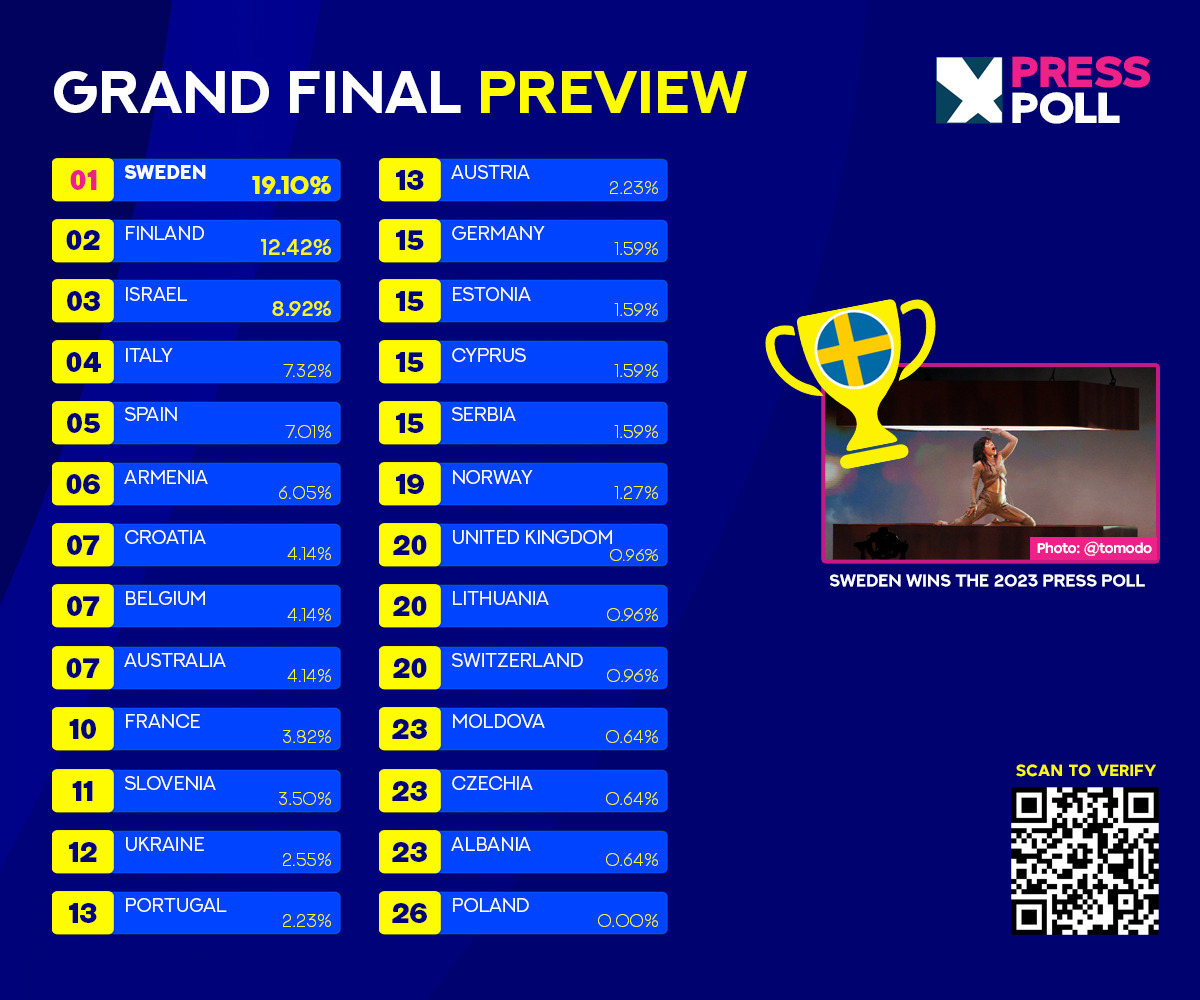 Each member of the press was asked to vote for their favourite three rehearsals of the day (excluding the automatic qualifiers). Thank you to the 107 of you who voted!
The 2023 Press Poll and Audience Poll
We ran the same poll for each of the semi-finals' dress rehearsals, you can catch up on the results below:
In addition, we are working with ESC Insight, The Euro Trip Podcast and BetEurovision to conduct The Eurovision Audience Poll. Members of the four participating platforms are approaching audience members leaving the M&S Bank Arena after each evening preview show to ask them who their favourite of the night was.
We ran poll for each of the semi-finals' evening preview shows, you can catch up on the results below:
Be sure to stay updated by following @ESCXTRA on Twitter, @escxtra on Instagram, @escxtra on TikTok and liking our Facebook page for the latest updates! Also, be sure to follow us on Spotify for the latest music from your favourite Eurovision acts, as well as YouTube to see interviews from the Eurovision Song Contest 2023!