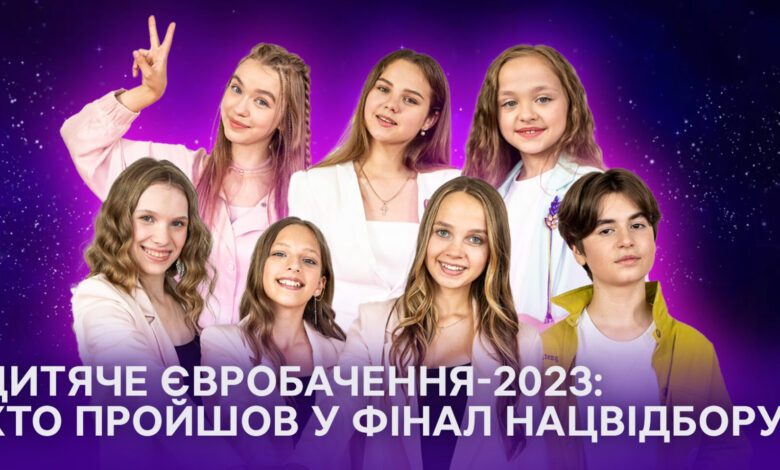 After announcing the longlist of participants for the National Selection last week, broadcaster Suspilne has now announced the finalists to represent Ukraine at Junior Eurovision 2023 in Nice.
The finalists
The finalists are:
3'beauties. A band bade up of Vladyslava Volynets (13), Oleksandra Korovytska (13) and Anna Tkach (12), from Lutsk. The girls have said their superpower is unity, and they have a chance to win when their creative energy comes together.
POLINA BABIY. Polina (14) is originally from Odesa, but temporarily lives in Bratislava, Slovakia. She believes she can win the National Selection with her ability to connect to the audience. Her song is "relevant for all Europeans today" and she is constantly working to improve her vocals ahead of Junior Eurovision 2023.
Anastasia Belibova. Anastasia (12) was born in Mykolaiv. Since early childhood, she has been involved in ballroom dancing at a high level. This has taught her to work hard to achieve her goals: "when you do what you like, sometimes fatigue is pleasant".
Denis Hryshchuk. Denis (12) is from Novovolynsk, Volyn, but temporarily lives in Lublin, Poland. He says he has a sober and realistic view of events without idealising them, and knows he will have to work hard to achieve what he wants. In the future, he'd like to build a stadium in a peaceful Ukraine, where fans from all over the world will come together.
Anastasia Dymyd. Anastasia (9) is from Hoshiv in Ivano-Frankivsk Oblast. She wishes to bring joy to people with her performance. She dreams of becoming a world-famous singer and says she is constantly working to improve her creative and musical abilities.
A difficult decision
According to the music producer of Suspilne's National Selection, Svitlana Tarabarova, the selection process was incredibly hard: "I wanted to keep everyone! Our five turned out to be really diverse and strong. There's a little girl who sings in a folk voice, a trio of girls who piece your soul like birds with their voices, a hot-headed boy with a unique timbre who you want to look at without looking away, and two incredible pop divas, Anastasia and Polina." She has said that all of the five finalists will be able to represent Ukraine in a high-quality and professional manner.
It is now up for the jury and audience to decide, however. The broadcaster's jury consists of singers DEMCHUK and KHAYAT and composer and pianist Evgeny Khmara. Khmara, who was also a member of the national jury for Ukraine at the Eurovision Song Contest of 2023, has echoed Tarabarova's statement: "all the children are incredibly talented and professional. I would also like to congratulate the ten participants of the longlist."
Online final
The Ukrainian final for the Junior Eurovision Song Contest will take place in October 2023 in the form of an online concert. As was the case last year, Ukrainians will be able to vote online, and the three jury members will also be involved in the show.
Applications for participation were accepted from 17 June to 9 July. The selection process was supposed to start earlier but had to be delayed due to a hacker attack on Suspilne's websites.
Last year, Ukraine reached 9th place in Junior Eurovision with Zlata Dziunka's "Nezlamna (Unbreakable)". The country has been participating since 2006 and has won once, in 2012 (Anastasiya Petryk with her song "Nebo"). In 2008 and 2013, Ukraine finished in second place.
Who are you supporting for Ukraine's National Selection for Junior Eurovision? Let us know! Be sure to stay updated by following @ESCXTRA on Twitter, @escxtra on Instagram, @escxtra on TikTok and liking our Facebook page for the latest updates! Also, be sure to follow us on Spotify for the latest music from your favourite Eurovision acts, and on YouTube for reactions and exclusive interviews.