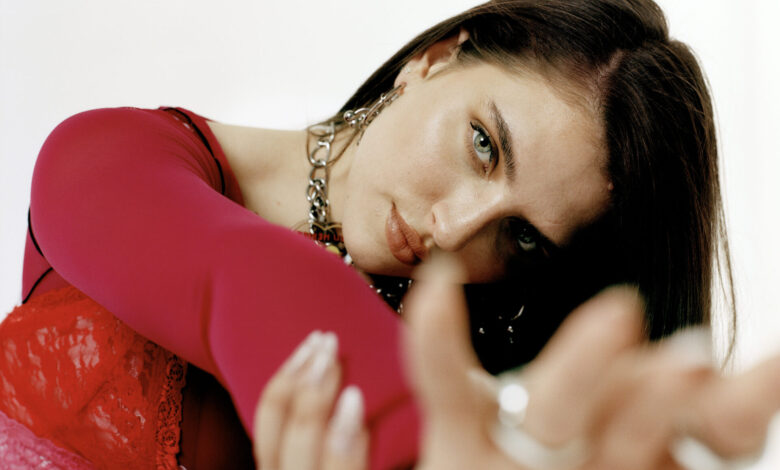 The United Kingdom's Eurovision 2023 star Mae Muller, shines brighter on this New Music Friday as she releases her latest track, 'MTJL (Maybe That's Just Life)' and shares a personal diary of her daily life in the music video.
'MTJL' – Maybe That's Just Life
Since the contest in Liverpool earlier this year, Mae Muller has been busy preparing for the release of her debut album, 'Sorry I'm Late'. Already releasing the follow up to her Eurovision hit with, 'Me, Myself and I' Now Mae shares the fifth single and a softer side to herself in, 'MTJL'. The acronym for maybe that's just life is Mae's personal diary and honest reflection on all those little things that bother us, but we never talk about openly. We have all been there; putting off phone calls, struggling to get into the morning routine and feeling like every day is a Monday when your body says no. The gentle guitar strings add a subtle irony to Mae's musings of wishing she had not given up learning to play. However, this is not some woe is me tale of pity. It is an acceptance of the quirks that make us the people we are and how to make the most of that.
I want to give you another song before the album is out and this one is so special to me, it's literally an out pour of all my insecurities. things I wished I'd done, things I wished I was better at… in the end it ties all together and amongst all this, it doesn't have to be a bad thing – it's just LIFE. I accept my insecurities and life can be quite beautiful when you do that.

Mae Muller
Mae Muller's home video
Along with the new single, Mae shares a home video recording that continues the stripped back theme of 'MTJL'. We see Mae going about her morning routine and achieving those small victories on a bad day, such as making the bed and getting dressed.
I think it was really important for me to have a moment where it was just going to be really stripped-back, just me and a guitar. I just wanted it to be a diary entry – I wasn't worried about the usual verse, pre-chorus, chorus structure of the song as such, I just wanted to get it off my chest. I feel like as humans we're very good at being hard on ourselves and we all want what we can't have, so this track was just a bit of an outpouring of all my insecurities. I definitely have a lot but I'm learning to accept them, it's what makes us human. I think this is probably the best song I've written lyrically, and I'm very proud of it.

Mae Muller
Debut album 'Sorry I'm Late' is due to be released September 15 and will include 17 tracks. Those that pre-save the album on streaming platforms, will be entered into a draw to meet Mae Muller for dinner and drinks, as well as access to the launch party concert in London on September 16.
What do you think of Mae Muller's new single 'MTJL (Maybe That's Just Life)'? Let us know! Be sure to stay updated by following @ESCXTRA on Twitter, @escxtra on Instagram, @escxtra on TikTok and liking our Facebook page for the latest updates! Also, be sure to follow us on Spotify for the latest music from your favourite Eurovision acts. As well as YouTube to see our reactions to the news in the run up to the 2024 Eurovision season.