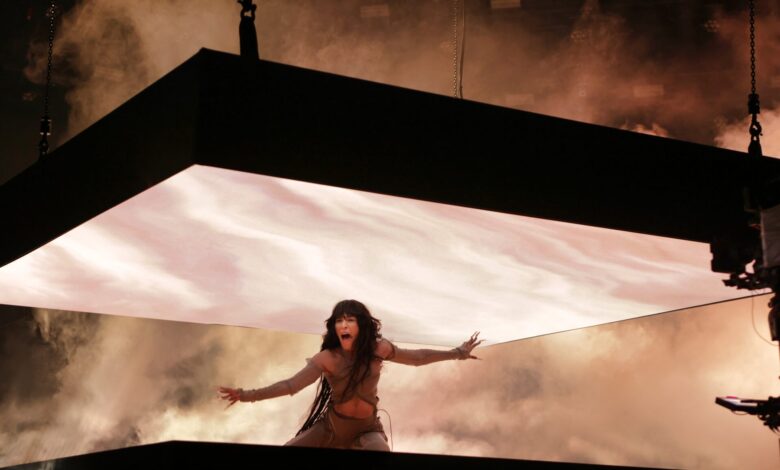 Tonight the fourth heat of Melodifestivalen 2023 took place. After the heat in Gothenburg three weeks ago and Linköping and Lidköping the following weeks, the competition moved to Malmö for their fourth and final heat. Another seven acts competed for two spots in the final and two spots in the semi-final next week.
Heat Three participants (in running order):
Kiana – Where Did You Go
Signe & Hjördis – Edelweiss
Smash Into Pieces – Six Feet Under
Mariette – One Day
Emil Henrohn – Mera mera mera
Axel Schylström – Gorgeous
Loreen – Tattoo
After all the acts performed, the public was able to vote for their favorite. The acts with the most total votes went directly to the final. After this the lines got re-opened and the public could once again vote. For the remaining slot for the final and the two semi-final spots, the points were given by all the age groups and the televoting. The winner went directly to the final while positions 2 and 3 made it to the semi-final next month.
Results:
After a shocking stage invasion during Loreen's performance, there was a slight delay. The singer however recovered incredibly from the incident and delivered a solid performance of "Tattoo". It made sure that the Swedish audience put her in first place in tonight's deltävling.
Results of the age group voting:
Song
Age Group
(3-9 Years)
(10-15)
(16-29)
(30-44)
(45-59)
(60-74)
(75+)
Televote
Total Points
Result
1. Kiana – Where Did You Go
12
12
10
10
5
5
10
5
69
3
2. Signe & Hjördis – Edelweiss
5
1
1
3
3
3
8
3
27
6
3. Smash Into Pieces – Six Feet Under
10
8
12
12
12
10
3
12
79
2
4. Mariette – One Day
1
3
5
5
10
12
12
8
56
4
5. Emil Henrohn – Mera mera mera
8
10
3
1
1
1
1
1
26
7
6. Axel Schylström – Gorgeous
3
5
8
8
8
8
5
10
55
5
7. Loreen – Tattoo
–
–
–
–
–
–
–
–
–
1
Listen to all the Melodifestivalen 2023 songs available so far: